You are here
California Southern I Governor's Newsletter December 2016
California Southern I Governor's Newsletter December 2016

---
---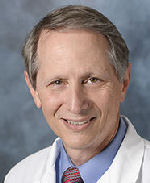 Mark S. Noah, MD, FACP, ACP Governor
---
A Message from the Governor
Dear Colleagues,
I hope you had a wonderful Thanksgiving holiday with family and friends this year. This is my first official newsletter as you ACP Governor and I hope to share with you an update of ACP activities that have taken place in the last 6 months at both a national and local level.
I thought it would be interesting to go over some demographics of the ACP Southern California Region I. Our region encompasses San Luis Obispo and Bakersfield to the north; Long Beach to the South and Palmdale and Lancaster to the East. We have over 3000 physician members and close to 850 medical student members. The city with the largest physician membership in our region is not surprisingly Los Angeles with over 1000 members, but some of you may be shocked to know that the city with second largest number of members is Bakersfield with 92 physician members. Membership in Beverly Hills, Santa Barbara, Santa Monica, and Pasadena are all following close behind and so recruit colleague and your city could jump a notch or two.
In the last 6 months, 176 new physician members have joined our ACP chapter, and we have enrolled 265 new resident/fellow members. We have advanced more physicians (26) to FACP status in the last 6 months than any other ACP chapter in the United States. One of our members was chosen to become one of only 23 Master of the ACP from our region, and another member was chosen to receive the Alfred Stengel Memorial Award for outstanding service to the ACP (more about this later in the newsletter).
Please let me know if you find the information in this newsletter interesting or helpful to you. If there are specific issues you feel the ACP should be advocating for or educational efforts, we should be offering to you at a local level please email me.
I hope everyone has a wonderful holiday season and a happy and healthy new year.
Best regards,
Mark Noah, MD, FACP
Governor, ACP Southern California Region I
ACP Southern California Advisory Council
Back Row Left to Right: Gus Chavez, John Hollowed, MD, Fredrick Russo, MD, FACP, Olivia Arreola-Owens, MD, Amanda Ewing, MD, FACP, Anish Desai, MD, FACP, Azadeh Nazemi, Magdalena Ptaszny, MD, FACP, Richard Tennant, MD, FACP. Front Row Left to Right: Chester Choi, MD, MACP, Soma Wali, MD, FACP, Mark Noah, MD, FACP & Peter Chee, MD.
Missing: Ron Ben-Ari, MD, FACP, Nadia Faiq, Phyllis Guze, MD, MACP; Eric Hsieh, MD, FACP, Pooja Jaeel, Michael Lazarus, MD, FACP, Azadeh Nazemi, Arsen Osipov, MD, Susan Sprau, MD, MACP, and Daniel Stone, MD, FACP.
---
News for the Fall ACP Board of Governors Meeting
The ACP Board of Governors had their Fall meeting in Austin, Texas this September. The weather was hot and humid, and the discussions regarding proposed positions the national ACP should adopted were equally heated. Topics ranged from gender inequality in pay and benefits for internal medicine physicians to proposals to strongly encourage the ABIM to accept most CME activities for Maintenance of Certification credit. Each resolution that was recommended for Adoption by the Board of Governors was forwarded to the ACP Board of Regents for a final decision on ACP adoption and implementation.
The BOG Recommended for Adoption/Implementation:
The ACP develop a policy to address the gender pay gap within the field of medicine
The ACP advocate for modification of pain-related questions on the Hospital Consumer Assessment of Healthcare Providers and Systems (HCAHPS) survey to better reflect the appropriateness of pain management interventions, with particular attention to the differences between acute and chronic pain and also to remove financial incentives based on the HCAHPS that could inadvertently incentivize inappropriate opioid administration and prescribing.
The ACP creates and supports a formal infrastructure that will allow for expansion and sustainability of wellness initiatives for physicians and physicians-in-training, and become a leading voice in addressing areas such as burnout prevention, physician wellness, and professional satisfaction.
The ACP in collaboration with other accrediting organizations monitors the formation and implications of for-profit medical schools
The ACP reaffirms its offer of a reduced registration fee for retired physician members attending the national Internal Medicine Meeting.
The ACP reaffirms its opposition of raising out-of-pocket patient spending for medical care
The ACP study and report back to the Board of Governors the impact of petitioning CMS to adopt a single code for initial and ongoing physician care regardless of patient's hospital status as admitted or under observation.
---
California Initiative Election Results involving Medical Care
A brief summary of the November 2016 California ballot initiatives results as summarized by Shuan Tomlinson, of the Legislative Action Center of the ACP:
CALIFORNIA
Proposition 61 – California Drug Price Relief Act
Status: Fail
Summary: Prohibits state agencies from paying more for a prescription drug than the lowest price paid for the same drug by the United States Department of Veterans Affairs. Applies to any program where the state is the ultimate payer for a drug, even if the state does not purchase the drug directly. Exempts certain purchases of prescription drugs funded through Medi-Cal.
Proposition 60 – California Safer Sex in the Adult Film Industry Act
Status: Fail
Summary: Requires performers in adult films to use condoms during filming of sexual intercourse. Requires producers of adult films to pay for performer vaccinations, testing, and medical examinations related to sexually transmitted infections. Requires producers to obtain state health license at beginning of filming and to post condom requirement at film sites. Imposes liability on producers for violations, on certain distributors, on performers if they have a financial interest in the violating film, and on talent agents who knowingly refer performers to noncomplying producers. Permits state, performers, or any state resident to enforce violations.
Proposition 56 – Cigarette Tax Increase Amendment
Status: Pass
Summary: Increases cigarette tax by $2.00 per pack, with equivalent increase on other tobacco products and electronic cigarettes containing nicotine. Allocates revenues primarily to increase funding for existing healthcare programs; also for tobacco use prevention/control programs, tobacco-related disease research and law enforcement, University of California physician training, dental disease prevention programs, and administration. Excludes these revenues from Proposition 98 funding requirements. If tax causes decreased tobacco consumption, transfers tax revenues to offset decreases to existing tobacco-funded programs and sales tax revenues. Requires biennial audit.
Proposition 52 – State Fees on Hospitals Federal Medi-Cal Matching Funds
Status: Pass
Summary: Increases required vote to two-thirds for the Legislature to amend a certain existing law that imposes fees on hospitals (for purpose of obtaining federal Medi-Cal matching funds) and that directs those fees and federal matching funds to hospital-provided Medi-Cal health care services, to uncompensated care provided by hospitals to uninsured patients, and to children's health coverage. Eliminates law's ending date. Declares that law's fee proceeds shall not be considered revenues for purposes of applying state spending limit or determining required education funding.
---
ACP Advocacy National and California
Now that the 2016 Presidential, Congressional and Californian elections are over, I have heard concerns from many regarding the impact of these results on medical care for their patients and those across the United States. The ACP is a nonpartisan organization and advocates for specific policies based on the input from members through their elected Board of Governors, organizational committees and final determination and adoption by Board of Regents. A letter was sent out by Nitin S. Damle, MD, MS, MACP President of the American College of Physicians at the end of November to all members reiterates the ACP principles regarding patient care and its delivery. I have attached the letter for your review below. –A Message from the ACP President—

Dear ACP Member,
I am writing to share with you the American College of Physicians' plans to address the implications of the 2016 U.S. Presidential and Congressional elections. We are preparing for a new administration in Washington, D.C., and assessing the challenges and opportunities related to health care and our policy priorities that will come in this new environment.
The election has evoked strong reactions from ACP members, both within the U.S. and abroad. Like the public, ACP members have divergent views. What unites us is our abiding commitment to our profession, and to our patients. We affirm our continued commitment to equal access to care and non-discrimination against persons based on their gender, gender identity, race, ethnicity, religion, or sexual orientation, including support for our international ACP members and immigrants to the U.S. who are concerned about potential changes in U.S. immigration policies.
The College, as a matter of U.S. law and practice, is non-partisan. We engage in advocacy based on policies that have been adopted by our Board of Regents, through a deliberative, consensus-building process involving our policy committees, councils and elected Board of Governors and Regents, supported by a rigorous review of the evidence of how different policy options will affect patient care. We are obliged to pursue these policies no matter the results of any given election.
Accordingly, ACP will strive to engage in a constructive and bipartisan way with President-elect Trump and his administration, and with Congress, to achieve bipartisan progress on the College's policy objectives. Our hope is to find common ground. If policies are proposed by the new administration or Congress that in our judgment would be detrimental to our profession and our patients, we won't just seek to prevent them from being implemented, we'll offer better alternatives. We remain steadfast in our mission to enhance the quality and effectiveness of health care by fostering excellence and professionalism in the practice of medicine and supporting the critical role played by internists and other primary care physicians in providing high-value, team-based, patient and family-centered care, continuing the transition to value-based payment models, and reducing administrative burdens that interfere with the patient-physician relationship.
Let me share with you some of the areas where we think bipartisan progress may be possible:
Implementing and funding initiatives to address the opioid epidemic, building on the bipartisan Comprehensive Addiction and Recovery Act signed into law earlier this year
Improving access to mental health services and integration of behavioral health into team-based primary care
Promoting policies to improve the prevention, treatment and management of chronic diseases
Expanding access to telehealth services particularly in underserved communities
Strengthening graduate medical education funding and primary care training programs to ensure that the U.S. is training a sufficient number of internists with the skills needed to provide the highest quality care
Supporting the successful transition to quality based payments and new physician-led alternative payment models, as authorized by the bipartisan Medicare Access and CHIP Reauthorization Act (MACRA)
Redesigning quality measurement to make it clinically relevant, actionable and meaningful for doctors and patients alike
Addressing the high cost of prescription drugs
Reforming the broken medical liability system, including innovative options like no-fault health courts and safe harbors for following evidence-based practice guidelines
Reducing administrative burdens that interfere with the patient-physician relationship
We are also aware of areas where ACP's policy objectives do not appear to be aligned with those of the new administration and Congress and may be more challenging:
We remain committed to sustaining the gains that the Affordable Care Act (ACA) has made in expanding coverage to tens of millions of people and driving down the uninsured rate to historic lows. While we will consider new approaches to help people get and keep coverage, the result should not be more Americans having to go without coverage or the loss of other key patient protections, such as removing the prohibition on health plans excluding or charging higher premiums to patients with pre-existing conditions. We will seek to address barriers to care created by high deductible plans, narrow networks, and rising premiums. We will also continue to advocate for expanding the Medicaid program to all persons up to 138% of the federal poverty level in all states.
We believe it is essential to continue the progress being made on addressing the health impacts of climate change. Climate change will have a catastrophic impact on health, both in the U.S. and globally. We must do everything possible to prevent a rollback of the commitments made by the U.S. and other countries to combat it.
We will continue to advocate for evidence-based policies to reduce injuries and deaths from firearms, included closing loopholes in the U.S. background check system, at both the federal and state levels.
Over the next few weeks, we will assess our advocacy priorities to determine how best to proceed given the election.
How can you help? Please email me with your thoughts on ACP advocacy priorities. Let your ACP chapter Governors, U.S. and international, know if you have suggestions for them to take to the Board of Governors. And, if you are a U.S. member of the College, become a grassroots activist for internal medicine by joining our Advocates for Internal Medicine Network (AIMn). As a member of AIMn, you will get timely and concise updates on key developments in Congress, and what you can do to help us achieve our advocacy priorities in this new environment.
Sincerely,
Nitin S. Damle, MD, MS, MACP
President
American College of Physicians
About this e-mail: You are receiving this message due to your affiliation with the American College of Physicians. ACP respects your privacy and will not sell, lease, or share your e-mail address with any other organization. The College will only use e-mail for the purpose of conducting College business. American College of Physicians, 190 N. Independence Mall West, Philadelphia, PA 19106-1572, USA.
---
ACP involvement in the California Medical Association
Susan Sprau, MD, MACP
The ACP is one of the organizations that has membership representation in the California Medical Association. This organization is active in lobbying the state of California on behalf of physicians and patients. Susan Sprau, MD, MACP, and Chester Choi, MD, MACP are from our local region and represent the ACP in the CMA's Annual House of Delegates meeting that took place in October 2016. Our region was also represented by the following delegates/alternates at the meeting: Emil Avanes, MD, Boris Bagdasarian, DO, Samuel Fink, MD, FACP, Arthur Lurvey, MD, FACP, and Monya De, MD, MPH represented Los Angeles County. Jennifer Abraham, MD, FACP represented Kern County. Ali Tafreshi, Mani Vahidi, David Patron and Stacy Songco represented the Medical Students. Fredrick Russo, MD, FACP, represented the Medium Group Practice Forum, as well as chaired the discussion of MOC. Gilbert Simoni, MD represented the Solo/Small Practice Forum.
Art Lurvey, outgoing co-chairperson of the CA ACP Medical Practice and Quality Committee, describes some recent changes to the CMA HOD: "Over the past few years the CMA House of Delegates (HOD) has been evolving to make it shorter and more efficient. Potential resolutions revolving around actions or positions of the CMA are now available quarterly on the web (cmanet.org) with the ability of members to comment on line. ACP regularly takes positions and makes comments on line. CMA leaderships selects the most important to actually debate at the HOD. Additionally, there are presentations about some of the most important aspects of healthcare, elections for CMA and AMA leadership, and awards."
Maintenance of Certification was one of the major topics discussed this year. There was general consensus that the current MOC, including recent changes, remains unnecessarily expensive, time consuming and stressful without proven evidence of benefit for patient outcomes. However, the delegates rejected a proposal to introduce legislation to the State Legislature prohibiting Maintenance of Certification as a requirement for hospital/insurance company participation. There was some concern that the legislators might take the opportunity to impose even more restrictions than the current MOC programs require.
Another CMA success this past year was passage of legislation to create a program for impaired physicians which allows them to seek treatment without risking losing their medical license, similar to programs already in place for lawyers and other healthcare providers.
Any ACP member interested in becoming more involved in advocacy issues at the local or State level can contact Soma Wali, MD, FACP, past Governor of So CA Region 1 ACP and currently President Elect of CA ACP Services, Inc. (the State ACP chapter which focuses on advocacy), Mark Noah, MD, FACP, Governor, So CA Region 1 ACP, or myself Susan Sprau, MD, MACP
---
ACP Awards and Advancements
2016 Chapter Excellence Award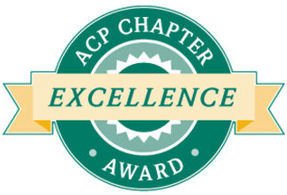 I am pleased to announce that our chapter is in receipt of the 2016 Chapter Excellence Award! The award recognizes chapters which successfully meet the standards for managing a chapter. In order to achieve the Chapter Excellence Award, chapters must meet all basic criteria and ten optional criteria. Criteria include such activities as formulating an effective Governor's Council and committees, communicating frequently with membership, providing educational opportunities, recruiting and advancing members and celebrating membership through local awards. I would like to extend a special thanks to those chapter members who assisted me in all of these endeavors! For their hard work and dedication, we received this award.
Phyllis Guze, MD, MACP receives award for outstanding service to the ACP
Phyllis Guze, MD, MACP will be the recipient of the Alfred Stengel award given to a Master of the ACP who has demonstrated unusual loyalty and exceptional contributions to the aims and purposes of the ACP. The recipient must also have shown outstanding influence in maintaining and advancing the best standards of medical education, medical practice, and clinical research. Dr. Guze is the perfect physician to receive this award, having served as a professor of medicine at the David Geffen School of Medicine, chair of medicine at the VA Greater Los Angeles Medical Center, ACP Governor of the Southern California Region 1, and as chair of the Board of Regions of the ACP. Most recently, Dr. Guze was instrumental in the creation of the University of California Riverside School of Medicine, serving initially as acting vice chancellor of medical sciences and dean of the medical school, and then as chair of the division of clinical sciences. Congratulations Dr. Guze on this well-deserved recognition!!!
Darrell Harrington, MD, MACP chosen as a new Master of the ACP
Darrell Harrington, MD, MACP the chief of general internal medicine, associate medical director, and designated institutional official for graduate medical education at Harbor-UCLA Medical Center was chosen to become a Master of the ACP this summer. Dr. Harrington is a frequent lecturer at the national ACP meetings on topics ranging from hospital consultation by internist to other specialties, to pointers on preparation for the ABIM certifying examination. ACP Masters are previous Fellows who are selected based on their "integrity, positions of honor, eminence in practice or in medical research, or other attainments in science or in the art of medicine." Evidence of these achievements can come from many types of endeavors such as notoriety within their field and/or ACP chapter, research, education, health care initiatives, volunteerism, and administrative positions. Congratulations Dr. Harrington on this tremendous honor!!!
---
New ACP Fellows from the Southern California Region I chapter
I am happy to announce the following ACP members that have been advanced to Fellowship in the last 6 months:
David B. Agus, MD, FACP
Doran Anatole Kim, MD, FACP
Shrinath Barathan, MD, FACP
Elizabeth Ko, MD, FACP
Philip M. Bretsky, MD, PhD, FACP
Holly Middlekauff, MD, FACP
Kenneth D. Burns, MD, FACP
Win Naing, MD, FACP
Eric Daar, MD, FACP
Philip K. Ng, MD, FACP
Robert W. Decker, MD, FACP
Gordon V. Ohning, MD, FACP
Suzanne M. Donovan, MD, FACP
Jennifer G. Poole, MD, FACP
Amanda Ewing, MD, FACP
Bradley T. Rosen, MD, FACP
David Hallegua, MD, FACP
Gina Rossetti, MD, FACP
Patricia P. Ibarra, MD, FACP
Vinay Sundaram, MD, FACP
Sachin H. Jain, MD, FACP
Nancy T. Weintraub, MD, FACP
Shelia Kar, MD, FACP
Richard A. Williams, MD, FACP
David M. Kayne, MD, FACP
Soe Soe Win, MD, FACP
---
ACP Southern California Educational Meeting October 2016
All three regions of the Southern California ACP worked together to hold a very successful annual education/research meeting at the Hilton Resort and Spa on Mission Bay in San Diego. There were over 480 register participants at the meeting that included sessions on menopausal management, guidelines for opioid prescribing, an update on Hepatitis C diagnosis and management, the impact big data and wearable technology on medical care, becoming an extraordinary physician, decreasing inappropriate care, eye emergencies, dermatology pearls, and a 2016 update in general internal medicine. Several workshop were held for early career physicians, and for mastering the skill of joint injections, and 4 sessions were conducting for ABIM Maintenance of Certification on hospitalist medicine, outpatient medicine, endocrinology, and rheumatology. There were over 330 educational poster presented by resident, medical students, and early career physicians, and a very exciting Doctor's Dilemma (Medical Jeopardy) session between internal residency programs across all of Southern California (all three finalist came from residencies in our region USC, UCLA, and Cedars-Sinai).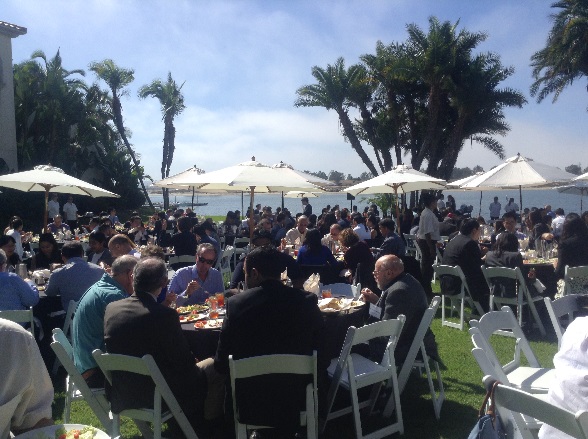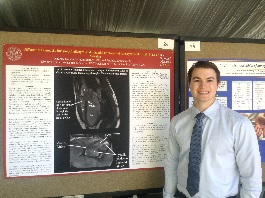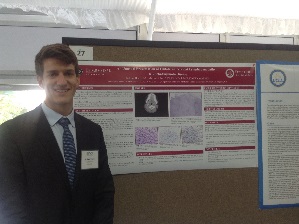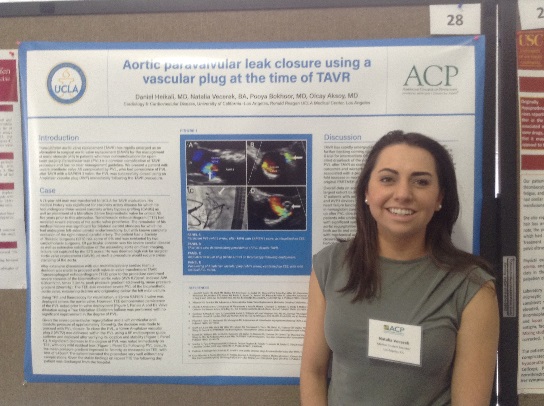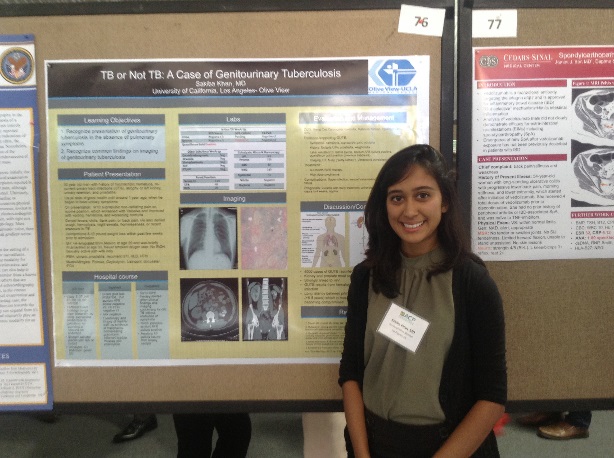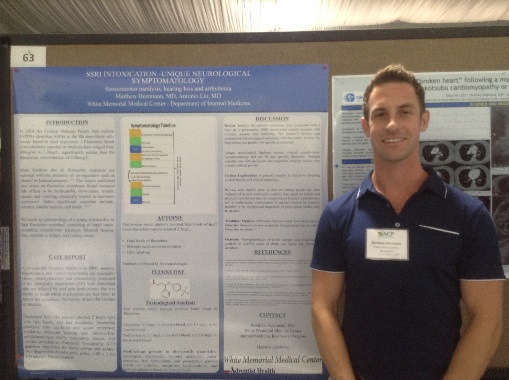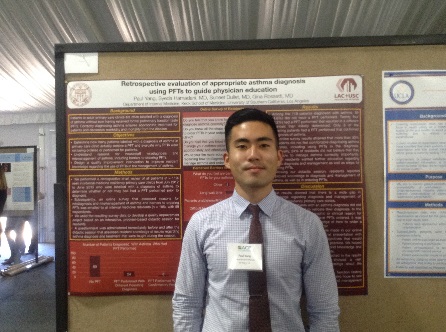 The winners for the poster competition and the Doctor's Dilemma are listed below:
ACP (region 1) Resident Clinical Vignettes:
1st place- Sakiba Khan, MD- "Genito-urinary TB and the Putty Kidney"
2nd place- Timothy Young, MD- "Esophageal Dissecans Superficialis (EDS) in CMV Esophagitis"
3nd place- Michelle Neely, MD- "Arrhythmia and Rhyme: New Onset A-fib and NSTEMI in a patient with newly diagnosed POEMS syndrome"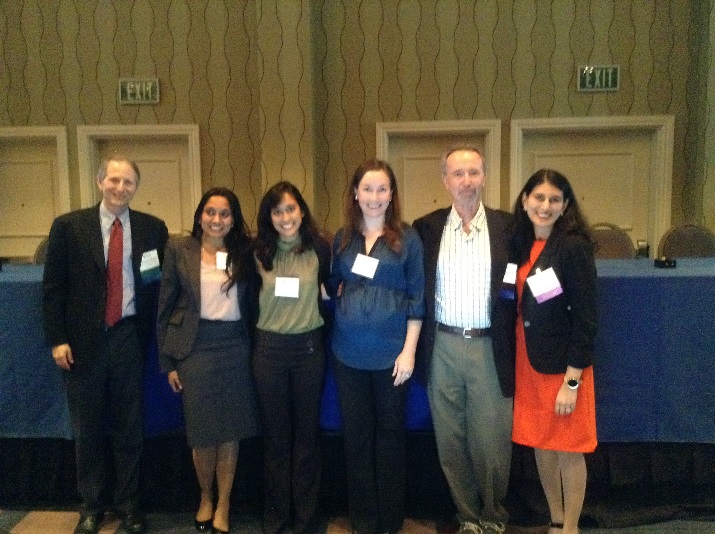 Left to Right: Mark Noah, MD, FACP, Malini Nadadur, MD, Sakiba Khan, MD, Shannon Fortin-Ensign, MD, Howard Williams, MD, FACP and Laxmi Suthar, MD, FACP
ACP (all three regions) Resident Research:
1st place- Jaswal Stuti, MD- "Measuring Sleep in Hospitalized Patients Using Wireless Actingraphy" (Region III)
2nd place- Daniel Wu, MD- "Estrogen Alone and Health Outcomes in Black Women by American Ancestry" (Region I)
3nd place- Daisuke Furukawa, MD- "No to Pip/Tazo: Identifying inappropriate use of Pip/Tazo for treatment of Skin and Soft Tissue Infections" (Region I)
Left to Right: Mark Noah, MD, FACP, Jaswal Stuti, MD, Howard Williams, MD, FACP and Laxmi Suthar, MD, FACP
ACP (all three regions) Resident Innovation:
1st place- Kevin Hsu, MD- "Rethinking G6PD Deficiency Screening Prior to Sulfasalazine Use" (Region I)
2nd place- Ara Rostomian, MD- "IHI Open school as an Academic Framework for Medical Resident Education in Health Safety" (Region I)
3nd Place- Ray Dong, MD- "Patient Activation and Colonoscopy Bowel Prep" (Region I)
ACP region 1 Medical Student Clinical Vignette:
1st place- Daria Gaut- "An unusual presentation of GI Mucormycosis"
2nd place- Andrew Sumarsono- "Hyperpigmentation out of the Blue"
3nd place- Daniel Diaz-Aguilar- "Herpes Zoster Ophthalmacus: More than Meets the Eye"
ACP (all three regions) Medical Student Research:
1st place- Rashi Singh- "Evaluating the combination of Everolimus, Lapatinib, and Capecitabine for the treatment of HER + metastatic breast cancer (Reg II)
2nd place- Mark Lin- "Warfarin and increased mortality risk in patients with advanced CKD" (Region II)
3nd place- Paul Yang "Retrospective Evaluation of Appropriate Asthma Diagnosis using PFTs to Guide Physician Education" Region I)
ACP (all three regions) Medical Student Innovation:
1st place- Mridula Nadamuni- "Improving Patient Satisfaction with Pro NATA Medical Education" (Region 1)
2nd place- Jeanie Gail Radoc- "A novel Telephone Triage Program for HIV-positive Children"(Region 1)
3nd Place- Samuel Sampson- "The role of Group Medical Visits in Improving Pre-Diabetes Outcomes in County Clinic Setting" (Region II)
ACP (all three regions) Early Career Physicians
1st Place: Tony Hung, MD- "Implementation of an Electronic Attendance Check In System for IM residency" (Region I)
2nd Place: Jason Williams, MD- " Procedure Teaching Service: Early Success" (Region I )
3nd Place: Nicole Shahghassemzedeh, MD- "Metastatic Germ Cell Tumor of the Liver from an Unexpected Primary in a Pregnant Woman"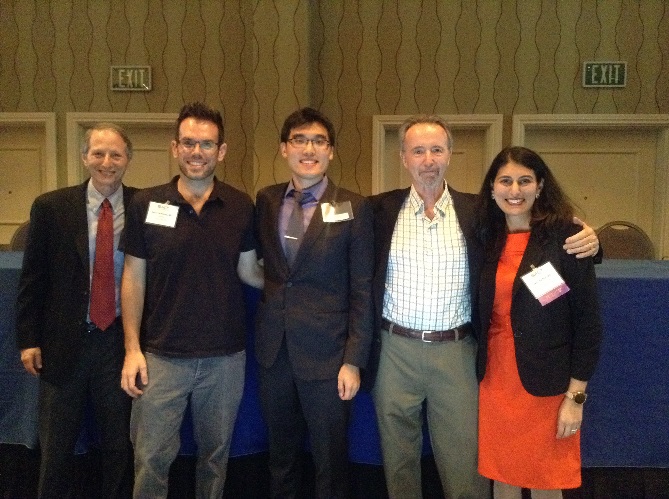 Left to Right: Mark Noah, MD, FACP, Jason Williams, MD, Tony Hung, MD, Howard Williams, MD, FACP and Laxmi Suthar, MD, FACP
ACP (all three regions) Doctor Dilemma Winner:
USC Internal Medicine Residency Program
Praveen Belu, MD
Kevin Do, MD
Ju Suh, MD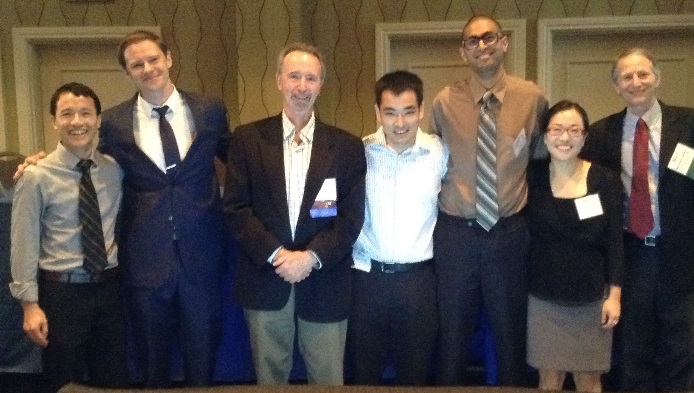 Left to Right: Vinhfield Ta, MD, Matthew McCullough, MD, Howard Williams, MD, FACP, Praveen Belu, MD, Kevin Do, MD, Ju Suh, MD and Mark Noah, MD, FACP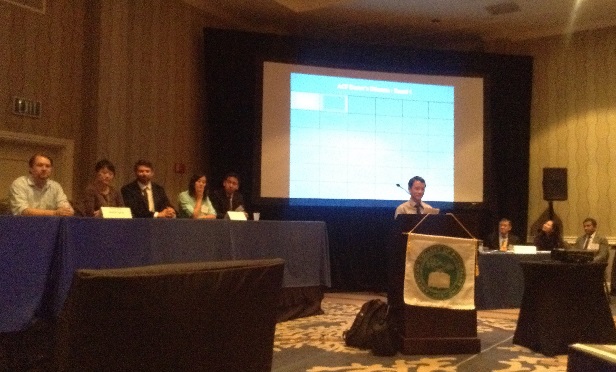 Doctor Dilemma Competition
Our Chapter's ACP Laureate Award recipient this year is Robert Goodman, MD, FACP. He has been a consistent contributor to the regional ACP meetings for a number years, running highly successful SEP modules that have facilitated a large number of our members to meet the Maintenance of Certification requirements for the ABIM.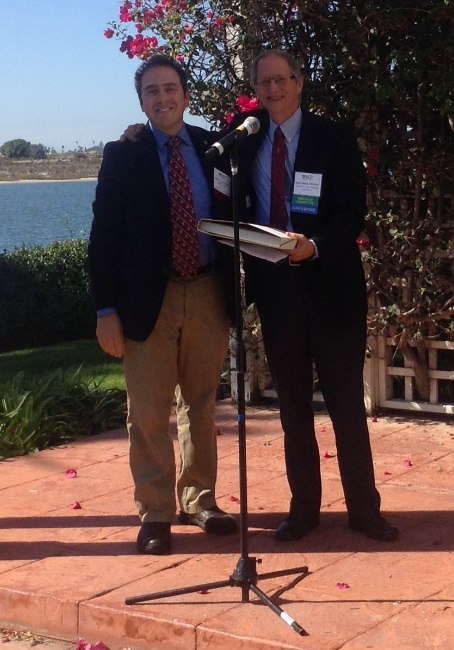 Dr. Mark Noah presenting ACP Laureate Award to Dr. Robert I Goodman
---
ACP MACRA Resources
The Medicare Access and CHIP Reauthorization Act of 2015 (MACRA) replaces the flawed Sustainable Growth Rate (SGR) payment system for physicians by transitioning from a volume-based system to one that rewards value. The CMS released the final rule on Oct. 14, 2016, in response to which ACP will be providing additional analysis and member resources. To help you better understand the basics of this new physician payment program and what you need to do to be compliant with its guidelines the ACP has put together a set of resources on its website.
There is wonderful information here to help you make the decision on what is the best direction for your medical practice. Check it out!
---
ACP National Internal Medicine Meeting in San Diego
It only seems to happen once every 4 years or so that the ACP's national meeting makes it to the west coast, and we are fortunate to have the meeting in our back yard in San Diego on March 30-April 1, 2017. Please put the dates in your calendar and join us for a tremendously educational meeting, and a wonderful California ACP reception.