| | |
| --- | --- |
| January 2014 | Gordon L. Fung, MD, PhD, FACC, FASH, FACP, ACP Governor |
---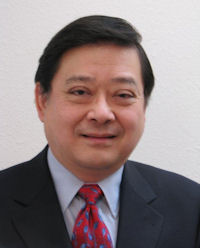 Happy New Years and best wishes for a successful 2014 to everyone! I hope that the season went well for everyone and that you were able to spend quality time with family and friends. I hope that the practice of medicine is still going well for everyone and that you all are enjoying your practices.
CANO has been having a phenomenal year from my perspective. It seems to continue to grow on the trajectory that was set by George Meyer, FACP immediate past Governor for CANO and Molly Cooke, Past CANO Governor and current President, ACP. We continue to grow in membership and have several new fellows from our region. We had an outstanding Annual Scientific Meeting in San Jose Nov 1-3, 2013. We had an attendance of 250 that included a majority of members and several non-members. The exit polls had very favorable responses and comments. We just received the preliminary report from the audience participation survey and are beginning to review them to set a course for next year's Scientific Sessions which will take place on San Francisco Parc 55 Hotel Nov 21-23, 2014 (the week before Thanksgiving Holidays). So please save the date. I am hoping for increased attendance. Some of the very highly rated sessions were the plenary sessions highlighting Updates in Gastroenterology by George Meyer, FACP; The history of the Internist to the present day, by Faith Fitzgerald, MACP who was also honored as a Laureate, the Hospitalists' Year in Review by Michael Hwa, FACP and the breakout sessions with the Neuro Examination by Vange Douglas, MD, UCSF Neurologist, and the Cardiovascular Examination by Ian Harris, FACP, Vice chair of the Program Committee for this year's program. Thanks to all for great sessions.
Dr. Faith Fitzgerald receiving the Laureate Award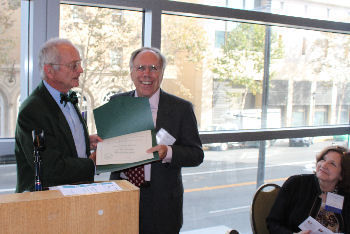 Dr. Sadler received the Lifetime Achievement Award
Dr. Meyer receiving the Volunteerism and Community Service Award
Our Saturday luncheon was once again highlighted by the awards ceremony. Thank you to Ann Myers, MD, FACP and her committee for an outstanding job. The Laureate Award was given to Faith T. Fitzgerald, MD MACP from UC Davis; Alfred M. Sadler, Jr., MD, FACP received the Lifetime Achievement Award, and George W. Meyer, MD, FACP was recognized with the Volunteerism and Community Service Award. The following persons were also recognized for their achievements:
Distinguished Teacher/Mentor Award: Jorge A. Garcia, MD, MS, FACP from UC Davis
Associate Recognition Award for Leadership: Asma Asyyed, MD from Alameda County Medical Center
Associate Recognition Award for Excellence in Mentorship: Alejandro Diaz, MD from Alameda County MC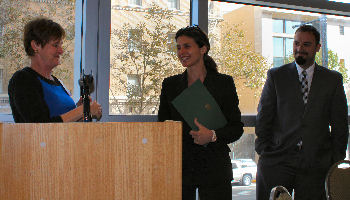 Dr. Asyyed and Dr. Diaz receiving their awards. Dr. Jorge Garcia was not present.
The poster session was again well attended with 167 abstracts submitted. Congratulations to the first place winners in the following categories:
Vignette: Petra Mamic from Stanford
Research: Irene Hutchins from UC Davis
Quality Improvement: Mariam Hasan from Alameda
Student Vignette: Michael Liu from UC San Francisco
We have also been very active trying to invigorate the membership committee to target segments of the Northern CA region. Currently only 30% of the internist or specialist internist are members of the ACP. As the second largest physician organization in the United States and the voice of Internal Medicine, it is important for the whole community of internists join to participate in shaping and directing the field of internal medicine. Membership is one of the strategic goals for at least 50% growth in the membership over the next four years. Our current chairperson of the Membership Committee is Danny Sam, FACP from Kaiser. Please let us know if you have any ideas or want to get involved in recruiting more members to join the ACP, on this front of membership as well is engaging the members to be more actively involved in the chapter and then nationally.
---
Strengthen our Chapter Recruit a Colleague
The American College of Physicians and the CANO Chapter encourages all members to help strengthen the voice of internal medicine by recommending ACP Membership to colleagues. By joining the College, your colleagues will enrich their clinical knowledge and skills and have access to all of the ACP member benefits that you enjoy.
To thank you for your dedication to our organization, ACP offers incentives to members and their chapters that recruit new members through the Recruit-a-Colleague Chapter (RACC) Rewards Program.
As with the national Recruit-a-Colleague Program, the RACC Program rewards successful individual recruiters with dues credits for each new full Member recruited and a chance to win a trip to the annual Internal Medicine meeting. In addition, the RACC Program also provides rewards to the recruiters' chapters. The Recruit-a-Colleague Chapter Rewards Program runs annually from April 1 through March 15.
To participate, simply forward to your colleagues the Membership application. To qualify for the program, your name must be listed on the recruiter line of this specially coded application.
Thank you for your help in strengthening our chapter!
---
Welcome to New Members
Check out the newest members of the CANO.
---
Congratulations to our New Fellows!
Check out our new Fellows.
---
Chapter Excellence Award
I am pleased to announce that our chapter is in receipt of the 2013 Chapter Excellence Award! The award recognizes chapters which successfully meet the standards for managing a chapter. In order to achieve the Chapter Excellence Award, chapters must meet all basic criteria and seven optional criteria. Criteria include such activities as formulating an effective Governor's Council and committees, communicating frequently with membership, providing educational opportunities, recruiting and advancing members and celebrating membership through local awards. I would like to extend a special thanks to those chapter members who assisted me in all of these endeavors! For their hard work and dedication, we received this award.
---
Early Career Physicians
The Early Career physicians group has been very active establishing a council under the leadership of Sima Pendharkar, Tiffany Leung, and Raquel Dudderar. They have received ACP national approval of their council and have already calendared their first networking event for February 27, 2014 put flyer in here to get the ACP input from this very important segment of the physician population. They have also created their own segment website link. We are actively working to get the student segment and Residents and Fellows section up and active.
CANO has been actively involved in advocacy both at the statewide through our Cal-ACP C (6) organization and nationally with active involvement in the AIM (Advocates for Internal Medicine). We are seeing some of the fruits of our joint voice being heard in Sacramento with continued support of MICRA and the CURES Program funding. Nationally, we have been involved in the urging congress to fix the SGR and actively working with ABIM to solve the many concerns and issues brought up by the membership with regards to MOC.
At this time I would like to make a personal plea for any member who would like to become more involved in the chapter to let me know by email your willingness and interests so that we can work together to make the chapter and the ACP your organization. We have committees already established and those can be viewed on the website. But we are definitely open to any other initiatives or new projects to increase engagement in the college. National ACP has been working to engage the membership in new ways by providing more tools for practice at all levels. One very practical and useful roll-out has been ACP Smart Medicine. This is a membership benefit point-of-care application to help clinicians from the students to residents, to practitioners including academics an up-to-date resource to get the necessary information to help manage patients. It can be downloaded to your personal mobile device and is very easy to use. Another is the Practice Management Center available through the website for community physicians or those interested in community practice.
To summarize, 2013 has been a very busy year. But we have much work to do and I look forward to working with you. Please feel free to contact me or our ED, Carmelino Raffetto. Best Wishes for 2014!