You are here
Arkansas Governor's Newsletter March 2017
Arkansas Governor's Newsletter March 2017
---
---
Omar T. Atiq, MD, FACP, ACP Governor
---
Governor's Message
Happy 2017! We just celebrated the New Year's and we are in the last throws of its first quarter already. So is life. Well, I am excited to share some wonderful news with you. After a lapse of years, we will have two of our Fellows honored with Masterships at the upcoming ACP Convocation in San Diego – Drs. Bob Hopkins and Dan Rahn. We are proud of their achievements. We will celebrate with an Arkansas Chapter dinner after the Convocation at Lou & Mickey's at 8.00 pm. The following evening, our Chapter will be joining Alabama, Louisiana and Mississippi for a Reception at the Marriott Marquis San Diego Marina. We are continuing our efforts to identify other worthy Arkansan Fellows for Masterships, under the guidance of current Masters.
As most of you know, we are going from having a single UAMS Internal Medicine residency program to having many in our state, both under the auspices of UAMS and outside it. While that is needed and exciting, it creates new challenges for our ACP Chapter, from the composition of the Council to the annual clinical vignettes competition. Luckily, we have tremendous support from all around the state to address these growing pains successfully and emerge as a more vibrant and successful Chapter. Also, it is time to elect our new Governor this Fall. I have formed a nominating committee comprising the past three Governors to help us do that.
The two new osteopathic medical schools in our state, with about two hundred and fifty additional medical students enrolled every year, most of whom are slated to serve as primary care physicians in our state and elsewhere, give our Chapter an exciting new project to work on. ACP Arkansas Chapter is well positioned and will work hard to become their new 'home'. The preparations for the Annual Chapter meeting in the Fall are underway led by Co-Chairs, Drs. Keyur Vyas and Ryan Bariola. As before, expect a fascinating scientific program. This year, the ACP EVP, Dr. Darilyn Moyer will be joining us, as well.
Omar Atiq, MD FACP
---
Arkansas 2016 Chapter Meeting
The AR Chapter Meeting was held October 21st and 22nd. ACP Arkansas held a successful two days filled with educational sessions, Resident presentations, and maintenance of certification modules. During the meeting, Dr. Laura Hutchins was awarded the 2016 Abernathy Award. Dr. Jennifer Dillaha was awarded the I Raise the Rates Award for continued work in Immunization. Congratulations!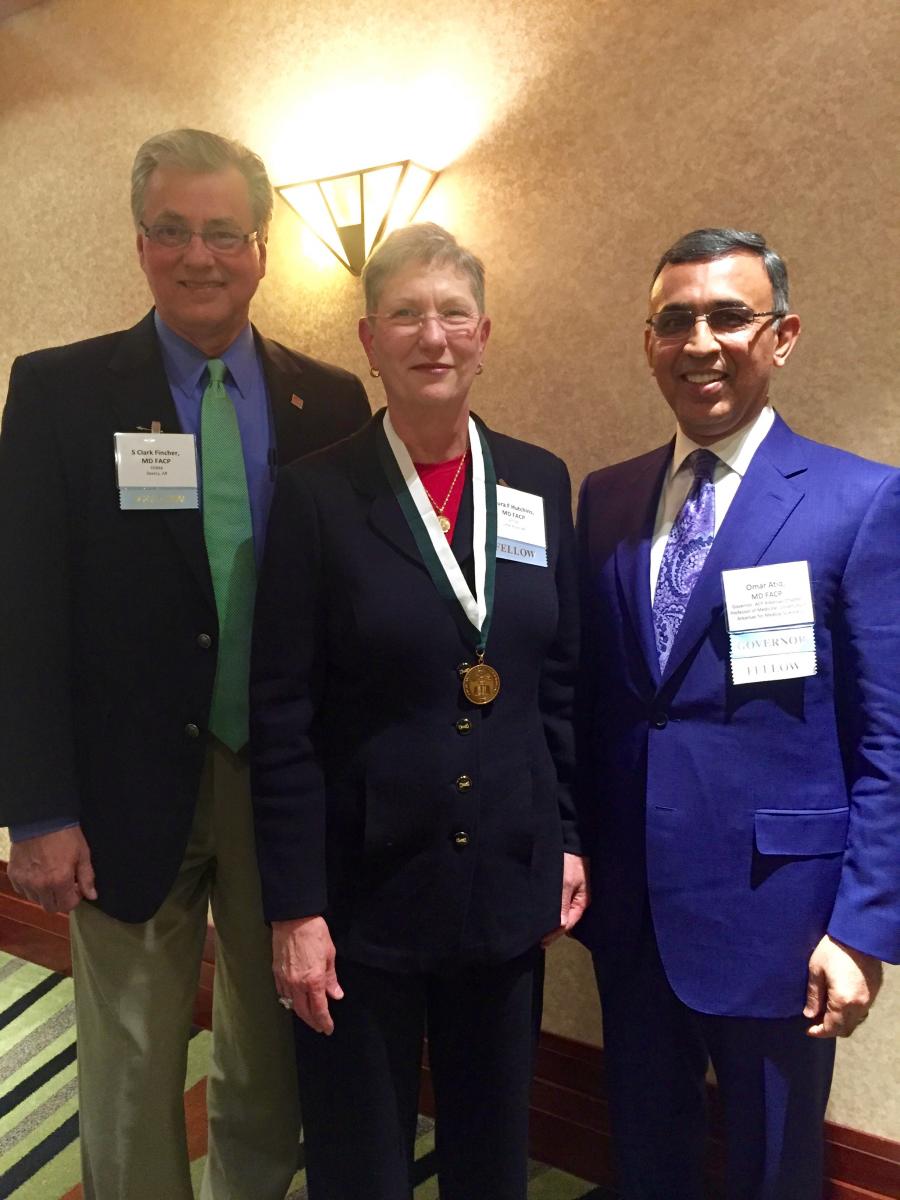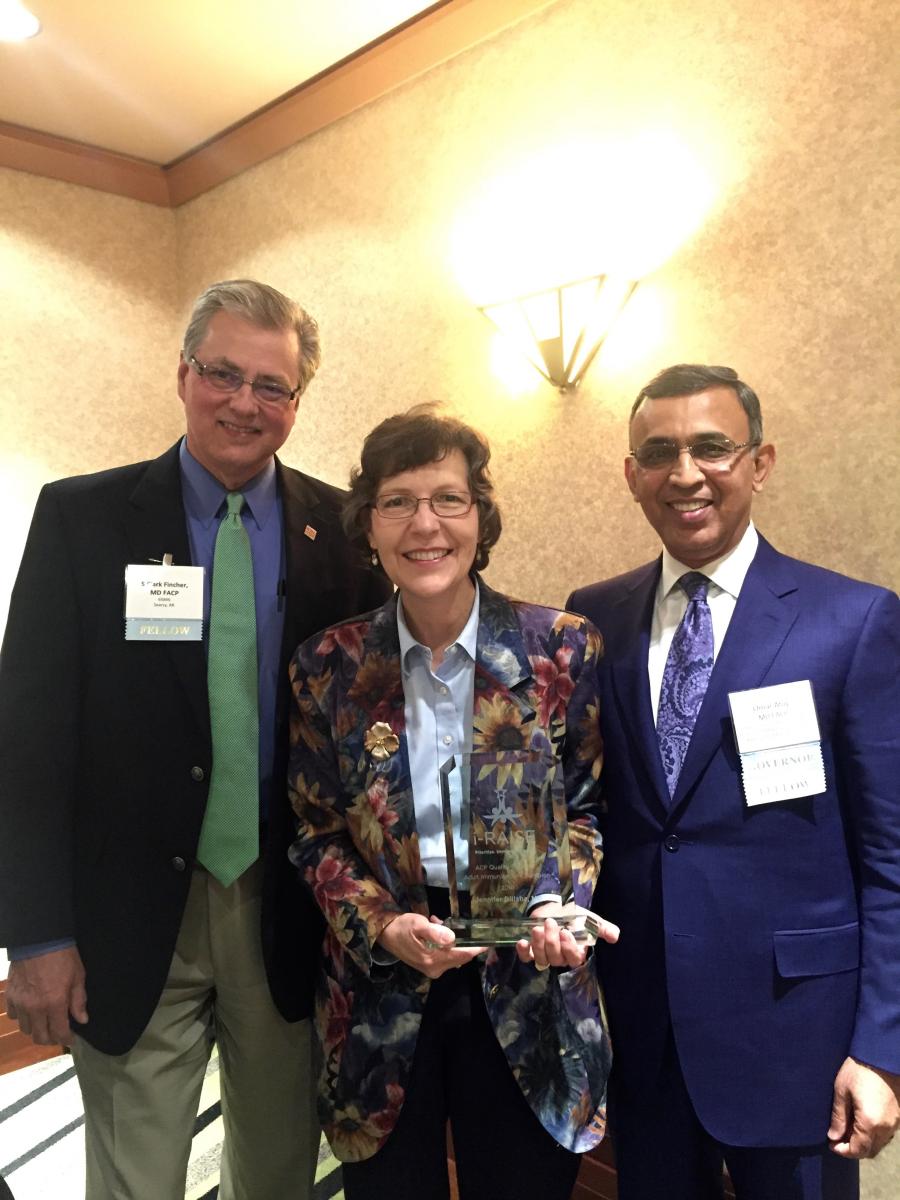 ---
Call for Fall 2017 Resolutions
The deadline for members to submit resolutions at the chapter level for consideration at the Fall 2017 BOG meeting is April 7. See this post for more details and to prepare resolutions for submission by the deadline to ACP on May 26, 2017.
---
New ACP Practice Advisor Module Addresses Patient and Family Engagement
ACP has launched its newest ACP Practice Advisor Module: Patient and Family Engagement .
---
ACP Unveils New Section Online: Sharing Our Stories
A new page on ACP's website, "Sharing our Stories", features a collection of personal perspectives, anecdotes, and reflections about internal medicine, career paths and achieving professional satisfaction from ACP members and other internists.
---
New Fellows in the Last Six Months
Eric J. Del Giacco, MD, FACP
Peter D. Emanuel, MD, FACP
Veryl Hodges, DO, FACP
Jahan Zeb Riaz, MD, FACP
Mukesh K. Sharma, MD, FACP
Steven M. Shrum, MD, FACP
Benjamin Tharian, MD, MBBS, FACP
---
New Members in the Last Six Months
Jack Griebel, MD
Victoria Laine, MD
Maria Dolores Molineros, MD
Wilbur T. Peer, MD
Mahiry T. Romero Salinas, MD
Bilal Sadiq, MD
Stephen D. Wagner, MD
Billy Derek Worley, MD
Sarah Worley, MD