You are here
Arkansas Governor's Newsletter June 2019
Arkansas Governor's Newsletter June 2019
---
---
Stacy C Zimmerman, MD, FACP, ACP Governor
---
Governor's Message
ACP is the nation's largest medical specialty organization. Membership comprises more than 154,000 internal medicine physicians and medical students. Internists provide the majority of health care to adults in America. Arkansas is a cohesive community focused on a common goal to reflect the interests and concerns of our specialty and provide the best care to our patients!
As your new Governor, I hope to represent our Chapter and national organization by encouraging internists in our state to become members and members to advance to Fellowship. My goal is to grow our medical student membership by welcoming into our membership our two new Arkansas medical schools, NYIT and ARCOM.
Our chapter has started an Early Career Physicians Group in addition to our Medical Student Interest Group to encourage medical student members and residents to participate in our local and national ACP activities.
Our Arkansas Chapter was awarded an ACP Support and Alignment Network Grant for $10,700 to produce the AR ACP and Unity Health Opioid Summit which took place at Unity Health in Searcy on April 29th. This event hosted 100 provider attendees from all over the state and focused on prescribing guidelines for responsible opioid stewardship.
As we roll towards 2020, mark your calendars for our Annual Chapter Scientific Meeting in Little Rock at the Double Tree on September 20th lead by our educational program chairs, Dr. Keyur Vyas and Dr. Roy Kamoga. Our inaugural Resident & Medical Student Day will be held on the following day, September 21st at UAMS. Resident & Medical Student Day will showcase scholarly activities from residents and medical students training at residency programs and medical schools across Arkansas. Please plan to attend both events!
We would like to hear any suggestions you have for how the Arkansas Chapter of the ACP might help make us better physicians and improve the quality of the professional life of internists.
Once again our accomplishments reflect a stellar year. I am very proud to be your new Governor and sincerely hope that you become more involved in your ACP activities in our state.
Stacy Zimmerman, MD, FACP, FAAP
---
New Fellows of the American College of Physicians
Congratulations to the new Fellow of the American College of Physicians. The newest fellows were honored during the Convocation in Philadelphia on April 11, 2019:
Promotion to FACP signifies national recognition of an ACP member's dedication to the internal medicine profession and acknowledges involvement and leadership within your community.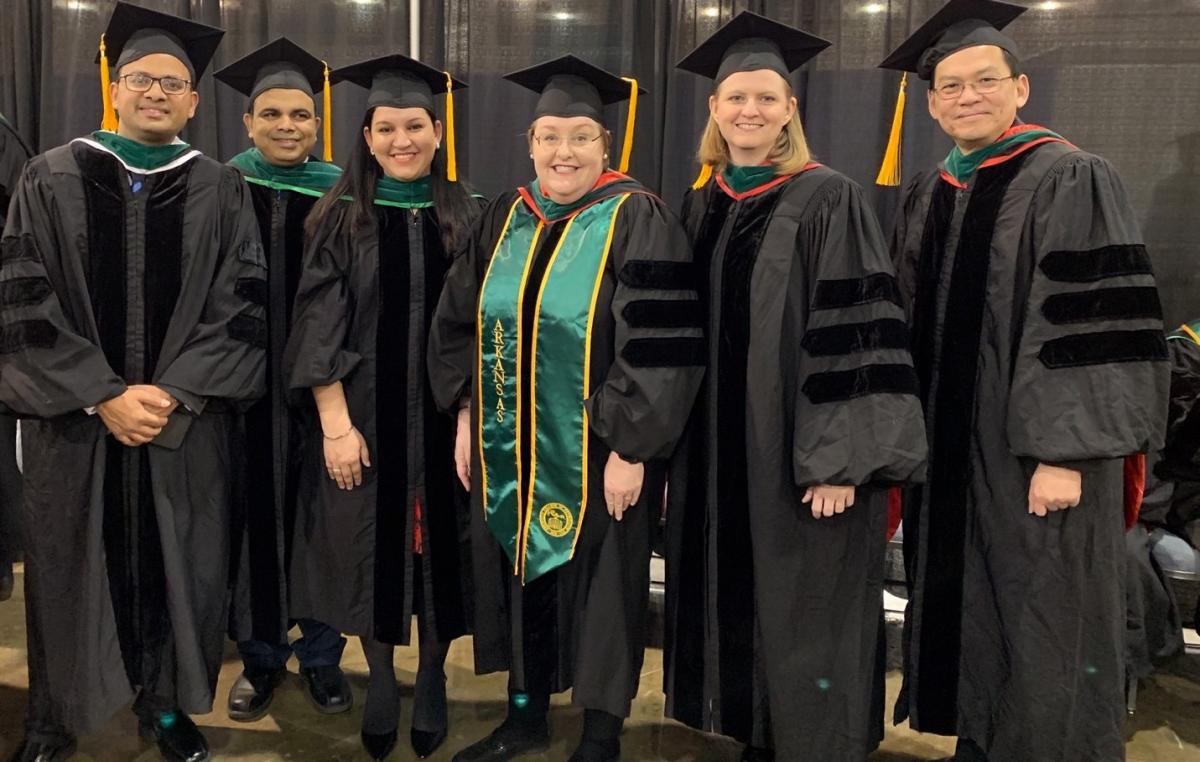 ---
ACP Arkansas Chapter Wins Chapter Excellence Award
ACP Arkansas Chapter received the Chapter Excellence Award during the IM 2019 annual meeting in Philadelphia. The award recognizes ACP chapters that successfully meet the standards for managing a chapter. In order to receive the Chapter Excellence Award, chapters must meet 21 criteria of excellence.
---
Advocates for Internal Medicine Network
Do you want to advocate for your patients and for your profession? Join the Advocates for Internal Medicine Network. To learn more, visit: AIM ACP
The ACP Washington Office provides advocacy support and services to ACP members on a multitude of issues. Learn more about the programs and resources available to you at ACP Advocacy and AIM ACP
---
Webinar MKSAP Live Online Study Hall
Join us on Tuesday nights at 8:00 Central!
Each week our hosts reveal a new "episode" of MKSAP 18, preparing you for boards over the next two years. This is an opportunity to prepare for recertification in a weekly casual, collegial, online setting. It's free for ACP members*, but you must own MKSAP 18.
*At this time, Online Study Hall is open to Master, Fellow, and attending physician members. We hope to open it to resident members in the near future.
More information and registration HERE
---
Save-the-Date
Every Tuesday at 8:00 PM Central Time: Webinar MKSAP Live Online Study Hall
September 20th 2019: ACP AR Annual Scientific meeting at the Double Tree, Little Rock
September 21st 2019: ACP AR Resident/Student Day at UAMS
23-25 April 2020: Internal Medicine Meeting 2020 in Los Angeles, CA
---
Arkansas 2019 Chapter Meeting
Join us for our Chapter Meeting on September 20th at the Double Tree in Little Rock. This one day event will be filled with educational sessions and the opportunity to earn CME and MOC!
See the meeting brochure here.
Register Here.
---
Arkansas 2019 Resident and Medical Student Day 2019
Join us for our 1st Annual Resident and Medical Student Day on September 21 st at the UAMS Winthrop Rockefeller Cancer Institute. Registration details coming soon! Call for Abstracts is Open!