You are here
Arizona Governor's Newsletter September 2018
Arizona Governor's Newsletter September 2018
---
---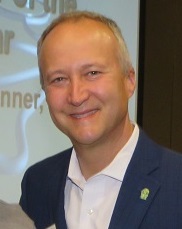 Robert Aaronson, MD, FACP, ACP Governor
---
Message from the Governor
Dear friends and colleagues,
I hope this finds you all well, in both your private lives and in medicine.
In this newsletter, we would like to share some of what you and others in our chapter have been up to, and to highlight future opportunities to become involved in our ACP community at the state and national levels. Thanks to the members highlighted below who have continued to help keep our Arizona chapter vibrant, relevant and effective. And thanks to all of you for caring enough about our profession to remain engaged in this community and the issues that affect us and our patients.
Thus far, 2018 has been an eventful time in medicine and for ACP Arizona, and more is on its way. Our Chapter has held several educational and social events, and these have included practicing physicians, residents and students. Our chapter committees have helped shape our goals and set our priorities and have organized some terrific activities. Our members have emailed their opinions and our shared messages to Phoenix and Washington and have been to the state legislature and to Congress, helping ensure that internist voices are heard.
In response to the opioid epidemic, ACP Arizona recently held an educational program that provided three-hours of opioid-related CME, as is now required for Arizona medical licensure. This activity was simulcast to several sites statewide and had over 200 participants. If you missed it, keep an eye out for an upcoming announcement, as we will soon make this free CME available online. Special thanks to Priya Radhakrishnan, our governor-elect, and Dixie Swan, for organizing this and for doing the lions-share of work.
On a bright note, and resulting at least in part from ACP efforts, CMS has been moving forward with its Patients over Paperwork initiative, and ACP continues to advocate for meaningful improvements in administrative burden. On the payment side, whether you know it as MACRA, QPP, MIPS, APM or any of the other related acronyms, the CMS plan to somehow tie Medicare reimbursement to quality, cost and value is here, and the rules keep changing. ACP remains an influential advocate for physicians on this and other programs, working with CMS and Congress to ensure that the real quality and value provided by internal medicine specialists and subspecialists are recognized and rewarded.
Members of ACP Arizona have been a big part of these efforts, both at the state and national levels, and we welcome you to become more involved. Our chapter committees welcome fresh ideas and new voices. ACP national committees turn to us for nominees. And all of our chapter educational and social activities exist for you. Please contact our executive director, Dixie Swan, dswan@azmed.org , to find out about accessing any of these.
Please also mark your calendars for our Annual ACP Arizona Meeting, coming November 9-11 in Mesa. Those of you who have been there before, know that this meeting is always educational, fun and a great time to reconnect with friends and colleagues and to meet new ones.
Finally, please spread the word about ACP to your internal medicine colleagues and trainees. We are all better and stronger together than apart!
Best wishes for a happy autumn and the new year to come. Hope to see you in November!
Rob
---
Internal Medicine 2018, in New Orleans!
ACP's annual get-together was an outstanding event again this year! Thousands gathered to debate, to honor, to explore! It was an impressive time for many Arizona Chapter members as they presented, competed and accepted honors! Many congratulations are in order!
Doctor's Dilemma Team Journeys to New Orleans, Louisiana
Maricopa Medical Center team consists of:
Ali Al-Marzooq, MD; Ghazwan Elias, MD; Radhika Huliyar, MD
ACP Leadership Day: Arizona Advocacy in Action
Team members: Ali Alshati, MDChB; Jason Hirshberg; Shireen Jindani, MD, FACP; Jaren Trost, MD; Radhamani Kanaiyan, MD; Timothy Fagan, MD; Shak Rehman, MD, FACP
And our report:
Kyrsten Sinema
Our first meeting was with Representative Sinema. We were able to discuss our issues including GME funding, insurance market stabilization, administrative burden, prescription drug pricing and also firearms related deaths. She was quite sympathetic to all our concerns and she mentioned that they will look into the specific bills in the ACP's asks. She was very in tune with our request especially about the dollar amount of some of the prescription drugs.
Andy Biggs
We all met with Enrique Carrasco, staff member. We discussed illegal firearms trafficking and gun violence, and other issues noted before. He noted that Congressman Biggs was a firm supporter of the second amendment, but agreed to discuss our other issues with the congressman.
Paul Gosar
We all met with Anthony Foti, senior advisor, and discussed our agendas. He was attentive but reluctant to believe that much could be accomplished in such a polarized congress. He agreed with ACP's agenda on prescription pricing and transparency. He agreed to discuss several of our issues with Congressman Gosar.
David Schweikert
We all met with Camille Lepire, Schweikert staff, to discuss insurance market stabilization, prescription pricing, firearms, GME funding, and administrative burden. She was receptive to ACP's agenda and agreed to discuss our issues with the Congressman.
Tom O'halleran
Drs. Fagan, Kannaiyan, and Student Dr. Hirshberg met with Congressman O'halleran and his staff to discuss items mentioned before. Congressman O'halleran was receptive to ACP's agendas.
Martha McSally
The whole group met with Congresswoman Martha McSally and her staff. We congratulated her decision to run for the Senate and we wished her the best. Then we discussed our issues. She was quite sympathetic.
Raul Grijalva
Drs. Fagan, Kannaiyan, and Student Dr. Hirshberg met with Kelsey Mishkin, legislative director to Congressman Grijalva. We discussed administrative burdens, GME funding, and insurance market stabilization. She was in favor of GME funding and VHA support, as well as reduced administrative burdens and insurance market stabilization and the individual mandate.
Ruben Gallego
Drs. Fagan, Rehman, Kannaiyan, Frost, and Student Dr. Hirshberg met with the staff member of congressman Gallego. We discussed ACP's stance various issues.
John McCain
Drs. Fagan, Kannaiyan, Frost and Jindanii met with Sen. McCain's staff Mr. Bennett. We thanked him for their vote against abolition of the ACA. Then we discussed issues including prescription drug pricing, GME reform, administrative burden and market stabilization.
Jeff Flake
The day ended with the above group meeting with Senator Flake's staff member. She was quite sympathetic to our issues and was quite familiar with our issues. We discussed about prescription drug pricing, GME reform, administrative burden and gun violence.
It was a day none of us will ever forget!
---
Arizona Physicians Elected to ACP Fellowship
A highlight of every IM Meeting is the Thursday evening Convocation. Arizona was well represented this year by a cheerful class of Fellows!!
The Arizona Chapter 2017-8 Fellows are:
Adebisi Alli, DO, FACP
Adoni Jabbour, MD, FACP
Alejandro Chapa Rodriguez, MD, FACP
Anthony V. Torres, MD, FACP
Bhupinder Singh Natt, MD, FACP
Brenda Shinar, MD, FACP
Dan Capampangan, MD, FACP
Dung T. Nguyen, DO, FACP
Eduardo A. Rodriguez Zarate, MD, FACP
Gerald S. Asin, MD, FACP
Heather Bartz, DO, FACP
Kerilyn Bollmann, MD, FACP
Mary Margaret Jones, MD, FACP
Nachiket Patel, MD, FACP
Norman E. Mendoza, MD, FACP
Osaf Ahmed, MBBS, FACP
Rene J. Beckham, MD, FACP
Richard V. Guthrie, DO, FACP
Rinely R. Aguiar-Olsen, MD, FACP
Robert G. Leigh, MD, FACP
Sandeep Yarlagadda, MBBS, FACP
Stephanie S. Anderson, MD, FACP
Vinay A. Shah, MD, FACP
---
Arizona Chapter New Members – Last Six Months
Matthew Adams, DO
Abaseen K. Afghan, MBBS
Manas Agastya, MBBS
Samuel M. Aguayo, MD
Sorcha Allen, MBBchB
Mayank H. Amin, DO
Senthil Anand, MD
Dana M. Archbold, MD
Kyle P. Arslanian, MD
Ashka D. Atodaria, DO
Inderjot Bajwa, MD
Ryan Berryman, DO
Kerry Ann Bertke, DO
Robert Betancourt, MD
Richa Bhattarai, MD
Praveen Bheemanathini, MD,MBBS
Jawad Bilal, MD
Kartik S. Boddupalli, DO
Madhavi Boga
Ryan Buckley, MD
Geraldine Casino
Radhika Chaturvedi Huliyar, MD
Matthew Checketts, DO
Gwinyai Chikwava, MD
Madhav Chopra, MD
Elaine A. Cristan, MD
Michael A. Cutting, MD
Mohammad Khaled Dardari, MD
Soham U. Dave, DO
Edward S. Distler, DO
Visha Elango, MD
Ghazwan Elias, MD
Ilya Finkelshteyn, MD
Christine E. Firth, MD
Deborah E. Fleming, MD
Claudia Gaefke, MD
Brandon S. Gardner, DO
Sehem Ghazala, MD
Kady Goldlist, MD
Mike Gomez, MD
Samer Haddad, MD
Bassam Hattab, MBChb
Terry Hicks-Woodbeck
Luke Hise, MD
Brandon C. Holbert, MD
Tiffany A. Hosten Blackmond, MD
Jayasree Jonnadula, MBBS
Radhamani Kannaiyan, MBBS
Essa S. Kaston, DO
Nathan Kellis, MD
Christina Kelly, MD
Kenneth C. Klein, DO
Robert C. Koch, MD
Shu Ting Kung, MD
Mateja Lekic, MD
James Lieber, MD
Eric Lott, MD
See Wei Low, MD
Sheila I. Maier, DO
Marnonette J. Marallag, MD
Jose Marquez, MD
Daniel P. Martinez, MD
Abby J. Matthews, MD
Bryant Rand McNeill, MD
Mark A. McPherson, DO
Elvina Mehinovic
Anupama Mikkilineni, MD
Salam Mohammed Arif, MBChB
Ana Mrkaic, MD
Edward Mulligan, MD
Brittany R. Muscha, MD
Ajeet Nagra, MD
Alisha Nanda, MD
Balaji Natarajan, MBBS
Peter H. Nguyen, MD
Phuong T. Nguyen, DO
Raymond Nowaczyk, DO
Jerry C. Nwobodo, MD
Sumediah Nzuonkwelle, MD
Onyemaechi Okolo, MD
Aditya Paliwal, MD
Sagar Patel, MD
Cristina Pecci
Shilpa Pedapati, MBBS
Meera Ramanathan, MD
Prashant Rao, MD
Hani R. Rashid, DO
Fawad Rast, MD
Farrokh Ravari, MD
Esa S. Rayyan, DO
William B. Reichert, MD
Andrew C. Rettew, DO
Eric Robinson, MD
Alicia Rodriguez-Pla, MD,PhD
Yasir Rudha, MD
Zahid Saeed, MD
Mashood Sajjad, MBBS
Jarred J. Sargeant, md
Sarah Scott, MD
Aman Seth, DO
Sorabh Sharma, MD
Nehan A. Sher, MD
Vini Singh, MD
Nirmal Singh, MBBS
Dale M. Stern, MD
Chandra Stockdall
Misa Stroker, MD
Preethi Subramanian, Ms MD
Kawanjit K. Surapur, MD
Joshua Teh-ming Tan, DO
Gretchen E. Taylor, MD
Nina Tazi, MD
Hiral P. Thakrar, MD
Khang Tran, MD
Adam Turnock
Omar Velasco, MD
Tingrui Wang, MD
Kelly K. Wickstrom, DO
Mark T. Williams, MD
Wei Xiang Wong, MD
Shaun Yang, MD
Siamac Yazdchi, MD
Ammar Yousif, MD
E. Quinn Ziatyk, DO
---
AZ Chapter-Day at the Arizona State Legislature
In February, a group of ACP members, held an informative and very interesting "Day at the Arizona State Legislature." Highlights of the day in the Majority Caucus Room at the State Capitol, were face-to-face visits with individual State legislators and helpful information about how to lobby. Pictured is Pele Fischer, JD, Vice President of Policy and Political Affairs, ArMA, addressing those gathered – This legislative action "stuff" is exciting!!
Watch for announcements of 2019 Day at the Arizona State Legislature…it is an experience you will enjoy and remember!!
---
ACP Arizona Extends Congratulations to 2018 Arizona IM Resident Graduates
This is the time of year we say hello to new medical students and residents all over the state, and goodbye to some valuable medical school and residency colleagues. We would like to acknowledge the recent Internal Medicine Resident Grads from vital programs around the state.
2018 Residency Grads:
Canyon Vista
Matthew Beeton, DO, FM
Rowin Begay, DO, FN (Accepted into an OMM/NMT Fellowship!)
Sevag Boyadjian, DO
David Brower, DO
Kia Ghiassi, DO
Christabel Moy, DO
Sean Spurr, DO
Dignity Health – St. Joseph's Hospital & Medical Center
Ryan Berryman, DO
Geraldine Casino, MD
Wilbur Freeman, DO
Tiffany Hosten Blackmond, MD
Shyam Patel, MD
Cristina Pecci, DO
Rashna Shetty, MD
Hiral Thakrar, MD
Tingrui Wang, MD
Mayo Clinic
Khang Tran, MD
Sagar Patel, MD
Shu Ting Kung, MD
Brandon Nokes, MD
Allison Gathany, MD
Tripta Kaur, MD
Christine First, MD
Preston Seaberg, MD
Andy Chuu, MD
Sorcha Allen, MBBCh, BAO
Jaya Mehta, MD
Maricopa Medical Center
Ali Al-Marzooq, MD
Ammar Alnaser, MBBChB
Inderjot Bajwa, MD
Kartik Boddupalli, DO
Visha Elango, MD
Ghazwan Elias, MD
Brandon Gardner, DO
Bassam Hattab, MBChB
Radhika Huliyar, DM
Cristina Kelly, MD
Sylvia Krzeminskik, MD
Eric Lott, MD
Mark McPherson, DO
Anu Mikkilineni, MD
Su Nzuonkwelle, MD
Fawad Rast, MD
Farrokh Ravari, MD
Yasir Rudha MD
Zahid Saeed, MD
PRELIMS:
Tabz Al-Abbadi, MD
Pep Carotenauto, MD
Ross Frederick, MD
Devanshi Intwala Mistry
Mountain Vista Medical Center
Sandra Mele, DO
James Rood, DO
Preston Ashby, DO
Tyler Sprague, DO
University of Arizona, COM-T IM Residency Program
Aakash Shah
Adam Berlinberg
Aditya Paliwal
Anthony Witten
Benjamin Jarrett
Claudia Gaefke
Eric "Drew" Robinson
Gwinyai Chikwava
Ilya Finkelshteyn
Jack Stephens
Jack Stephens
Jaren Trost
Jarred Sargeant
Jarred Sargeant
Jawad Bilal
Joshua Eason
Kawanjit Surapur
Kelly Barnett
Kelly Wickstrom
Khushboo Goel
Kris Kumar
Matthew Adams
Nathan Kellis
Omar Velasco
Onyemaechi Okolo
Prashant Ra
Robert Betancourt
Ryan Buckley
Ryan Wong
See Wei Low
Sehem Ghazala
Sheila Maier
Steven Stroud
Yunuen Valenzuela
University of Arizona, COM-P
Abby Borhan, MD
Akshjot Puri, MD
Allysia Houser, DO
Anita Fazal Rasheed, MD
Edward Distler, DO
Esa Rayyan, DO
Indrajit Nandi, MD
Kaivan Salehpour, MD
Kenneth Klein, DO
Kristen Young, DO
Luke Hise, MD
Madhav Chopra, MD
Mateja Lekic, MD
Mayank Amin, DO
Mayur Patel, MD
Michael Rowley, MD
Patrick Leonberger, DO
Robert Drutel, MD
Robert Koch, MD
Salam Mohammed Arif, MD
Siamac Yazdchi, MD
Sumaiya Islam, MD
William Reichert, MD
University of Arizona South Campus
Balaji Natarajan
Chandra Stockdall
Jayasree Jonnadula
Jose Marquez
Kady Goldlist
Nirmal Singh
Radhamani Kannaiyan
Roberto Swazo
Rui Wen Pang
Wei Xiang Wong
Verde Valley
Sonia Hasbun DO, CR
S. Jared Taylor DO, CR
Kathryn Denny DO
Kathryn Kimes DO
---
Awards and Recognition
Fellowship: There are many physicians among our membership worthy of recognition. Advancement to fellowship is one that just takes a small amount of organization of a curriculum vitae and obtaining sponsorship letters. There are several ways for member physicians to achieve this recognition. Check this link for more information.
Please consider nominating a chapter member for one of the following awards:
Laureate Award - Criteria:
Fellow or Master
Senior physician
Demonstrated excellence to medical care, education, or research
Excellence and peer approval in the field of internal medicine
Service to community, chapter, and the ACP Nominations must document attributes and accomplishments which fulfill the above criteria.
Volunteerism and Community Service - Criteria
Member, Fellow, or Master
Distinguished volunteer work done as a physician and medically related.
Activity does not represent service performed as part of training or job
Nominations should document:
The range and scope of the volunteer and community services
Whether the nominee been a leader in initiating, developing, or implementing volunteer programs.
Whether the nominee's contributions been sustained over time.
How have the characteristics of the nominee that have made him/her a role model inspired other physicians or medical trainees to participate in volunteer and community service.
We award the Laureate and Volunteerism Awards at our Annual meeting but need your help to nominate candidates!! Please e-mail our nominations to the Awards Committee, via our Executive Director Dixie Swan, dswan@azmed.org.
Make sure to make time for our exciting, entertaining and informative annual Arizona Chapter Meeting, "Advancing Medicine: New Perspectives on Established Practices", coming up November 9 – 11, 2018, at the Memorial Union, Arizona State University, Tempe, AZ!
---
New Patient Education Programming via the Wellness Network
ACP and The Wellness Network are partnering to deliver new patient education programming that will be available via The Wellness Network's Patient Channel, an in-hospital TV network and online portal.
ACP members will have access to the Patient Channel library of over 107 disease and medication management, wellness and patient safety videos that can be viewed by patients during an office visit or at home. Programming topics include heart failure, diabetes, hypertension, COPD, joint replacement, medication management, and more.
To learn more, visit The Wellness Network page.
---
ACP's Special Interest Groups
ACP's Special Interest Groups provide members with opportunities to engage in discussions online, share ideas, and support one another professionally and personally.
Participate by joining as many groups as you would like, then connect with ACP members from all over the world with similar interests. Groups include:
ACOs/New Practice Models | African American Members | Caring for Adults with Developmental Disability | Clinical Problem-Solving | Clinical Research | Emerging Technologies | Genetics and Genomic Medicine | High Value Care | Hospital Medicine | LGBT Health | Maintenance of Certification | Medical Students | MKSAP | Obesity Medicine | Perioperative Medicine | Physician Educators | Point-of-Care Ultrasound | Re-entry Physicians | Sex- and Gender-Specific Medicine | Small Practices | Volunteerism | Women in Medicine | Work/Life Balance | Working Abroad
Interested in a topic not listed? Contact ACP at mbrdev@acponline.org to ask about forming a new group
Become an "Advocates in Internal Medicine network*" (AIMn) Member – sign up today!
Follow Us!
"Friend" ACP Arizona on Facebook.
ACP Arizona Chapter Facebook Page