You are here
News & Meetings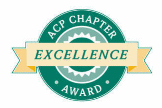 Saudi Arabia Chapter Receives 2017 Chapter Excellence Award
The award recognizes chapters which successfully meet the standards for managing a chapter. In order to achieve the Chapter Excellence Award, chapters must meet all basic criteria and ten optional criteria. Criteria include such activities as formulating an effective Governor's Council and committees, communicating frequently with membership, providing educational opportunities, recruiting and advancing members and celebrating membership through local awards.
Meetings
ACP Saudi Arabia Chapter Meeting
February 13, 2018
Alfaisal University, Riyadh, Saudi Arabia
Please contact Mr Luay Al Sammarai for more information.
Join us at ACP Internal Medicine Meeting 2018!
April 19-21, 2018 in New Orleans, Louisiana
Visit the website.
News
Governor's Newsletters
January 2017 - November 2016 - May 2016 - January 2016 - January 2013
Internal Medicine: Global Perspectives
Interview with Khalid A. Qushmaq, MD, MHA, FACP
International Newsletter, July 2013
---
Chapter Communications
02-01-18: Chapter meeting confirmation
03-20-17: Upcoming event - Women health awareness