You are here
Meet Our Governor
Meet Our Governor
Dr. Muruganathan began his four-year term as Governor in the Spring of 2017. As Governor, Dr. Muruganathan will serve as the official representative of the College for the India Chapter, providing a link between members at the local level and leadership at the national level.

B. A. Muruganathan, MD, FACP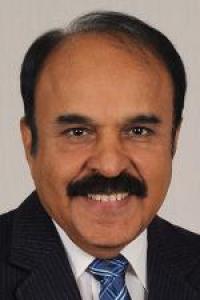 Education: MBBS, 1973 from Stanley Medical College. MD, 1978 from Madras Medical College, Madras University
Post-Doctoral Training:6 Months as a Special Trainee in Intensive Medical Care at Government General Hospital at Chennai (Apr 1978 to Sep 1978)
Certification: FICP-Indian College of Physicians (2008). FRCP (Glasgow) 2010, FACP (USA) 2012, FPCP (Philippines) 2013 & FRCP (London) 2014
Present Position: Consultant Phys. & Chairman of AG Hosp.,Tirupur. Emeritus Prof. & Planning Board Member TN. Dr. MGR. Medical University
ACP Chapter Activities/Leadership Activities: Governing Council member of the ACP India chapter till date. Finance Committee member. Helped in organizing and fund raising for "1st ACP India Chapter Congress – Medicine 2016" held at Mumbai. Delivered a talk on "Dengue, Malaria and H1N1: When to get concerned and Challenges in Management" in the above conference. Motivated many delegates and API members to join ACP.
ACP National Activities: Fellow since 2012. Participated as a dignitary on the dais in the convocation ceremony held in April 2013 as an invited guest of the ACP President. Met the President, Prof. Bronson, Vice President Mr. Ott, and Regents Drs. Kutty and Mir. After the conference, visited ACP Headquarters in Philadelphia to discuss ACP India chapter formation and initiated the discussion on starting the ACP India chapter. Proposed around 25 senior physicians for ACP Fellowship.
Other Appointments/Activities: President – Hypertension Society of India (H.S.I) 2015-2016 (Associate Member in WHL); Dean – Indian College of Physicians (2016-2017). President – Association of Physicians of India (2013-2014); Honorary Prof. IMA CGP; JNU Institute for Medical Sciences and Research Centre, Jaipur. Editor, Annals of Internal Medicine (Indian Issue) from 2015 till date; Chief Editor of the Books namely, Manual of Hypertension 2015, Adult Immunization Book 2014; API Medicine Update 2013; and Assist. Editor – Journal of Association Physicians of India (JAPI) 2015 till date; In recognition of the exemplary leadership -- received the following awards:-Dr. B.C. Roy Award from President of India, Best Performing Doctor Award from Tamilnadu Government, "Medical Teacher of the Year Award 2015" by National IMA, Lifetime Achievement Award from 1. Tamilnadu IMA, 2. KG Foundation Coimbatore, 3. Dr. Mohan's Diabetic Foundation, 4. Tamilnadu DR. M.G.R. Medical University, 5. Saveetha Med. Univ., Service above self, meritorious service and distinguished service awards from Rotary International.
Areas of Professional Interest/Expertise: Hypertension, Diabetes, Obesity and Adult immunization