You are here
India Governor's Newsletter June 2017
India Governor's Newsletter June 2017

---
---
---
From the Desk of the Governor
Dear Members,
This is my first newsletter as Governor of the ACP Indian Chapter. I would like to start by thanking you for electing me and giving me the opportunity to serve the Chapter. I took over as Governor from the highly-respected S.B. Gupta, MD, FACP, on April 1st, 2017 for a period of four years. Dr S.B. Gupta has laid a good foundation along with his team of enthusiastic Advisory Council members. I and the newly elected Advisory Council need to strengthen the Chapter further and take it to greater heights. This, however, will not be possible without the engagement and support of each one of you members.
It was a pleasure and a wonderful first experience to attend the Spring 2017 Board of Governors meeting held at San Diego, California prior to the Internal Medicine Meeting 2017 held from 30 March to 1 April, 2017. The Board of Governors (BOG) Resolutions Process was instituted in 1985 as a means for the grassroots membership to have formal input to the Board of Regents (BOR), the policy-making body of the College. A resolution may address any topic or issue of interest to the initiating member and is submitted to the Governor and/or the chapter council. After approval at the chapter level, the resolution becomes a resolution of the chapter. The BOG holds a resolutions hearing at its spring and fall meetings.
It was an honour to meet ACP leadership including Jack Ende, MD, MACP, President ACP 2017-2018; Nitin S. Damle, MD, MS, MACP, Immediate Past President and Thomas G. Tape, MD, MACP, Immediate Past Chair ACP Board of Regents among others. I also met with peers, colleagues and ACP members from across the four corners of the globe and imbibed best practices from the more mature and established Chapters.
Philip Masters, MD, FACP, Vice President, Membership, and Tanveer P. Mir, MD, MACP, Immediate Past Chair, Board of Regents and six other senior Fellows of the College have confirmed their participation as faculty in the 2nd ACP India Chapter Congress - Medicine 2017 to be held from 12-13 August, 2017 in New Delhi. The objectives of the Congress are given later in the newsletter. Details of the venue, registration and scientific program are posted on the Congress website http://acpchapterindia2017.com/.
Early Career Physicians, Residents/Fellows-in-training and Medical students are encouraged to participate in the poster presentations. It is a great opportunity to showcase your work and win recognition from your peers! Abstract submissions are due by 10 July, 2017 and should be sent to governoracpindia@gmail.com.
Dr. N.P. Singh, Dr. Sandeep Budhiraja and their team are working very hard to make this conference a memorable and grand one. Please support the organizing committee by mobilizing more delegates and more resources by way of stalls for the exhibition.
A lot of hard work has gone into finalizing the excellent scientific program for the ACP India Chapter Congress – Medicine 2017 (details available later in this newsletter) so do be sure to register today to participate and make it a resounding success. Attending the Congress is an excellent way to update your medical education and staying abreast of global best practices and trends. Please organize many scientific CMEs in your region. You can also conduct health camps along with other organizations. By conducting these activities you can improve the image of ACP. I am also planning to create an ACP WhatsApp group. Please send your contact details (email address & mobile numbers) so that we can make an ACP directory.
Warm regards,
B.A. Muruganathan, MD, FACP
Governor, ACP Indian Chapter
Secretariat Mobile - 97874 55111 / 98430 60666
Email: governoracpindia@gmail.com, a.muruganathan@gmail.com
Tirupur, Tamilnadu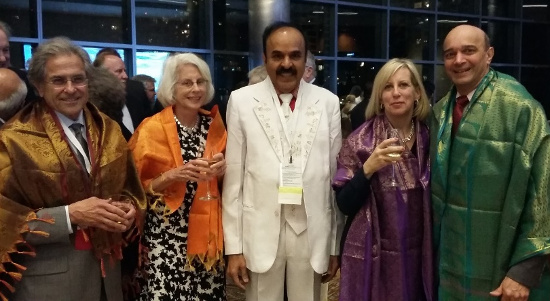 B.A. Muruganathan, MD, FACP with Jack Ende, MD, MACP, President ACP 2017-2018; Mrs. Ende (to his right) and Mrs. Damle and Nitin S. Damle, MD, MS, MACP, Immediate Past President (to his left)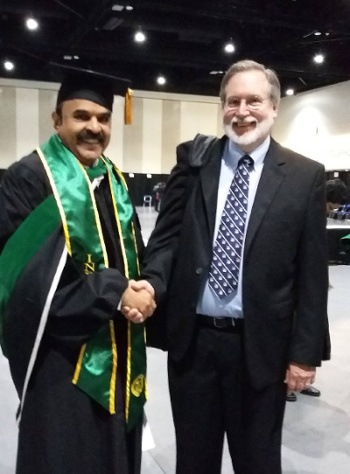 B.A. Muruganathan with Thomas G. Tape, MD, MACP, Immediate Past Chair ACP Board of Regents
---
Internal Medicine Meeting 2017
The ACP Internal Medicine Meeting 2017 was held from March 30th to April 1st, 2017 at the San Diego Convention Center, San Diego, California. This year a record 29 attendees from India came to the meeting. Of those 29, there were 13 fellows, 5 members, 1 resident, 6 medical students and 1 non-member.
It was a wonderful platform to learn and interact with other members of ACP. The meeting had over 200 educational and interactive workshops which had case-based sessions on important issues faced in patient management. A Convocation ceremony was held on 30 March, 2017 to award Fellowships. The new Governor B. A. Muruganathan, MD, FACP was proud to lead the Indian delegation at the somber and grand Convocation.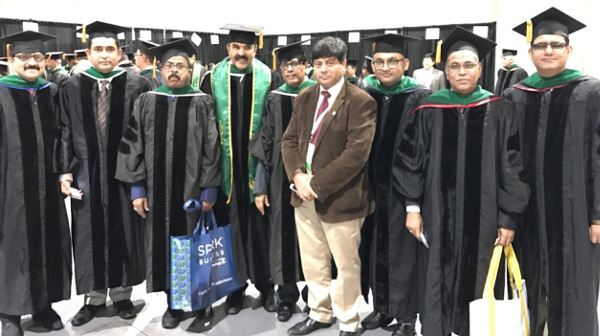 ACP Fellows after the Convocation ceremony with the Governor, B. A. Muruganathan, MD, FACP (fourth from left)
Wahid Khan, MD, FACP had this to say about his experience at IMM 2017
"I got to learn a lot not only about recent advances in the field of medicine and it's sub-specialties but also refreshed my knowledge regards ongoing burning topics in medicine. The faculty was excellent and to the point. They kept the audience glued to their seats in the sessions. There was no session that I attended where empty seats could be seen. Often delegates stood and listened to the speaker for the whole session, if the room was jam packed."
---
Meet the New Advisory Council
The Governor's Advisory Council reflects the chapter's composition of academic, practicing, male, female, urban, rural, and diverse training backgrounds. Given the size of the country it was decided to have representation from each of the five zones – East, West, North, South & Central.
The Governor's Advisory Council for the period 19th May, 2017 to 30 June, 2019 is as follows:
| | |
| --- | --- |
| Governor: | B. A. Muruganathan, MD, FACP - Tirupur |
| Immediate Past Governor: | S.B. Gupta, MD, FACP - Mumbai |
| Vice-President: | Jyotirmoy Pal, MD, FACP - Kolkata |
| Secretary: | K. Mugundhan, MD, FACP - Salem |
| Treasurer: | R. Rajasekar, MD, FACP - Kumbakonam |
| Co-opted Member: | N. P. Singh, MD, FACP - Delhi |
| North Region: | Jatinder K Mokta, MD, FACP - Shimla |
| West Region: | Mangesh Tiwaskar, MD, FACP – Mumbai |
| | Meenakshi G. Narkhede, MD - Aurangabad |
| East Region: | Jayant K Panda, MD, FACP - Cuttack |
| South Region: | Suresh Babu, MD, FACP – Mysore |
| | Vidya Menon, MD, FACP – Kochi |
| Central Region: | Sudhir Mehta, MD, FACP - Jaipur |
| Early Career Physician Member: | Dwijen Das, MD, FACP - Silchar |
| Resident/Fellow-in-Training Member: | Selva S. Saravanan, MBBS - Kangeyam |
---
Educational & Scientific Committee Activities
ACP India Chapter in association with JSS Mahavidyapeeta, Mysuru and API, Mysuru conducted a 'Personality Development Camp' for medical students at Suttur. It was a great initiative for personal and professional growth of the medical students.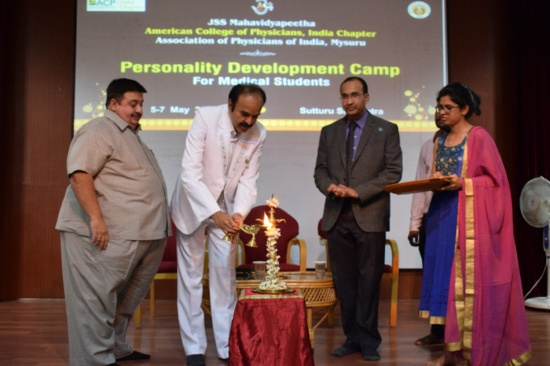 B. A. Muruganathan, MD, FACP inaugurating the Personality Development Course
B. A. Muruganathan, MD, FACP, Governor ACP India Chapter was also invited to inaugurate KAPICON 2017 – a conference of API Karnataka, Mysuru held from 19- 21 May, 2017 at JSS Medical College, Sri Shivarathreeshwara Nagara. Dr. Muruganathan awarded prizes to students who won the A-Z Leadership Qualities Contest.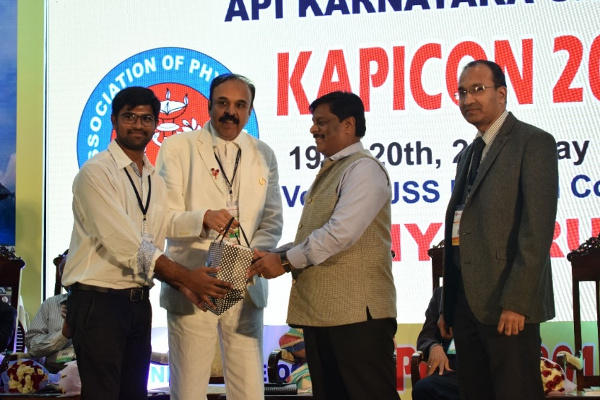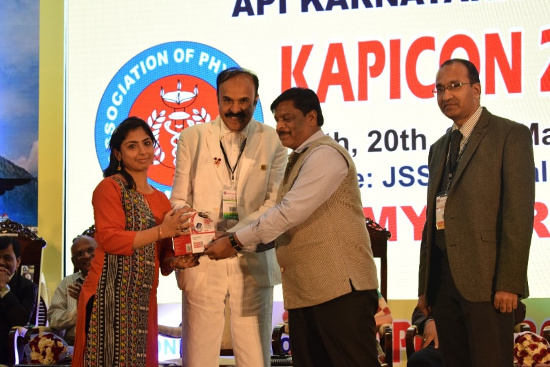 B. A. Muruganathan, MD, FACP, along with Dr. H. C. Mahadevappa, PWD Minister of Karnataka handing over the prizes to two students of JSSMC who won the A-Z leadership qualities contest.
---
Register Now for the 2nd ACP India Chapter Congress
2nd ACP India Chapter Congress – Medicine 2017, 12-13 August, 2017 at JW Marriott Hotel, Aero City, New Delhi
The 2nd ACP India Chapter Congress – Medicine 2017 will offer delegates scientific sessions on the theme, 'Recent Advances in Medicine'. Objectives of the Congress are:
To know more about recent advances in Geriatrics, Gastroenterology, Cardiology, Endocrinology and other fields
To improve the diagnostic skills
To promote ethics in medical practice
To understand the various updates on vascular diseases
To know more about changes in future practice
The importance of adult vaccinations
Visit the Congress website http://acpchapterindia2017.com/ for highlights of the scientific program and other details.
The sessions will be led by renowned international and regional experts in the field through focused discussion groups and case presentations that will provide the necessary knowledge to delegates to stay ahead in their field.
ACP India Chapter Congress 2017 gives a unique opportunity to interact and engage with over 500 physicians and specialists and learn about the latest advances in internal medicine and is an excellent platform to not only broaden your reach, but also demonstrate your active role and commitment to improving the quality of patient care.
Click here to download offline registration form.
Click here to register online.
Registration Fees
| | | | |
| --- | --- | --- | --- |
| | By May 31st | By June 30th | After July 1st |
| ACP Members / Fellows | Rs 7,500 | Rs 9,000 | Rs 10,000 |
| Non Members | Rs 10,000 | Rs 12,000 | Rs 14,000 |
| Accompanying Persons | Rs 12,000 | Rs 14,000 | Rs 16,000 |
| PG Students | Rs 5,000 | Rs 6,000 | Rs 7,500 |
| International Delegates | US $ 300 | US $ 350 | US $ 400 |
---
Welcome New Fellow & Members (Since January 2017)
New Fellows
Fellowship is an honor achieved by those recognized by their peers for personal integrity, superior competence in internal medicine, professional accomplishment, and demonstrated scholarship.
The Chapter recognizes and congratulates the following physicians who were elected to Fellowship in the College in the past 5 months:
| | |
| --- | --- |
| Amitesh Aggarwal, MD, FACP | Subrahmanyam Karuturi, MD, FACP |
| Ananda Bagchi, MD, FACP | Hemant Malhotra, MD, FACP |
| Sangeeta Bhattacharya, MD, FACP | Girish R Mood, MD, FACP |
| Sekhar Chakraborty, MD, FACP | K Mugundhan, MD, FACP |
| Mahinder Pal Singh Chawla, MD, FACP | Manabendra Nayak, MD, FACP |
| Dwijen Das, MD, FACP | Bharat Panigrahy, MD, FACP |
| Sandeep Garg, MD FACP | Mukundkumar Patel, AHP, MD, FACP |
| Kaushik Ghosh, MD, MRCP, FACP | R Rajasekar, MD, FACP |
| Soumitra Ghosh, MD, FACP | Manish Rathi, MD, FACP |
| Partha Sarathi Karmakar, MD, FACP | Amit Varma, MD, FACP |
New Members
We are proud to welcome the following members who have joined the Chapter during the past 5 months:
| | |
| --- | --- |
| Vandana Anand, MD | Vijay Arora, MD |
| Aurobinda M Banerjee, MD | Gouri Shankar Bhattacharyya, MD, PhD |
| Dhavala JK Chakravarthy, MD | Chandril Chugh, MBBS |
| Ashok Damir, MBBS | Surendran Deepanjali, MD |
| Anupam Dey, MD | Sankar Gorthi, MD |
| Vipul Gupta, MD | Dheeraj Kapoor, MD |
| Mohammed Ahmed Khan, MBBS | GreeshKhurana, MD |
| Atul Mehrotra, MD | Ajay Mishra, MD |
| Prasanta Raghab Mohapatra, MD | |
---
Recruit-A-Colleague
Now is your chance to give your colleagues the same clinical support and educational resources that you have enjoyed as an ACP member. Make them a part of a worldwide internal medicine community of more than 148,000 members. Refer them to American College of Physicians TODAY.
Refer a Colleague and earn significant discounts on your membership dues and a chance to win a grand prize to IM2019* **
| | | | |
| --- | --- | --- | --- |
| 1 RECRUIT | 2 RECRUITS | 3 RECRUITS | 4 OR MORE RECRUITS* |
| 25% Discount | 50% Discount | 75% Discount | Free Membership |
*Please note that this applies to the 2018-2019 dues. The total dues credit earned in one financial dues earned cannot be greater than the amount of and recruiter's annual dues
**GRAND PRIZE DRAWING!
For every member recruited within the promotional period, you will receive an entry into a grand prize drawing for a trip to ACP Internal Medicine Meeting 2019 in Philadelphia, PA!
For more details visit Recruit-a-Colleague Program.
---
Register For Internal Medicine Meeting 2018
The ACP Internal Medicine Meeting 2018 - the most comprehensive conference in internal medicine - is being held at the Ernest N. Morial Convention Center, New Orleans, Louisiana from April 19-21, 2018. You will enjoy:
The best national faculty
A broad array of clinical and practice management topics
Interactive and hands-on sessions
The ACP India Chapter will be happy to take a delegation of 20 or more physicians to IM2018. In this way members can avail of the group registration rates as also have the advantage of getting better rates on tickets, boarding & lodging in New Orleans. The Chapter will organize the tickets, visas, boarding & lodging, tours. All those interested may please write to governoracpindia@gmail.com
---
Latest from ACP
ACP Study: Prescribing Antibiotics, Narcotics, and Opioids is Common but Little Benefit for Patients
A study by ACP's High Value Care Task Force found that overuse of antibiotics, aggressive non-palliative treatment in patients with limited life expectancy, treatment of chronic pain, and dietary supplements may be the most frequently used low value treatment interventions used by doctors. The study was published in Annals of Internal Medicine on December 6, and is based on a random survey of 5,000 ACP member physicians asking them to identify two treatments frequently used by internists, but unlikely to provide High Value Care to patients.
ACP Issues Guideline for Treating Low Bone Density or Osteoporosis to Prevent Fractures
ACP has released a clinical practice guideline. The guideline presents additional available evidence on treatments, including new medications and biologic agents, to prevent fractures in men and women with low bone density or osteoporosis. This guideline replaces the 2008 guideline.
ACP Updates Recommendations for Treatment of Type 2 Diabetes
ACP has released a clinical practice guideline to present the evidence and provide clinical recommendations on oral pharmacologic treatment of type 2 diabetes in adults. The guideline was published in Annals of Internal Medicine on January 3 and serves as an update to the 2012 ACP guideline on the same topic. This guideline is endorsed by American Academy of Family Physicians.
ACP Launches MyACP, a Personalized, Customized Website Experience for Members
ACP's newly launched MyACP, a personalized web experience, makes it easier for members to access and discover pertinent ACP content and resources while visiting ACPOnline.org.
The new MyACP experience provides logged-in members with streamlined access to the content and features they value and use the most, starting with a menu of options based on the user's membership class (e.g., residents or physicians) and his or her history of purchases with ACP.
Members will now be able to customize their MyACP information to directly add or remove resources and valued features, providing quick and easy access to the content, products, and services that are most relevant to them. Members can also continue to update account information and view their CME transcripts.
In addition, logged-in members and transactional users will be able to easily access products that they've previously purchased from ACP, including MKSAP and registration for the Internal Medicine Meeting.
Explore the new MyACP's features.
ACP's New Blood Clot Patient Education Resources
Blood clots claim over 100,000 lives annually in the United States. Many at-risk patients often do not understand or are even aware of their risks for developing blood clots. ACP has developed new patient-centered education resources about Deep Venous Thrombosis (DVT) and Pulmonary Embolism (PE) blood clots, including:
A free web-based tool for assessing personal blood clot risks where patients can:
Take this quick and easy quiz at home or with their doctor
Answer simple questions to learn about risk factors and ways to reduce them
Print out a final summary of their risk for blood clots to use for patient-doctor discussion
What You Should Know About Blood Clots guidebook, featuring topics such as:
Risk Factors: What factors increase risk for blood clots
Blood Clot Symptoms: Swelling, pain, redness, trouble breathing, chest pain, and rapid heart beat
Prevention: Quitting smoking, staying hydrated, and regular movement/exercise
Treatment: Blood thinners, surgery, and other procedures
Patient FACTS information sheets about DVT and PE blood clots
Simple, streamlined, patient-tested and easy-to-read 8 ½ x 11 tear-off sheets
Written at or below a 6th-grade reading level
Include information about DVT and PE blood clots including: symptoms, diagnosis, and treatment options
Offer relevant questions that patients can ask to help facilitate communication with their doctor
To view all of ACP's patient resources, visit this link.