You are here
News & Meetings
---
XXV Congreso Colombiano de Medicina Interna
August 16-19, 2018
Centro de Convenciones Valle del Pacifico
Cali, Colombia
Registration is available: https://infoeventos.co/12131/
For more information visit the ACMI website.
---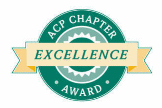 Colombia Chapter Receives 2017 Chapter Excellence Award
The award recognizes chapters which successfully meet the standards for managing a chapter. In order to achieve the Chapter Excellence Award, chapters must meet all basic criteria and ten optional criteria. Criteria include such activities as formulating an effective Governor's Council and committees, communicating frequently with membership, providing educational opportunities, recruiting and advancing members and celebrating membership through local awards.
Join us at ACP Internal Medicine Meeting 2018!
April 19-21, 2018 in New Orleans, Louisiana
Visit the website.
Governors-elect Election
Meet Our Governor-elect Designee, Jairo H. Roa, MD, FACP
---
Governor's Newsletter & Communications
Governor's Newsletter
[Febrero 2017 | Septiembre 2016 | Diciembre 2015 | Mayo 2015 | Diciembre 2014 | Julio 2014 | Noviembre 2013]
Communications
03-15-2017: ACP Agradecimiento y Despedida
Conferencia y discusión sobre Hipertensión Arterial.
En los links que se encuentran a continuación ustedes podrán encontrar el texto completo de la conferencia sobre Hipertensión Arterial: "Multiple Small Feedings of the Mind: Hypertension", dictada en Internal Medicine, San Francisco 2013 por el Dr Gbenga Ogedegbe,MD,FACP, Profesor de Medicina y Jefe de la División de Salud y Comportamiento del Departamento de Salud Poblacional de la Universidad de New York. Esta conferencia está en Inglés. Primera Parte (Conferencia de Hipertensión)
En el segundo Link podrán escuchar la discusión realizada en la WEB con participación de miembros del Capitulo Colombia del ACP y coordinada por el Dr Juan D Ordóñez, MD, FACP, profesor de Medicina en la Universidad de California en San Francisco. Esta parte es en español.
Secunda Parte(Discusión)