You are here
Central America Governor's Newsletter March 2017
Central America Governor's Newsletter March 2017

---
---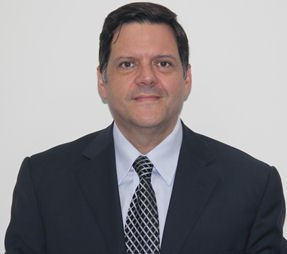 Nestor Sosa, MD, FACP, ACP Governor
---
Governor's Newsletter
Estimados compañeros miembros del Capítulo de Centroamérica del American College of Physicians, con gran satisfacción me dirijo a ustedes para comentarles sobre las actividades realizadas por el Capítulo en los últimos meses.
Quiero primeramente agradecer el apoyo de los miembros del Comité Ejecutivo, a los estudiantes voluntarios y la Sociedad Panameña de Medicina Interna por acompañarnos en las actividades de este año.
Igualmente quiero dar un reconocimiento a la Asociación Costarricense de Medicina Interna por el impulso que han dado a la imagen y presencia del American College of Physicians en Costa Rica y por el excelente Congreso Internacional de Medicina Interna que organizaron en el mes de Julio 2016.
Esperamos verlos en el Internal Medicine 2017 en San Diego del 30 de marzo al 1 de abril 2017.
---
Resumen de la XXXIX Reunión del Capítulo de Centroamérica del ACP 2017
Con gran éxito se llevó a cabo nuestra reunión capitular con la asistencia de más de 300 participantes. La misma tuvo lugar en el Hotel Riu de la ciudad de Panamá durante los días 17 y 18 de febrero del presente año. Los conferencistas invitados, la Dra. Carrie Horwitch FACP, el Dr. Zaldy Tan FACP, el Dr. René Álvarez FACC, FAHA, y el Dr. Daniel Abouganem FACP, FACE, destacaron con presentaciones claras, amenas y con alto contenido académico y práctico.
La Dra. Horwitch miembro del Board of Reagents fue la embajadora oficial del American College of Physicians y actualizó a la audiencia en el tema de Enfermedades de Transmisión Sexual, VIH para Internistas y describió las ventajas de la membresía en el ACP. Aunque fue mucha la información desplegada por la Dra. Horwitch, destacamos la importancia de la toma de una historia sexual adecuada como herramienta importante para evaluar a los pacientes que pudieran tener VIH u otras enfermedades de transmisión sexual. Sin embargo, el taller/conferencia sobre la Risa en Medicina fue sin duda lo más sensacional, por lo novedoso y sorprendente. Literalmente puso a reír a todos los asistentes y demostró la evidencia sobre la utilidad de este tipo de terapia.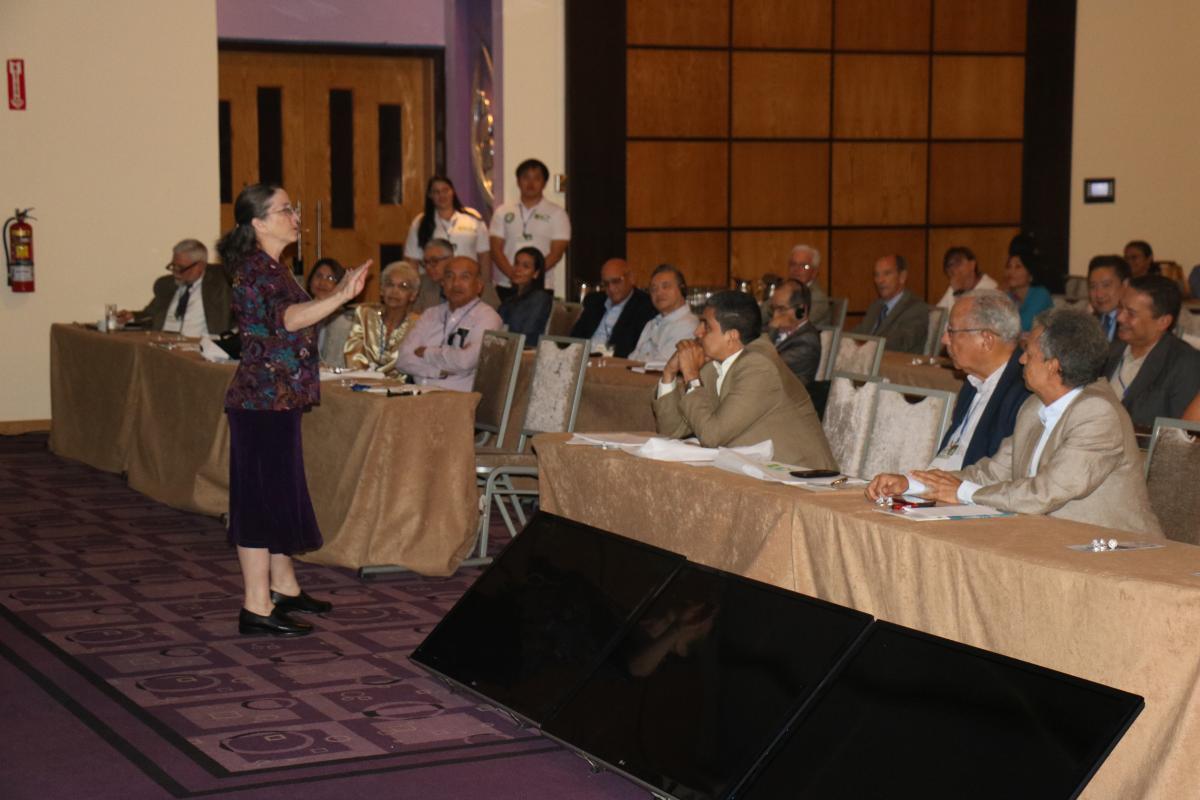 Las conferencias sobre Demencia y la Actualización en Geriatría del Dr. Tan fueron igualmente extraordinarias. Unánime fue la opinión sobre la sencillez, elegancia y valor práctico de las mismas. El Dr. Tan demostró la utilidad de pruebas sencillas para evaluar el deterior cognitivo y la fragilidad de los pacientes de edad avanzada, y realmente nos llevó a través de un viaje donde pudimos explorar lo último en el campo de la Geriatría. Destacable fue también el carácter afable y accesible del Dr. Tan quién interactuó ampliamente con los asistentes.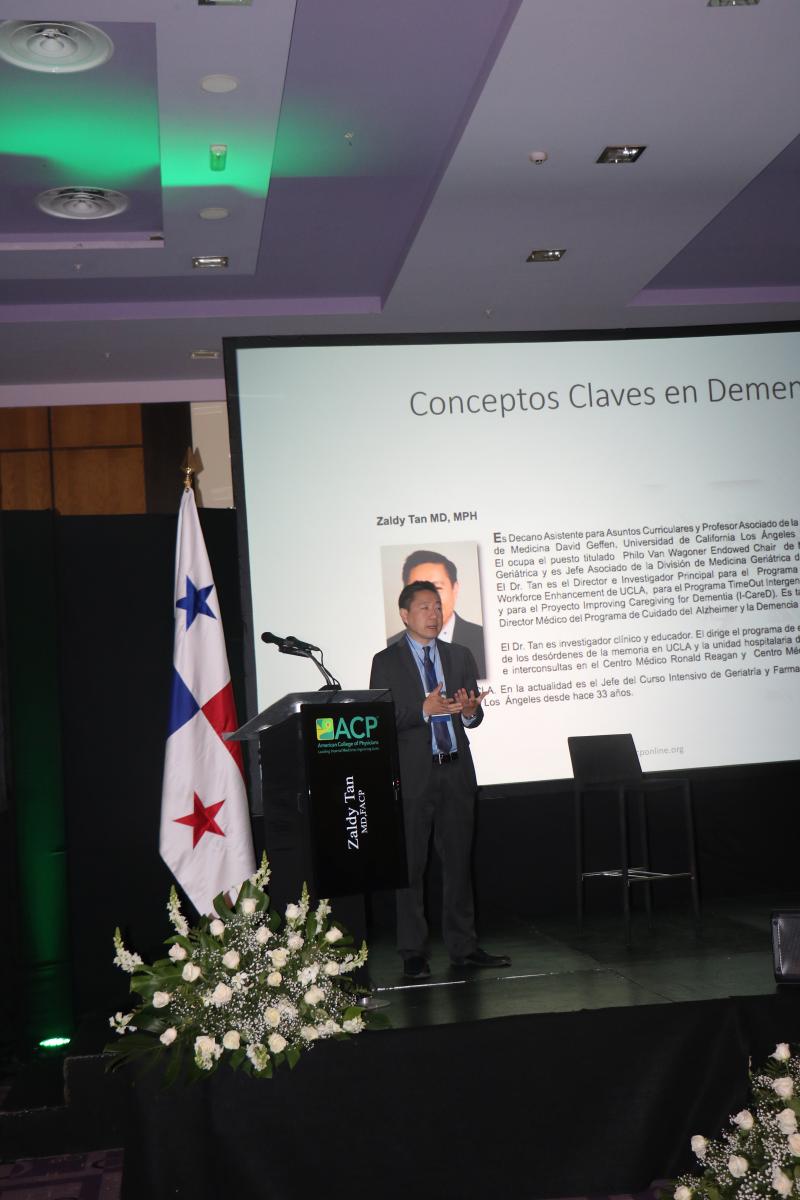 Las conferencias de Falla Cardíaca y Fibrilación Auricular del Dr. René Álvarez FACC, FAHA cautivaron el interés por la claridad y profundidad de las mismas. Muy interesantes fue la información sobre los avances tecnológicos que existen para suplir la disfunción miocárdica, especialmente para los pacientes avanzados que esperan un trasplante.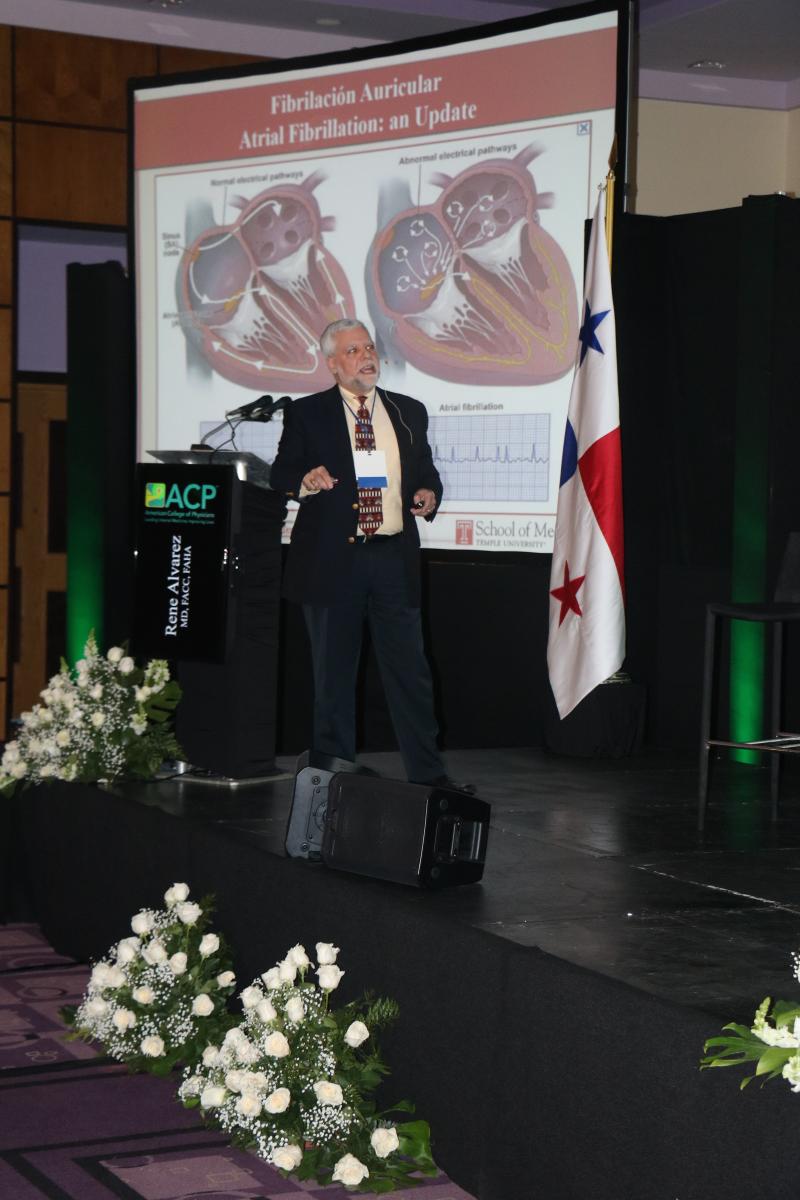 Nuestro conferencista invitado local, el Dr. Daniel Abouganem FACP, FACE presentó dos conferencias sobre el estado de arte en el manejo de la Diabetes y el Nódulo Tiroideo. Ambas intervenciones presentaron información actualizada y que podemos incorporar en nuestra práctica diaria. Especialmente útil fue la forma como el Dr. Abouganem navegó en el complicado mar de nuevas terapias para la diabetes, destacando la utilidad, limitaciones y usos de los nuevos medicamentos.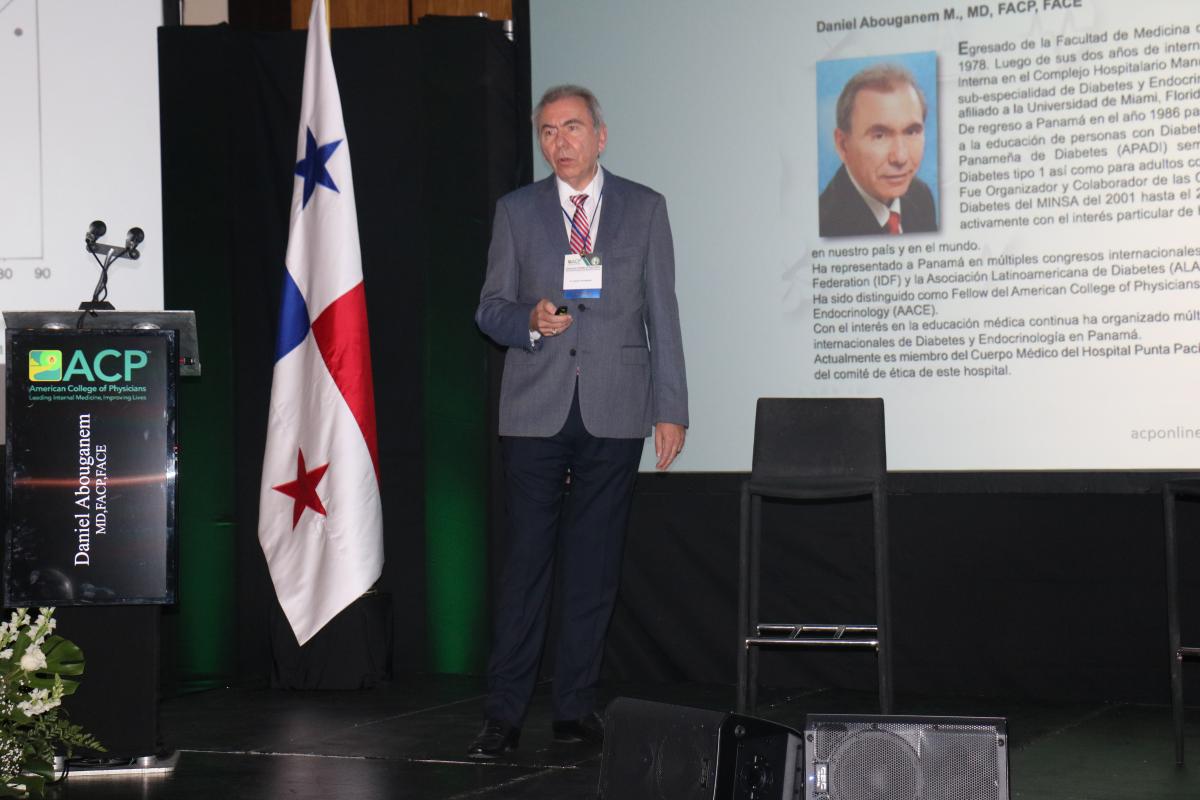 Quiero destacar, que como todos los años, la Sociedad Panameña de Medicina Interna (SPMI), organizó las conferencias vespertinas del primer día del evento. En este ocasión, los Dr. Yassir Ruiz, Enrique Adames FACP y Fabio Jaramillo, rompieron todos los records de asistencia y nos brindaron un programa interesantísimo sobre el manejo de Emergencias Oncológicas, Enfermedad Hepática Crónica Agudizada y Disnea. Agradecemos el apoyo del Dr. Juan Barrios FACP, Presidente de la SPMI y de la Dra. Nuvia Batista FACP, moderadora del simposio por todo el apoyo.
---
Concurso del Posters Científicos
Durante el evento anual, se presentaron casi una veintena de carteles científicos y de investigación. Los organizadores y jueces hicieron un trabajo extraordinario, evaluando y analizando los trabajos de los residentes y estudiantes. Un agradecimiento a la Dra. Ana Belén Arauz FACP, Dr. Gaspar Pérez Jiménez FACP, Dra. Nuria Tortosa MACP, Dra. Guadalupe Pérez quienes trabajaron por el éxito de este Concurso.
La calidad de los posters de este año fue excelente. Muy importante señalar la nutrida participación de médicos de Guatemala y Costa Rica, quiénes destacaron con estudios y casos clínicos sumamente interesantes.
El Ganador del mejor trabajo de Investigación correspondió al médico guatemalteco Dr. Diego Ramírez Uriza, con su trabajo Respuesta Terapéutica de Tuberculosis en Pacientes con Diabetes Mellitus. En los casos clínicos hubo un empate inédito entre la médico residente Dra. Kelly Haughton y el Dr. Jorge Aceituno de Guatemala. El estudiante Shivang Bhakta recibió el premio al mejor caso clínico en su categoría.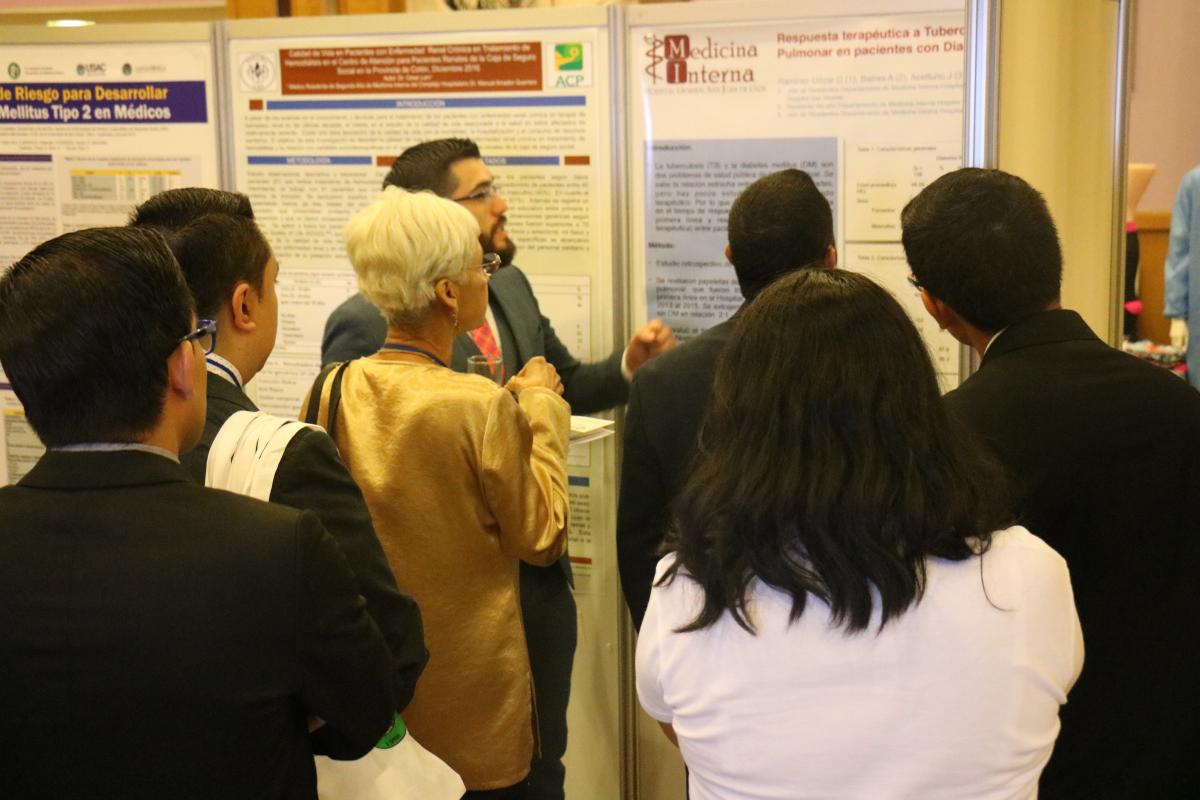 Queremos mencionar que durante el evento principal se realizó la presentación oral del trabajo de investigación que ganara del año pasado (durante el Curso de Actualización de Medicina Interna 2016), este versó sobre Factores de Riesgo Cardiovascular en pacientes VIH positivos a cargo de la Dra. Emma González. Esta investigación la presentará la Dra. Mónica Pachar en el Internal Medicine Meeting 2016 en San Diego en los próximos días.
---
Competencia de Conocimientos Médicos (Doctor's Dilemma Competition)
Este año nuevamente realizamos, con la coordinación de la Dra. Giselle Rodríguez FACP y el Dr. Walter Valverde FACP, el popular concurso de conocimientos médicos para residentes con la participación de cuatro hospitales de Panamá y el equipo del Hospital San Juan de Dios de San José, Costa Rica. Como otros años el evento fue muy emocionante y entretenido, y por primera vez ganó el equipo del Hospital Rafael Hernández de Chiriquí (HRH), Panamá. El equipo de Costa Rica se ubicó en el segundo lugar e hicieron una dura pelea desde el principio. Los jóvenes, Gustavo Olaciregui, Orlando Quiroz y Jonathan Lezcano del HRH representarán al Capítulo de Centroamérica en el Congreso de San Diego en las finales de esta competencia.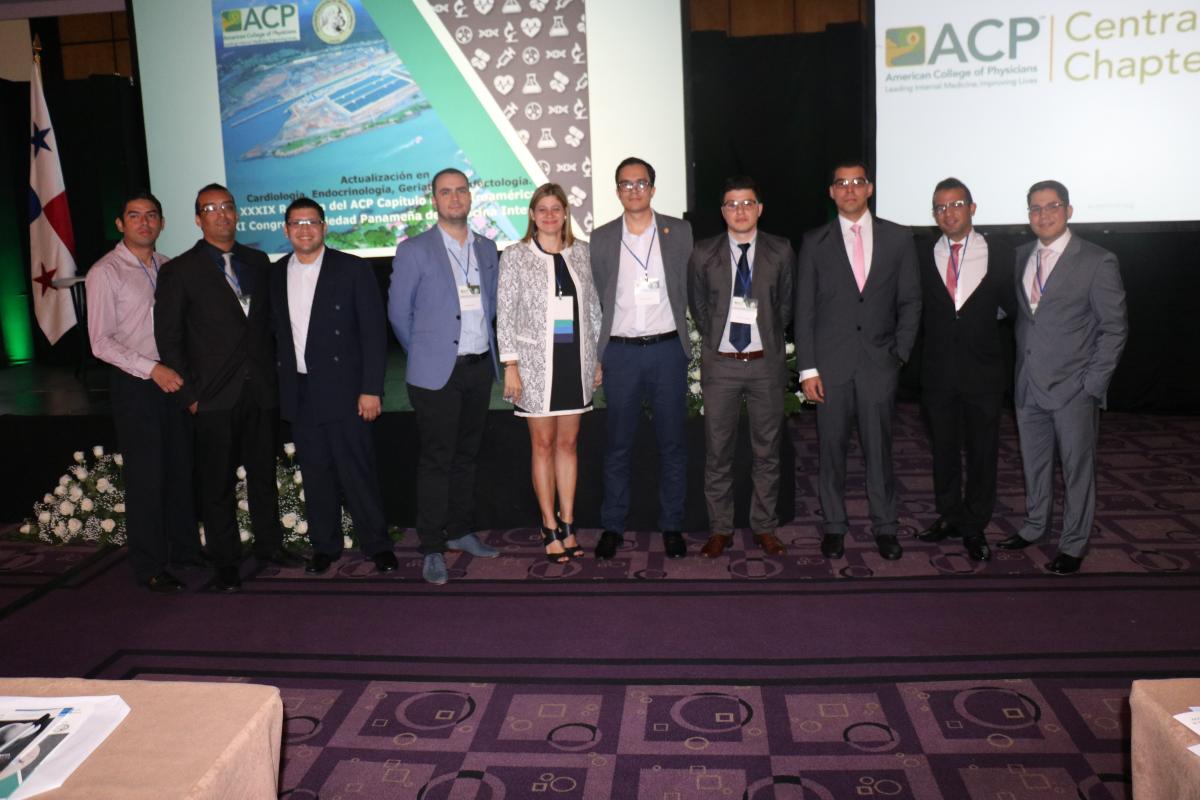 ---
Laureate Award y Chapter Excellence Award
Durante la tradicional cena de clausura se le entregó el premio Laureate o Laureado al Dr. Daniel Pichel FACP,FACC, FAHA por su trayectoria profesional. El Dr. Pichel se ha destacado como Cardiólogo, especialmente como pionero de la ecocardiografía transesofágica y promoviendo los cursos de resucitación y la educación médica continua. Además, el Dr. Pichel es un reconocido columnista, comentarista político y un valiente defensor de los valores democráticos y la justicia en nuestro país.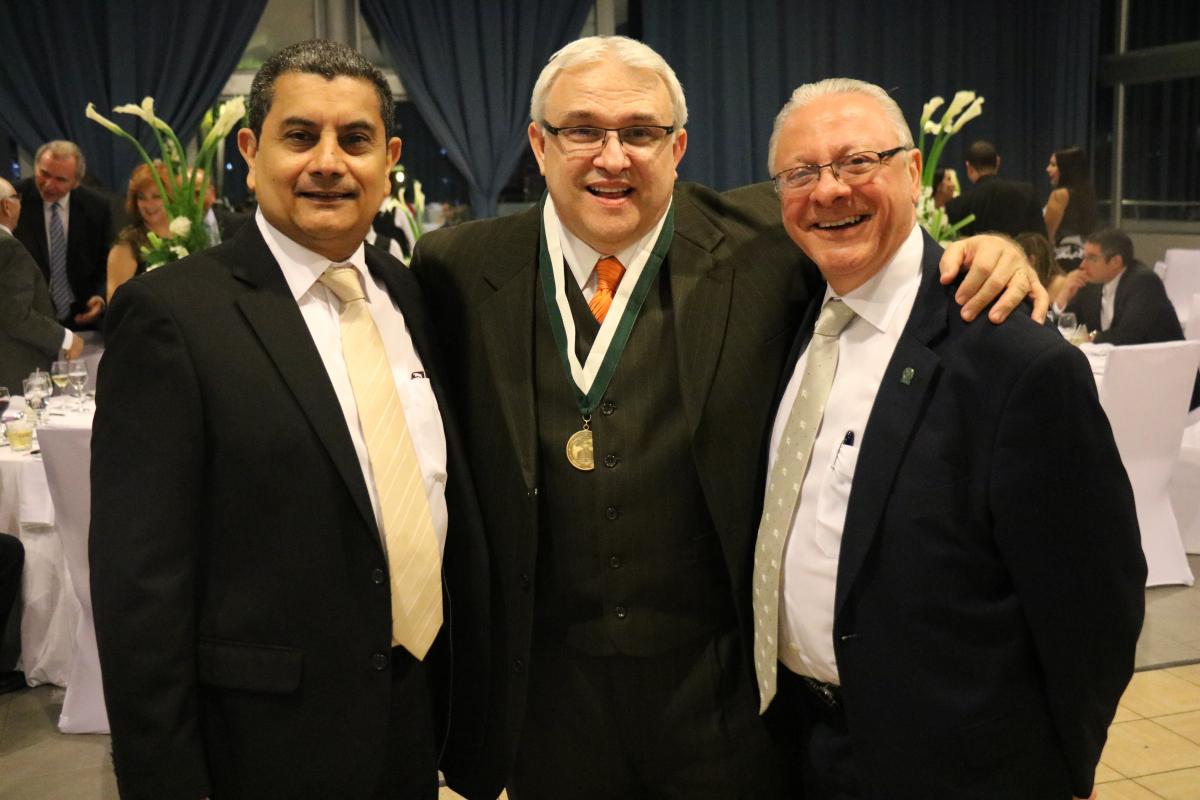 En la Ceremonia de Clausura, la Dra. Carrie Horwitch FACP entregó a nuestro Capítulo el Chapter Excellence Award por el desempeño y buen fundamento durante el año 2016.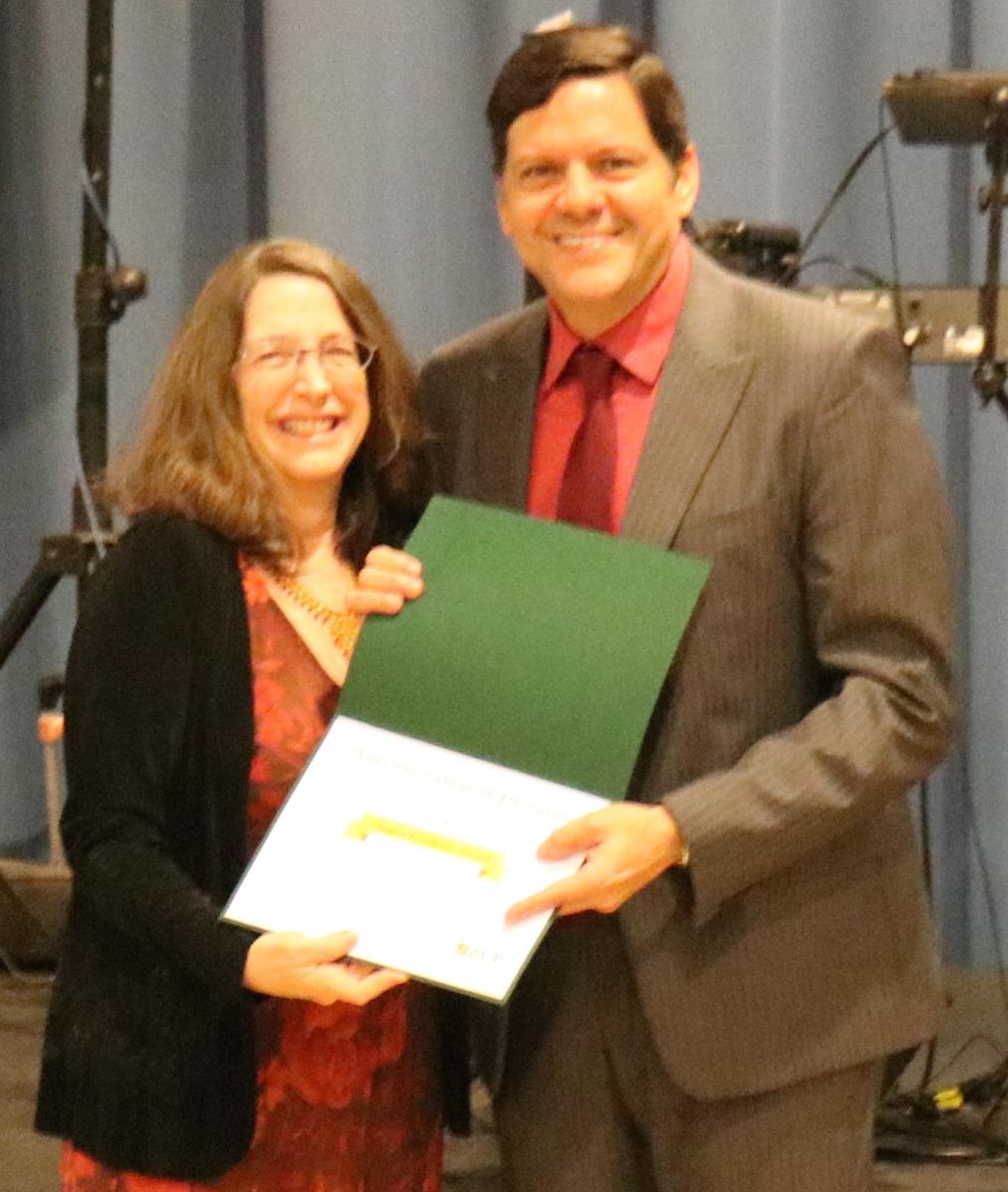 ---
Actividades Varias
Queremos destacar al Dr. José Acuña Feoli FACP, quién fue receptor del International Fellowship que otorga el ACP. Esta prestigiosa distinción consiste en una rotación clínica por varias semanas en un centro académico de los Estados Unidos para aprender o perfeccionar algún aspecto relevante y prioritario para la región en Medicina Interna.
Durante el 2016 realizamos como actividad suplementaria del Capítulo varios cursos de actualización en Medicina Interna dirigidos a médicos generales en Honduras, Costa Rica y Panamá. Los mismos tuvieron una muy buena acogida y los mismos van a repetirse durante el 2017. Este es un aporte importante a la educación médica para un segmento de profesionales que de ordinario no tienen acceso a los recursos educativos usuales que ofrece el ACP y que sin embargo desempeñan un papel importante en la atención primaria en la región.
El año pasado se realizó también la competencia de conocimientos médicos para estudiantes de medicina. La misma es una estrategia muy popular y efectiva que acerca a los estudiantes a la Medicina Interna. Los ganadores fueron los representantes de la Universidad de Panamá, Fernando Pérez, Arcadio Ramos, Daves Martínez y Edwin Arauz.
---
Bienvenidos Nuevos Miembros!
Julio M Aguilar Lange, MD
Gerson Emmir Avila, MD
Jose L Carvallo-Cesar, MD
Ramiro Da Silva Rodriguez, MD
Hsiang Tso Huang Lin, MD
Carlos E Juarez
Lisbeth Lopez, MD
Amarellys Quintana
Cesar Rovira
Jose Vargas Chaverri, MD