You are here
Carta Del Gobernador: ACP Bienvenida Septiembre - Octubre 2014
Carta Del Gobernador: ACP Bienvenida Septiembre - Octubre 2014

---
---
Aron Benzadon-Cohen, MD, FACP, ACP Governor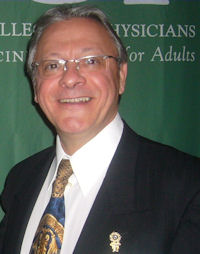 Estimados Miembros:
Gracias por pertenecer al Colegio Americano de Médicos. Como miembro de esta organización, ustedes pertenecen a los 137,000 colegas comprometidos con liderar la Medicina Interna y mejorar vidas.
---
Congreso Anual del Capítulo de Centroamérica del American Colege of Physicians
En febrero 27 y 28 de 2015 celebraremos en Panamá nuestro Congreso Anual del Capítulo de Centroamérica del ACP junto a la conmemoración de los 100 años de fundación del College.
Los temas centrales serán Enfermedades Infecciosas, Oncología y Abordaje Médico-Ético así como problemas frecuentes al final de la vida a cargo de los prestigiosos médicos Trish M. Perl, MD, MSc, Profesora de Medicina and Patología en Johns Hopkins School of Medicine, el Dr. Mauricio Burotto Fellow en Oncología Médica, en el Instituto nacional del Cancer (NIH) en Bethesda y el Dr. Tomas Prendergast, Jefe de Neumología y Terapia Intensiva en Portland Oregon. El invitado especial y embajador del colegio será el Dr. Wayne Riley, MACP presidente electo del ACP para el año 2015-2016.
Como invitados nacionales participarán los Dres. Rolando Binns Halman, Nuvia Batista, Constantino Costarangos, Blas Armien, Juan M. Pascale, Sandra López, y el Dr. Alejandro Crismatt. Ellos tendrán la misión de llevarnos por terrenos relacionados al diagnóstico y prevención del cáncer, cáncer hereditario y la inmunoterapia del cáncer. Adicionalmente revisaremos infección resistente así como la literatura más importante del último año sobre control de infecciones. Tendremos la oportunidad de revisar la condición de pacientes en etapas terminales y la toma de decisiones, individualizando cada caso desde el punto de vista ético y humano.
Los médicos del Instituto Conmemorativo Gorgas de Estudios de la Salud tendrán a su cargo presentar las enfermedades virales emergentes más recientes y sus abordajes.
Como todos los años, tendremos el concurso Medical Dilemma con la participación de médicos residentes del capítulo, cuyo equipo ganador nos representará en el Medical Dilemma en Boston durante el congreso anual, patrocinados en su totalidad por el Capítulo.
---
Felicidades a los Nuevos Fellows del Capítulo
Con sumo agrado y regocijo reconocemos a los Dres. Ribana Molino, Joaquín E Ligorria, Luis Carrillo, Miguel Mayo y Alfonso Gordón que con su interés, perseverancia y su práctica continua impulsando la Medicina Interna, han sido elevados a Fellows del ACP. Muchísimas felicidades deseando que continúen su apoyo y que fortalezcan aun más su relación con esta su sociedad.
---
Taller de Anatomía
Dirigido a estudiantes de primer ingreso de la Facultad de Medicina de la Universidad de Panamá y avalado por el American College of Physicians. Permite a estudiantes de primer semestre de la carrera, un contacto inicial con la anatomía "in vivo" cuyos talleristas son estudiantes de años superiores de la facultad. Felicitamos al Dr. Florín Rotar y a la estudiante graduada con el primer puesto de honor de la facultad de Medicina, Ana Gabriela Suarez Arosemena.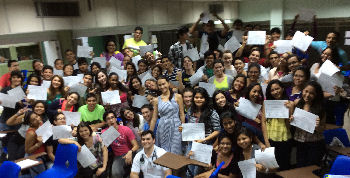 Como consecuencia de dicha actividad, ingresaron 137 nuevos estudiantes de medicina de primer ingreso al American College of Physicians.
---
Trivia Para Estudiantes de Medicina
El popular concurso Medical Dilemma para residentes ha sido trasladado a los estudiantes de medicina, por lo que por cuarto año consecutivo el Capítulo patrocinará el concurso que se realizará en la ciudad de Panamá el día sábado 11 de octubre de 2014, en el anfiteatro del Hospital Santo Tomás, con la participación de las Universidades que ofrecen carreras de Medicina.
Los equipos participantes son becados para el congreso del Capítulo en febrero de 2015 y reciben premios en efectivo y una Placa para el equipo ganador que conservará durante todo el año.
---
Congreso Anual del Acp en Boston del 30 de Abril al 2 de Mayo de 2015
:
Cursos en Castellano en Boston en Los 100 Años del College
Una novedad sin duda atractiva, será la presentación por primera vez en un congreso del College, de cursos presentados en castellano o con traducción simultánea para los médicos latinoamericanos participantes del mayor conclave científico dirigido a Medicina Interna y sub-especialidades. Los capítulos de Latinoamérica hemos hecho ingentes esfuerzos a nivel de la cúpula directiva del ACP para lograr tener cursos en castellano en el congreso. Esperamos que los mismos sean de interés y se conviertan en todo un éxito con su participación, presencia y entusiasmo. De lograrlo podríamos solicitar la continuidad de los cursos en castellano en el College. Les solicitamos su participación!
Los temas a tratar se enumeran a continuación: Actualización en Hematología y Endocrino, Gastroenterología y Hepatología, Medicina Interna y Hospitalista, Cardiología y Medicina Crítica, Enfermedades de la Mujer y Geriatría así como Nefrología, Neumología y Enfermedades Infecciosas.
Adicionalmente debo informarles que hay tarifas especiales de inscripción al congreso para los médicos de nuestros países así como descuentos por grupos de 10 o más asistentes que se inscriban como grupos. Información adicional en la dirección a continuación. Los residentes tienen una tarifa fija de 269.00 dólares y los estudiantes miembros del College tienen la inscripción completamente gratis.
Debo recordarles que estamos en proceso de escoger al próximo Gobernador de nuestro Capítulo. El período de votaciones termina el 5 de Noviembre por lo que los exhortamos a votar por los candidatos apenas reciban su balota de votación en formato electrónico y/o correo postal.
Si aun no ha recibido su balota de votación y no tiene el Passcode, vaya a directvote.net/ACP/ solicite su código a través de su dirección de correo electrónico y siga las instrucciones de votación.
No dejen de suscribirse al Journal Wise, una extraordinaria herramienta de información médica que les permite personalizar sus intereses científicos y discriminar los temas de su mayor interés, recibiendo la información en sus celulares, tabletas o computadoras.
Además les recuerdo que es un Internista
"Los médicos de Medicina Interna son especialistas que aplican los conocimientos científicos y la experiencia clínica con el diagnóstico, el tratamiento y el cuidado compasivo de los adultos en todo el espectro, desde la prevención de la salud hasta el tratamiento de las enfermedades complejas".
Con mis mejores deseos de éxitos
Dr. Arón Benzadón-Cohen FACP, FAAN
Gobernador Capítulo de Centroamérica, ACP