You are here
Editorial: Saludo del nuevo Gobernador Periodo "2013 -2017"
Editorial: Saludo del nuevo Gobernador Periodo "2013 -2017"

| | |
| --- | --- |
| Junio 2013 | Aquiles R. Salas, MD, MPH, FACP, Governor |
---
Editorial: Saludo del nuevo Gobernador Periodo "2013 - 2017"
Aquiles Salas, MD. MPH.FACP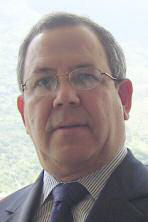 El 21 de mayo se realizó en el inicio del XIX Congreso Venezolano de Medicina Interna, la reunión científica del Capitulo y es mi deseo expresarles mi agradecimiento por la asistencia a la actividad anual donde se expusieron interesantes tópicos por distinguidos miembros de la medicina nacional y se recibió la visita del invitado del ACP Yul Ejnes, MD, MACP.
En primer lugar debo agradecer al Dr. Carlos Alberto Moros Ghersi, recordado y admirado maestro y ex gobernador del capítulo, por haberme estimulado a aceptar la nominación y a ustedes quienes decidieron elegirme como gobernador para el período 2013 - 2017.
Fue para mi un privilegio recibir al final de la reunión, de la Dra. Eva Essenfeld de Sekler, Gobernadora saliente, la conducción del Capitulo por los próximos 4 años y agradecerle por su entusiasta y entera dedicación por lo cual también recibió el reconocimiento del ACP Board of Governors.
Las directrices que regirán la conducción del Capitulo serán para estrechar la relación y actividades con la Sociedad Venezolana de Medicina Interna así como todas las organizaciones científicas de las ciencias de la salud que desarrollan actividades en el país, con la Academia Nacional de Medicina y las Facultades y Escuelas de Medicina; la integración de estudiantes de medicina, residentes del post grado y de los jóvenes Especialistas a las actividades y beneficios de pertenecer al ACP así como la comunicación permanente con Miembros y Fellows para promover las actividades y desarrollo del Capitulo. El reclutamiento de nuevos miembros y la promoción de Fellows será una labor permanente.
Finalmente, deseo enviarles un mensaje de entusiasmo para seguir ejerciendo la medicina como un servicio a nuestros pacientes, al uso de la tecnología con racionalidad, ofrecer a nuestra comunidad la capacidad de trabajo y la excelencia en el desempeño por reintegrar a nuestros enfermos a la sociedad y promover el ser humano saludable. Pero sobretodo, invitarlos a continuar la participación activa para así mantener la vigencia y el crecimiento de Capítulo Venezuela del American College of Physicians.
---
Noticias del Colegio
El pasado mes de Abril se realizó en la ciudad de San Francisco la reunión de primavera del Board of Governors; en esa oportunidad como Gobernador electo y en compañia de la Gobernadora Dra. Eva Sekler asistí a todas las actividades administrativas y sociales. Es oportuno destacar que se realizó el reconocimiento y despedida a la Clase 2012 a la cual perteneció la Dra. Sekler y además se le entregó el Chapter Excellence Award al capítulo. Igualmente asistimos al tradicional Desfile/Convocatoria donde se acompañan a los que reciben la distinción de Fellows; en esta oportunidad nuestro Capitulo no presentó nuevos Fellows. Seguidamente se realizó la reunión científica anual del ACP. La próxima reunión científica anual del ACP se realizará en Abril 2014 en la ciudad de Orlando, Florida.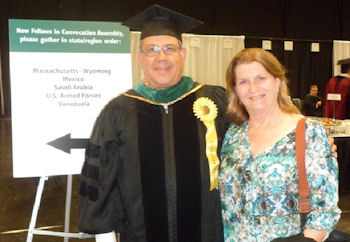 ---
Noticias del Capítulo
La Reunión Científica Anual del capítulo se realizó el 21 de mayo en el Hotel Eurobuilding de Caracas en conjunto con el XIX Congreso Venezolano de Medicina Interna, presidido por el Dr. Hector Marcano, como ha sido costumbre en los últimos años. Ambos eventos resultaron muy exitosos. La Reunión del ACP tuvo una numerosa asistencia registrada compuesta de especialistas, médicos generales y estudiantes de Medicina.
El ACP nos envió al excelente profesor Dr. Yul Ejnes, MD, MACP, Immediate Past Chair, Board of Regents American College of Physicians, vino a nuestro país en caracter de Ambassador del ACP. El Dr. Ejnes es Especialista en Medicina Interna y ejerce en Rhode Island. Además de participar en el programa del ACP, dictó tres interesantes conferencias durante el Congreso de Medicina Interna.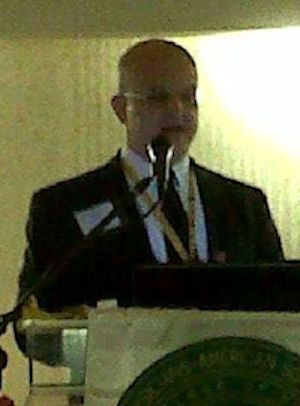 Yul Ejnes, MD, MACP
Al finalizar el programa científico se realizó la premiación del Voluntariado y Comunidad 2013 a la Dra. Virginia Salazar, y Laureate Award al Dr. Marcos Trocoli, FACP.
Reunión Científica ACP, Capitulo Venezuela. 21 de mayo 2013
PROGRAMA :
SESION A - Coordinadora Dra. Trina Navas, FACP
AM
8:00 - 8:05 Apertura, Dra Eva E. de Sekler, FACP Gobernadora del Capítulo
8:05 - 8.25 Emergencias Reumatológicas, Dr. Luis Gutiérrez, Member ACP
8:25 - 8:45 Diagnóstico Diferencial de las Vasculitis, Dr. Isaac Abadí, FACP
8:45 - 9:05 Enfermedades Reumáticas relacionadas con la IgG4, Dr. Israel Montes de Oca, MACP
9:05 - 9:10 Preguntas y respuestas
9:10 - 9.45 Noticias del American College of Physicians, Dr. Yul Ejnes, MACP-Ambassador del ACP
SESION B - Coordinador: Dr. José Ayala, Member ACP
9:45 - 10:55 Mesa redonda: Síndrome Mielodisplásico, Coordinador, Dr. Carlos Goldstein. FACP
Genética de la Mielodisplasia, Dra Aida Falcon de Vargas, FACP
Presentación Clínico Hematológica, Dr. Carlos Goldstein,FACP
Terapía del Síndrome Mielodisplásico, Dra Osiris Da Costa
Preguntas y respuestas
10:55 - 11:15 Receso
11:15 - 11:45 Controversia en la determinación del PSA Dr. Yul Ejnes, MACP
SESION C - Coordinador: Dr. Marcos Troccoli, FACP
PM.
2:00 - 2:30 Calidad de vida en el paciente con acromegalia, Dra. Ruth Mangupli FACP
2:30 - 3:00 Most important papers of 2012, Dr. Yul Ejnes Ejnes, MACP
3:00 - 3:30 Actualización en Glomerulopatías, Dr. Jorge Dominguez, Member ACP
3:30 - 3:45 Preguntas y respuestas
3:45 - 4:15 Receso
SESION D- Coordinador Dr. Jose Félix Oletta, FACP
4:15 - 5:00 Perlas Clínicas: Patología Médica del Embarazo, Coordinador : Dr. Ramón Soto Sánchez, MACP
Dra. Virginia Salazar, FACP
Dra. Ilse Gutiérrez, Member ACP
Dra. Cristina López de Ayala, Member ACP
5:00 - 5:30 Premiación
Laureate Award: Dr. Marcos Troccoli, FACP
Voluntariado y labor Comunitaria: Dra. Virginia Salazar, FACP
Entrega de la Gobernación al Dr. Aquiles Salas, FACP (periodo 2013 - 2017)
CLAUSURA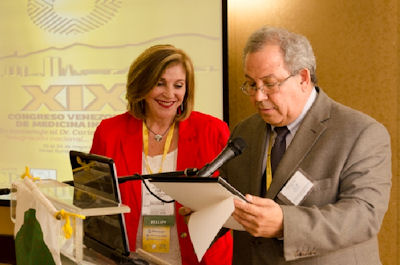 Dra. Eva Sekler y Dr. Aquiles Salas
Durante la semana de actividades del Congreso de Medicina Interna se conto con el stand del ACP, habiendo sido atendido por la distinguida visitante Wendy Rivera - Craig, Senior Administrator and Chapter Liason, ACP International Programs, quien compartió con innumerables asistentes ofreciendo información de interés del College y obteniendo 10 nuevos Miembros, 1 Asociado y 3 nuevos invitaciones para Fellows para el Capitulo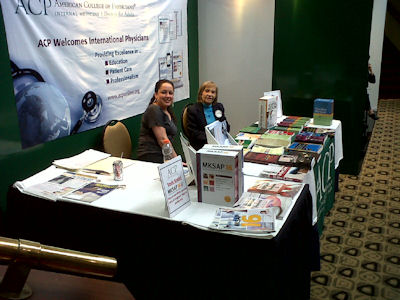 Sra. Wendy Rivera y Sra. Lina, secretaria del Capitulo
Es motivo de satisfacción anunciar la aceptación de los nuevos Fellows del ACP Dr. José Antonio Parejo, Dra. Virginia Salazar y Dr. Roberto Ochoa, congratulaciones por este merecido reconocimiento y será un placer acompañarlos el próximo año en el desfile Convocatoria durante la reunión del ACP en la ciudad de Orlando cuando se realizará su juramentación. Además de los Miembros del ACP recientemente afiliados:
Sady Benzaquen Menahem, MD
Gisela J Diaz Lakatos, MD
Cesar Maestre, MD
Jorge Rocafull
Dario Saturno, MD
Rosirys Velasquez Salazar, MD
Ingrid T von der Oster, MD
---
Foto Galería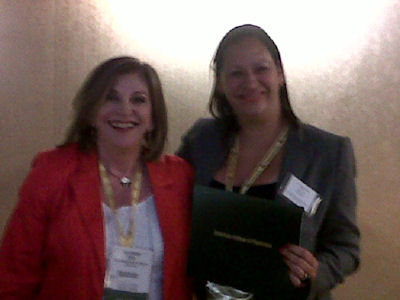 Dra Virginia Salazar, FACP
Premio Voluntariado y Comunidad 2013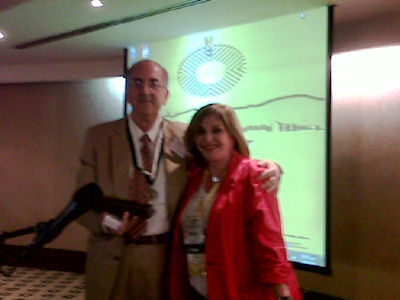 Dr. Marcos Trocoli, FACP
Laureate Award 2013

Dra. Eva Sekler, Dr. Yul Ejnes y Dr. Aquiles Salas
---
Sobre el American College of Physicians
Estimados colegas y estudiantes de medicina:
En mi condición de Gobernador del Capítulo de Venezuela del American College of ¨Physicians (ACP), los invito a inscribirse en nuestra institución.
Fundado en 1915, el ACP es la Sociedad Científica más numerosa de los Estados Unidos y del mundo. Tiene en la actualidad 132.000 miembros. Está integrado por Internistas y Subespecialistas, pero participan también en esta institución, residentes y estudiantes de medicina.
Su misión esencial es la de aumentar la calidad y la eficacia de la atención médica a través de la promoción de la excelencia y el profesionalismo en la práctica médica. Otorga valiosos beneficios a sus miembros, en cualquier etapa de su carrera médica.
Sus Miembros reciben las muy conocidas publicaciones Annals of Internal Medicine, ACP Internist, ACP Hospitalist, MKSAP, el buscador PIER que ha sido actualizado en su formato y es de gran utilidad para la práctica médica. Se publicó recientemente el 6º manual de Ëtica Médica y hay publicaciones para información a los pacientes.
Los residentes se benefician de la categoría de Asociados cuando están en su primer año de Residencia de Medicina Interna y reciben también las publicaciones.
Los estudiantes de Medicina no pagan ninguna anualidad y tienen acceso a las Competencias de Abstracts, Doctor´s Dilemma™, la página para Grupos especiales, una base de Datos de Mentores, un Newsletter mensual y acceso gratuito tanto a las reuniones científicas locales como a la Reunión Anual en USA.
El ACP funciona por Capítulos, que son unidades formalmente estructuradas, destinadas a cumplir con las misiones de la institución en un área geográfica determinada. Los Capítulos Internacionales están en: Canadá: Alberta, Provincias del Atlántico, Colombia Británica, Manitoba y Saskatchewan, Ontario, Quebec América Latina: Brasil, América Central, Chile, Colombia, México, Venezuela Otros capítulos internacionales: Japón, Arabia Saudita, SE Asia (Incluye: Indonesia, Malasia, Filipinas, Singapur, Tailandia).
Si es Ud Internista o subespecialista y quiere ingresar como Membership o residente y desea ser admitido como Asociado (Associate) pueden enviar su Currículo Vital(sin anexos) a mi correo electrónico Dra. Aquiles Salas y, acpvenezuela@yahoo.com, con la dirección de la casa o Consultorio, correo electrónico y teléfonos . Una vez aceptado por el Comité de Credenciales, se le enviará una comunicación anexando la planilla de aplicación y la información de los otros requisitos incluyendo la cuota anual, que ha sido adaptada especialmente para los miembros Internacionales.
Si es Ud estudiante de Medicina, la inscripción es gratuita y puede hacerla directamente accediendo a la siguiente página web: http://www.acponline.org/membership/benefits/students/. Se le agradece informar luego de inscrito al Dr. Aquiles Salas al correo electrónico arriba escrito. Se ha mantenido la página Web: acpvenezuela.org, dirigida por el muy competente ACP Fellow Dr. Pedro Perdomo
Las cuotas anuales para los miembros Internacionales, se accesan en línea por cualquiera de estas 2 direcciones: https://www.acponline.org/membership/international-membership/international-membership-details http://www.acponline.org/membership/dues/
Como contactarnos: Gobernadora: Aquiles Salas, MD, MPH, FACP.
En Caracas:
Dirección: Avenida Cajigal, Nº 7 San Bernardino Caracas-Venezuela.
Teléfonos: Oficina: 0212-551-61-48 Dirección postal: ACP Venezuela, Mail Boxes Etc. Centro Comercial Lord Center, Av. Vollmer con Av. El Lago, P.B., Local 12 Urb. San Bernardino, Caracas 1010 Venezuela.
Teléfonos: 212- 578 3394 575 4319
Fax: 578 1367 Teléfonos: Oficina: 0212-551-61-48.
Celular: 0414-3 27 08 47
e-mail: aquilessalas@hotmail.com
En Miami: 33102-5323. P. O. Box 025323 4440 NW 73 Avenue