You are here
Message from the Governor
Message from the Governor

| | |
| --- | --- |
| January 2013 | Khalid A. Qushmaq, MD, MHA, FACP, Governor |
---

Health care systems are always in reform status with the advances in health care technologies and population growth, but primary health care continue to be the corner stone in any successful health care system. Saudi Arabia continues to struggle like most of the countries to attract its medical school graduates to adopt the speciality in front of invasive procedure oriented specialties and income oriented choices, similar to North American medical school graduates.
Saudi Arabia Chapter following the footsteps of ACP will address issues related to health policies in Saudi Arabia, and share the expert opinions in these areas of impact on health care reform in Saudi Arabia, and the first topic selected was "Access to health care; Promoting Primary Care", the current status of PHC is center oriented and not physician oriented, so patient has no fixed communication with one physician, and most patients like to be seen directly in the tertiary care hospitals bypassing the PHC, as there is no rules to enforce this chain of referrals.
Three prominent speakers participated in our first health policy forum and focused on primary care from different angles of the Deputy Minister, Family Physician and Health care activist.
We hope this activity to be the first in a chain of activities to address major issues with impact on the practice of health care in Saudi Arabia, and come up with recommendations.
Khalid A.Qushmaq MD, MHA, FACP.
Governor


@kqushmaq
---
Governor meeting with Secretary General SCFHS
Governor Khalid Qushmaq had a meeting with Prof. Abdul Aziz Al Sayegh, Secretary General for Saudi Commission for Health Specialist in his office on Monday Sep 3, 2012. Dr. Qushmaq on behalf of ACP Saudi Arabia Chapter congratulated him for his recent appointment as Governor of American College of Surgeons in Saudi Arabia, and shared with him ACP Saudi Arabia Chapter experience and achievements, and offered all help he needs in his new task.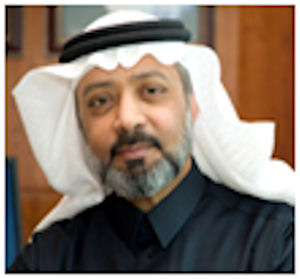 Prof. Al Sayegh
---
Educational & Scientific Committee Activities
Chair: Dr. Mushira Enani MD, FACP.
Health Policy Forum: Access to Health Care- Promoting Primary Care
It was the first chapter activity to be held in health policy issues, the activity was held in Al Faisal University, School of Medicine, and the chapter invited 3 speakers which represented different views of health care, the speakers were Dr. Ziad Memish MD, FACP, Deputy Minister of health for public health, Dr. Abdullah Alkhenizan, CCFP, ABHPM, MSc. DCEpid. Professor, Al FAISAL University, Chairman Department of Family Medicine and Polyclinic at King Faisal Specialist Hospital and Research Center, and Mohammad Alkhazim, PT, PhD & Academician and columnist writer in health care issues.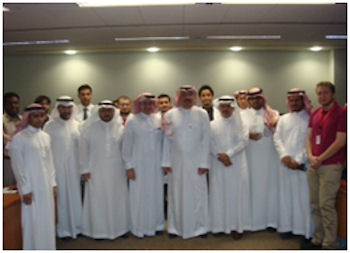 Group picture of the speakers with ACP Chapter members
The first speaker was Dr. Abdullah Alkhenizan, the objectives of his presentation were to highlight the importance of primary health care (PHC) in the health care system, discuss the challenges of primary health care in Saudi Arabia and highlight suggested changes to improve primary health care in Saudi Arabia. AlKhenizan gave a background on the current Status of PHC as per Saudi Ministry of Health Stat Book 2010:
33% of PHC centers are equipped with X rays.
72% of PHC centers are equipped with labs.
Very basic labs: CBC, EP, VS. INR, Hba1C, Lipid. TSH.
Average 27 patients/physician/day, Can reach 72
3155 GPs, 1729 with FM training.
Board certified FM (<1%).
Al Khenizan mentioned that certified PHC Physicians are out of practice for many reasons:
Poor incentives for PHC physicians working as clinicians.
Non clinical work is more rewarding.
Poor work environment.
Commitment (6-10 clinics per week).
Weak training programs (lack of confidence).
Al Khenizan shared the KFSHRC-Family Medicine Experience as follows:
Consultant based clinics, USA, Canada, and UK.
Family medicine clinics.
Occupational health: Pre-employment, Cytotoxic, Drivers.
Infection control: TB Surveillance, needle-stick injuries.
ED coverage.
Health outreach clinics.
Palliative care, home health care.
Al Khenizan's vision for the ideal model of PHC was described as light at the end of the tunnel by fulfilling certain building blocks:
Committed Leadership.
Promising plans: Infrastructure, IT, and new ideal PHC centers
Budget.
Scholarships.
The presentation was concluded by the following recommendations:
Improve work environment.
Encourage family physicians to go back to their clinics.
Improve and expand local training.
Target medical students.
Scholarships: 3% to 50%
Golden opportunity to provide efficient high quality primary health care in our country.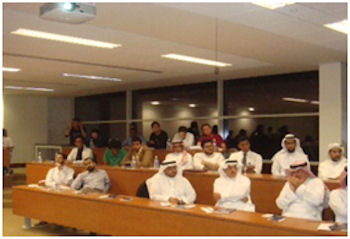 The audience during the forum presentations
This was followed by the second presentation: Saudi Primary Healthcare: Ways to improve it! By Mohammad Alkhazim, PT, PhD & Academician and Writer
Al Khazim presented Spotlight on Saudi Primary Healthcare system. He started his presentation by discussing the Ultimate Goal of PHC is to have the Highest Standard of Health Care with the following criteria (AAAQ):
Availability
Accessibility
Acceptability
Quality
He argued: Does our healthcare system in general and PHC in specific meet the high level of standards?
Al Khazim then shared the data concerning the total beds & total PHC physicians available per 10,000 populations in different regions of Saudi Arabia & PHC Physicians per center where there is an average of 3 physicians per center.
Qualitative study, presents the opinions of 18 experts about challenges facing Saudi healthcare services. 56% of the experts said we do not have appropriate PHC! The major deficiencies were manpower and misdistribution, lack of coordination and others.
Al Khazim's own perspective is that Saudi healthcare system is focusing on treatment and/ or intervention rather than preventive, no clear referral system exists among different levels of services, lack of accessibility, under equipped and under staff centers with no clear philosophy/system related to PHC/ family physician.
He highlighted the steps to fix PHC are as follows:
Strict referral policy
New payment scheme for PHC physicians
Primary health clinic rather than centers
Other models of PHC clinics: After hours clinic
PHC is responsibility of all sectors
Incentive for private PHC providers
Confirm/establish amendment "all citizens should receive primary health services.
Finally, Dr. Ziad Memish, Deputy Minister of Health addressed the Audience about the MOH strategy to promote Primary care by building 2700 new centers, and the role of primary care center achieved in Vaccination programs and answered the audience questions.
---
Collaboration with Al Faisal University, School of Medicine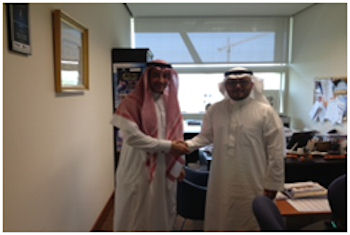 Governor meeting with Prof. Khalid Kattan, Dean, School of Medicine, Al Faisal University
Governor Khalid A.Qushmaq had a meeting with Prof. Khalid Kattan, Dean, School of Medicine, Al Faisal University in his office and discussed the proposed collaborations between ACP Saudi Arabia Chapter and Al Faisal University, and the support to be provided to ACP Saudi Arabia Chapter medical student council from Al Faisal students association. Prof. Kattan welcomed the collaboration and supported all requirements to make it successful.
---
Young Physicians, Associates & Medical Students Activity
The Medical Internship: your first step into the medical career
Chairs: Dr. Fadel Al Rowie, Dr. Tariq Suliman & Dr. Abdullah Al Khudairy
A medical intern is a term used for a physician-in-training who has completed medical school. The intern has a medical degree, but no license to practice unsupervised. As internship is the first step in the medical career, CYP in collaboration with Associates and Medical Students Councils conducted an interactive lecture by Fadel A. AlRowaie, MD, FACP, FNKF, Chair of CYP-KSA chapter titled " The Medical Internship: your first step into the medical career".
The speaker addressed many aspects that are very important to the newly graduated young physicians for example: job description of the intern, the structure of the internship at KSA, characteristics of the successful intern and proper documentations etc.
While talking about choosing or organizing the clinical rotations, Dr. AlRowaie discussed factors that influence medical specialties selection in details.
Attendance was above expectation, the majority were medical students, followed by interns, and a good number of residents. At the end Dr. AlRowaie and Dr. Khalid Qushmaq, ACP Governor Saudi Arabia Chapter answered all questions from the audience with promise to continue this series of lectures that guide the new generations of physicians into their future career.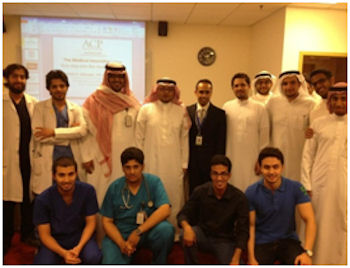 Governor and chairs of councils in a group picture with the chapter medical students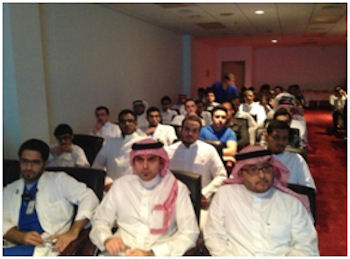 Governor and Chair of Associate Council attending the activity
---
New Master & Fellows
New Saudi Arabia Masters
Congratulations to Mohammed Ahmed, MD, MACP, Riyadh. He has been awarded Master of the College. To be considered for Mastership, the candidate must have made a notable contribution to medicine. This includes but is not limited to teaching, outstanding work in clinical medicine (research or practice), contributions to preventive medicine, improvements in the delivery of health care, or contributions to medical literature.
--------------------------------------------------------------------------------
New Saudi Arabia Fellows
The Saudi Arabia Chapter is pleased to welcome our new Fellows.