You are here
From the Governor
From the Governor

---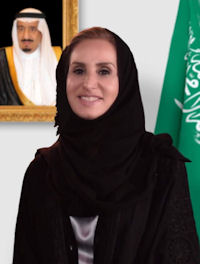 Maha M. Abdulaziz Al Saud, MD, FACP, ACP Governor
Dear Colleagues,
The second Saudi Arabia ACP Congress that was held in Jeddah was a great success, with more than 1,300 attendees, an all-encompassing internal medicine review and update. The workshops were conducted at the highest level of expertise and professionalism. Thanks to the efforts of Dr. Nezar Bahabri and the amazing dedicated members of the scientific committee: Hussein Halabi, MD, Consultant Rheumatologist, KFSH&RC-Jeddah; Siraj Wali, MD, Consultant Sleep and Pulmonology Medicine KAU, Jeddah; Hani Almoallim, FRCPC, Consultant Rheumatologist, Umm Alqura University, Makkah; Khalid A. Qushmaq, MD, MHA, FACP, Founding Governor, ACP Saudi Arabia Chapter; Ghassan Wali, MD, Consultant Infectious Diseases, HIV/AIDS KFSH&RC, Jeddah; Mamaun Feteieh, MD, Consultant Pulmonary Medicine; to name a few, who opened their hearts and showed everyone their unique brand of hospitality. We welcomed the ACP speakers represented by Rebecca Andrews, MD, FACP and Peruvamba Venkatesh, MD, FACP, who shared their knowledge and views.
Jeddah ghair...
All in all a very positive and informative meeting.
Call for nominees for the Doctors Dilemma Team Competition in Washington, DC.
Another area where we can support our residents for this meeting is Doctors Dilemma, please contact me if you are a training program director and have a nominee, we have only space for three residents.
The annual ACP Doctor's Dilemma Competition is a hallmark program for the College. Held each year at the annual Internal Medicine meeting, it brings together some of the brightest residents from around the world in a friendly, but highly competitive, environment. The competition tests the medical knowledge of up to 40 teams, each representing an ACP chapter. After three days of competition, the winning team is awarded the coveted "Osler Cup" and is granted a place in ACP history.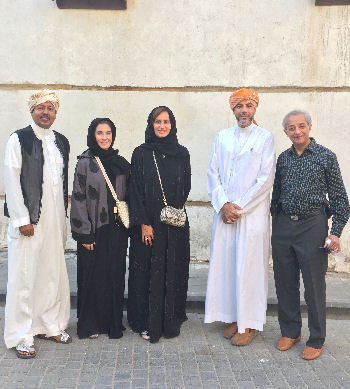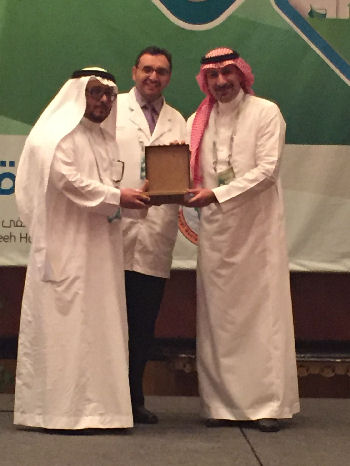 Save the dates:
I would like to invite you to a chapter meeting that will be held at Alfaisal University on April 8 to 12 at which time we are also having SIMEC, the Saudi International Medical Education Conference 2016.
The details of which can be found online with a scientific program. This meeting will be an opportunity to meet and network.
As for the upcoming third Saudi Arabia ACP Congress, it will be held in Riyadh November 2016 at the National Guard Hospital with details to follow.
If you plan to attend the ACP Internal Medicine Meeting in Washington, DC, join us at for the Saudi Arabia Chapter Reception-7:00-9:00 p.m., Marriott Marquis Washington, DC, Independence Ballroom A.
Our chapter will be supporting students who have poster presentations at the upcoming ACP meeting in Washington, DC.
More information about the upcoming meeting in Washington, DC is available in this newsletter. I look forward to seeing you there.
Sincerely,
Maha Al Saud, MD, FACP
Governor, ACP Saudi Arabia Chapter
---
Membership Update
Recruit-a-Colleague Chapter Rewards Program
The American College of Physicians and the Saudi Arabia Chapter encourages all members to help strengthen our chapter by recommending ACP membership to colleagues. By joining the College, your colleagues will enrich their clinical knowledge and skills and have access to all of the ACP member benefits that you enjoy.
To thank you for your dedication to our organization, ACP offers incentives to members and their chapters that recruit new members through the Recruit-a-Colleague Chapter (RACC) Rewards Program.
As with the national Recruit-a-Colleague Program, the RACC Program rewards successful individual recruiters with dues credits for each new full Member or Physician Affiliate member recruited and a chance to win a trip to the annual Internal Medicine meeting. In addition, the RACC Program also provides rewards to the recruiters' chapters, including funding for chapter activities and complimentary registrations to the annual Internal Medicine meeting.
The 2015-16 Recruit-a-Colleague Chapter Rewards Program runs until March 1, 2016.
To participate, simply forward to your colleagues a membership application. To qualify for the program, your name must be listed on the recruiter line of the application, and the form must include the code RACC.
Thank you for your help in strengthening our chapter!
The ACP Saudi Arabia Chapter would like to welcome and congratulate the following Members and Fellows elected in the last 6 months:
Fellows
Walid Eltantawi, MBBCh FACP
Reham M Kaki, MBBS FACP
Members
Salha B. Alboainain, MD
CAPT Wael N. Alghifary, MD
Fahad Alhammyani, MD
Saleh Maeed Alotaibi, MBBS
Ahmad K. Alshaya, MBBS
Nezar Adnan Bakhsh, MBBS
Omer H. S. Elrasheid, MD
Hassan Yousef Faraj, MD
Abdalla M. A. Mohamed, MBBS
BG Awad Sabban IV, MBBS
---
Internal Medicine 2016

May 5-7, 2016 Washington, DC
Experience Washington, DC and join your colleagues for the best in Internal Medicine.
For more information about Internal Medicine Meeting 2016 visit: Internal Medicine Meeting 2016
Register Today!
ACP is offering special registration and delegation rates for many international attendees. ACP members in low income/low middle income countries and upper middle income countries, as defined by the World Bank Economic Indicators, will be offered these special discount registration rates. To see the individual registration rates by country of residence and to register for the Internal Medicine Meeting 2016, please visit the ACP webpage.
Guide for International Attendees
This guide provides useful information for travel to the United States and tips to get the most out of the Internal Medicine Meeting 2016.
International Reception
Thursday, May 5, 2016
8:00-9:30 p.m. • Marriott Marquis
Open to all international attendees and their guests.
International attendees and their guests are invited to socialize and network with leaders from ACP and internal medicine societies from around the world.
Don't Miss These Sessions:
High-Value International Care: How Other Countries Are Choosing Wisely in Using Limited Health Care Resources
May 5, 2016
2:15-3:45 p.m.
Emerging Infectious Diseases: An International Perspective on Ebola
May 6, 2016
11:15-12:45 p.m.
Ethics, Law, and Shared Decision Making: Multicultural Approaches to End-of-Life Care
May 7, 2016
2:15-3:45 p.m.
---
New ACP Patient Education Materials
ACP has a wide variety of high quality patient education materials, including educational DVDs, self-management guides, and our new Patient FACTS series. The Patient FACTS series helps newly diagnosed patients and their caregivers increase their understanding of common health conditions.
These patient-tested resources were developed in partnership with physicians, using only credible, evidence-based research. Many are available free of charge, and many are available in both English and Spanish and cover a wide variety of common health conditions like heart health, asthma, HIV, COPD, diabetes.
To order these and ACP's other patient education materials contact Member and Customer Service at 800-523-1546 ext. 2600, or visit the website.