You are here
Carta Del Gobernador Noviembre 2013
Carta Del Gobernador Noviembre 2013

| | |
| --- | --- |
| Noviembre 2013 | Roberto Esguerra, MD, FACP, ACP Governor |
---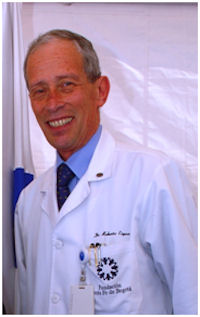 Nuestro Capítulo ha ganado el "2013 Chapter Excellence Award"
Tengo el agrado de anunciarles que nuestro Capítulo ha ganado el premio "Chapter Excellence Award 2013". Este premio se otorga a los capítulos que han cumplido con éxito los estándares del manejo del Capítulo. Para alcanzar este premio los capítulos deben cumplir con los requisitos básicos y con siete criterios adicionales. Los criterios incluyen actividades como tener un Consejo del Gobernador y comités, comunicaciones frecuentes con los miembros, crear oportunidades en educación, reclutar y promover miembros y establecer reconocimientos locales. Deseo agradecer sinceramente a todos los miembros del capítulo que contribuyeron con esfuerzo durante el 2013, fue gracias a ello que logramos este premio.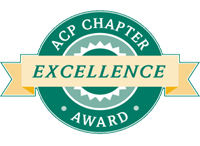 ---

Smart Medicine: El ACP presenta su herramienta optimizada de apoyo para las decisiones clínicas, para dispositivos móviles
El American College of Physicians ha lanzado ACP Smart Medicine, una herramienta de apoyo para las decisiones clínicas basada en la Web, desarrollada específicamente para los internistas, que contiene 500 módulos que proveen guías e información para una amplia gama de enfermedades y condiciones.
Está integrada con los contenidos de Annals of Internal medicine, ACP Journal Wise y con las guías de práctica clínica del ACP, con una presentación que se ajusta automáticamente a computadores, teléfonos inteligentes y tablets. Las recomendaciones clínicas del ACP Smart Medicine son basadas en la evidencia y clasificadas de acuerdo a la calidad de la evidencia. La información se actualiza continuamente con contenido relevante y guías.
Adicionalmente las recomendaciones de ACP High Value Care identifican las actividades que ofrecen poco beneficio a los pacientes.
ACP Smart Medicine también ofrece la posibilidad de obtener créditos CME. Se pueden seleccionar los módulos de la lista de contenidos y las áreas que se han revisado, contestar las preguntas y someterlas para obtener los créditos CME.
ACP Smart Medicine es un beneficio sin costos para los miembros y puede ser comprado por médicos que no sean miembros.
---
Está usando sus beneficios como miembro del ACP?
JournalWise, es un beneficio sin costo para los miembros del ACP, que ahorra tiempo con su servicio optimizado para móviles que revisa más de 120 revistas de medicina interna, en busca de artículos de la más alta calidad y relevancia clínica, con los criterios que usted mismo establece, de manera que solo los artículos que usted quiere le son enviados cuando usted lo define.
Este corto video le muestra cómo la instalación es fácil, rápida y sin costo!.
Para más información.
Si tiene preguntas puede ponerse en contacto con: Tony Felicetti.
---
XXIV Congreso ACMI/ACP, Pasto Septiembre 14 a 14/2013
Un completo éxito fue el XXIV Congreso ACMI/ACP, realizado en la ciudad de Pasto. La nutrida asistencia, la calidad de las presentaciones científicas, así como el funcionamiento de las instalaciones, todo complementado por la generosa y cálida hospitalidad de nuestros colegas de Pasto.
En total fueron 750 los asistentes, de ellos 57 miembros del Capítulo. Merece destacarse la presencia de 210 estudiantes, 160 médicos generales y 20 residentes de medicina interna.
Es importante resaltar la reunión en que se discutió el estado actual del Sistema de Salud Colombiano y el trámite de las leyes en el congreso, que contó con la presencia del Ministro de Salud, Dr. Alejandro Gaviria.
La muestra comercial también fue importante y el ACP hizo presencia con un stand en donde se recibieron afiliaciones y se suministró información a los interesados, además se recibieron numerosas afiliaciones.
Debemos destacar el gran trabajo del los comités locales, encabezados por el doctor Álvaro Portilla y el doctor Héctor Fabio Sánchez, y la activa participación de la doctora Natalia Londoño. A todos ellos un especial agradecimiento por su esfuerzo.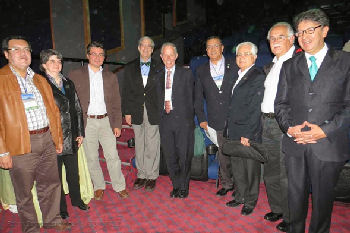 El ministro de Salud Alejandro Gaviria con varios de los asistentes al foro sobre la reforma de la salud.
---
Nuevos Consejo y Coordinadores de Comités de nuestro capítulo
En la reunión general de miembros del Capítulo que tuvo lugar en la ciudad de Pasto el pasado 12 de septiembre, que contó con la asistencia de 36 miembros, así como del Dr. Max Brito quién actúo como Embajador del ACP, el Dr. Robert Jackson, Gobernador del Capítulo de Texas Southern y Mónica Lizarraga Coordinadora de programas internacionales del ACP.
Durante la reunión se presentó un informe de las actividades realizadas durante el primer año del capítulo y se realizaron los siguientes nombramientos:
Consejo Directivo
Roberto Esguerra , Natalia Londoño, Amel José Bracho, Dora Inés Molina, Alvaro Portilla, Gregorio Sánchez, Cyndi Erazo (en representación de los Residentes), Santiago Nariño (en representación de los estudiantes)
Coordinadores de Comités
Coordinador Comité de Membresías: Phillipe Chalem
Coordinador Comité Eventos Científicos: Gustavo Adolfo Parra
Tesorero y Coordinador Comité Financiero: Carlos Augusto Franco
Coordinador Comité de Reconocimientos: Paulo Emilio Archila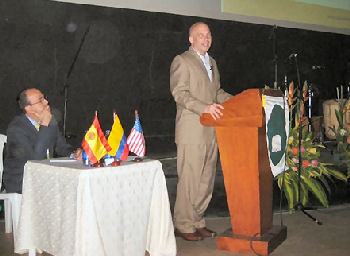 El embajador del ACP, Max Brito, MD, FACP se dirige a los asistentes a la reunión de los Miembros del Capítulo.
En la reunión de miembros del Capítulo Colombia el Gobernador Esguerra se dirige a los asistentes, el Dr Carlos A Franco actuó como secretario.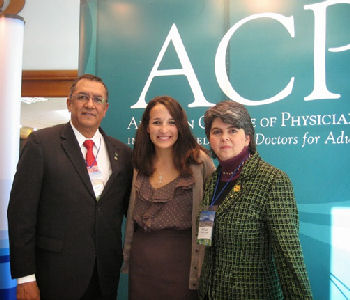 La doctora Natalia Londoño, con Mónica Lizarraga y Amel Bracho en el Stand del ACP.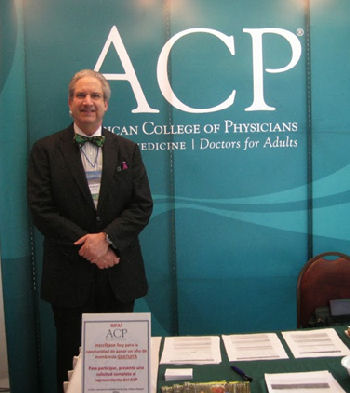 Robert Jackson, MD, FACP, Gobernador del Capitulo Texas Southern.
---

Internal Medicine 2014 ~ Abril 10 a 12 de 2014
Orlando, Florida
Ya se acerca el Congreso más importante en el campo de la medicina interna. En ésta oportunidad en la ciudad de Orlando, la semana anterior a la semana santa, por lo que muchos están haciendo planes para asistir al evento científico y completar con unas vacaciones familiares.
Los cursos pre congreso tendrán lugar los días 8 y 9 de abril y el congreso los días 10, 11 y 12. Para conocer toda la información les sugerimos visitar.
El evento tendrá lugar en el Orange County Convention Center de la ciudad de Orlando y durante él se llevará a cabo la ceremonia de introducción de los nuevos Fellows de nuestro capítulo.
Para ambientar el Congreso el próximo 20 de noviembre realizaremos un Webinar en donde se presentará una de las conferencias de Medicina Interna 2013, sobre hipertensión arterial, que Tuvo lugar en San Francisco. La conferencia será comentada por el Dr. Juan Daniel Ordóñez. MD, FACP, Profesor de la Universidad de California y posteriormente podrán intervenir los participantes. El cupo máximo es para 50 personas y se inscribirán en orden de llegada de las confirmaciones.