You are here
Carta Del Gobernador Julio 2014
Carta Del Gobernador Julio 2014

| | |
| --- | --- |
| Julio 2014 | Roberto Esguerra, MD, FACP, ACP Governor |
---
---
Steven E. Weinberger, MD, FACP, Director Ejecutivo del ACP, estará en el Congreso Colombiano de Medicina Interna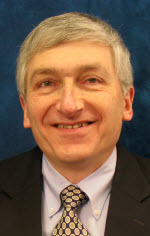 EL Director Ejecutivo y Vicepresidente del ACP, Steven E. Weinberger, MD, FACP, vendrá al Congreso Colombiano de Medicina Interna. Su presencia es muy significativa para el Capitulo Colombia del ACP y para la medicina interna Colombia, pues se trata de la persona más importante del ACP.
El Dr. Weinberger llegó a su actual posición en el ACP en 2010, luego de haber servido durante seis años como Vicepresidente para Educación Médica y Publicaciones. Internista y neumólogo es profesor adjunto de la Universidad de Pensilvania y conferencista senior de la Universidad de Harvard. Antes de su vinculación al ACP desarrolló una brillante carrera en la Universidad de Harvard en donde recibió numerosos reconocimientos por sus aportes a la educación médica como profesor distinguido. Ha escrito más de 125 artículos científicos y capítulos de libros y es autor del texto "Principles of Pulmonary Medicine", actualmente en su sexta edición y traducido a varios idiomas.
En el Congreso dictará dos conferencias: "Medicina Interna: Recogiendo el pasado y mirando al futuro" y "Actualización del American College of Physicians, la visión de su Director Ejecutivo" , que se realizarán ambas el día sábado 9 de agosto, la primera entre 9:30 y 10:15 am en sesión plenaria en los salones Barahona 1 y 2 y la segunda en el Salón Barahona 2 entre 11:20 y 11:40. También estará presente en la reunión de los miembros del Capítulo que tendrá lugar, en el mismo Centro de Convenciones en el Salón Comisiones 302.
---
Reunión De Los Miembros Del Capitulo Colombia Del ACP
La reunión de los miembros del Capítulo tendrá lugar el sábado 9 de agosto en el salón comisiones 303 del Centro de Convenciones de Cartagena, entre 12m y 1:30pm. La organización del congreso ofrecerá un refrigerio. Convocamos a todos los miembros a asistir a esta reunión en donde tendremos la oportunidad de discutir temas relacionados con el futuro del Capítulo, contando con la presencia del Director Ejecutivo del ACP, Dr. Steven Weinberger, MD, FACP.
Igualmente invitamos a todos a estar presente en la sesión del sábado en la mañana a cargo del ACP en el salón Barahona 2, en donde el Dr. Robert Jackson, MD, FACP dictará la conferencia "Mejorando la calidad de servicios médicos en el consultorio: Usando el Registro" entre 10:40 y 11:00 am, a continuación el Dr. Rolf Alwers,MD, FACP hablará sobre "High Value Care" entre 11:00 y 11:20 y el Dr. Steven Weinberger, MD, FACP dictará la conferencia: "Actualización sobre el American College of Physicians, la visión de su Director Ejecutivo", entre 11:20 y 12:00.
---
Simposio Sobre Cáncer y Trasplante Hepático. Octubre 10 y 11
Con el apoyo del ACP Capitulo Colombia, la Fundación CardioInfantil y el instituto de trasplantes Thomas E Starzl de la UPMC (University of Pittsburgh Medical Center), se realizará este importante evento científico dirigido a internistas, hepatólogos, oncólogos, radiólogos y médicos generales.
Los principales temas serán: Epidemiología del cáncer hepático; manejo de los pacientes con enfermedades malignas hepatobiliares, candidatos a trasplante hepático; imágenes con bio-marcadores en cáncer hepático; principios oncológicos en enfermedades malignas del hígado; expectativas de los pacientes en trasplante hepático por enfermedades malignas del hígado; técnicas modernas de resección del cáncer hepático; terapias sistémicas, basadas en la evidencia, para cáncer hepatocelular; terapias ablativas para enfermedades malignas en candidatos a trasplante; protocolos en oncología intervencionista; criterios de seguimiento para terapias loco regionales; nutrición pre y pos trasplante; evaluación del donante vivo; nuevas tendencias quirúrgicas en trasplante hepático; evaluación médica del candidato a trasplante hepático; papel de la radiología intervencionista pre y pos trasplante; la experiencia colombiana en trasplante hepático; cómo desarrollar un programa de trasplante; cómo desarrollar un programa de intervencionismo oncológico e intervenciones quirúrgicas y guiadas por imágenes en cáncer y trasplante hepático.
De la UPMC participarán los siguientes profesores: Hyun S "Kevin" Kim, Jefe de Radiología Intervencionista, Ernesto Santos, Radiólogo Intervencionista, Kyongtae Bae Jefe del Departamento de Radiología, Edward Chu, Jefe de Hemato-Oncología, Abhinav Umar, cirujano, Director del Instituto Thomas E Starzl , Christopher P Hughes, jefe de trasplante hepático, Obaid S Shaikh gastroenterólogo y trasplante hepático y Vinod Rustgi trasplante hepático. De la Universidad de Emory: Juan Camilo Camacho Radiología abdominal e intervencionista. De la Fundación CardioInfantil: Rafael Claudino Botero, Internista y Jefe de Hepatología, Juan Manuel Pérez, Jefe del Departamento de Radiología y Gilberto Mejía, Cirujano de Trasplantes.
El evento tendrá lugar en la Fundación Cardioinfantil en la ciudad de Bogotá. El valor de la inscripción es de $ 150.000, los miembros del Capitulo no pagan inscripción y pueden tramitar su inscripción por la oficina del Capítulo teléfono 2368682 en Bogotá. Informes Fundación Cardioinfantil, teléfono 6672727 ext. 2619 / 2618, E-mail , formulario de inscripción.
---
Reconocimiento Del Capitulo Colombia A Dos De Sus Miembros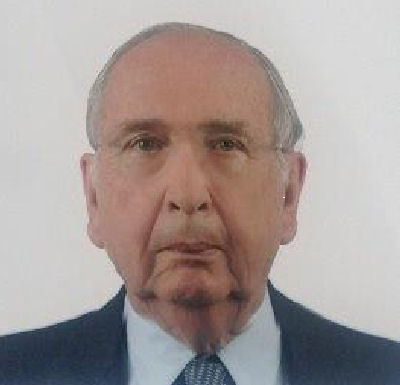 William Rojas Montoya, MD, FACP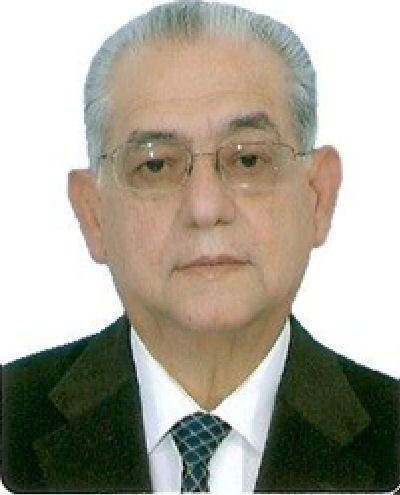 Hernando Matíz Camacho, MD, FACP
El comité de Reconocimientos del Capitulo Colombia del ACP, coordinado por el Dr. Paulo Emilio Archila decidió otorgar en esta oportunidad reconocimiento a dos destacados internistas, ex presidentes de la ACMI, Fellows del ACP, profesores universitarios y muy destacados médicos, los doctores William Rojas y Hernando Matíz.
Los reconocimientos serán entregados durante la ceremonia de inauguración del XXIII Congreso Colombiano de Medicina Interna, el jueves 7 de agosto a las 6 de la tarde.
---
La Nueva Imagen Del ACP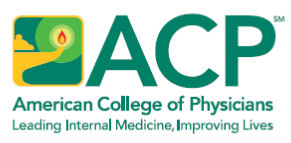 Durante el pasado Congreso de Orlando en Abril, el ACP lanzó su nueva imagen, que incluye un cambio en el logo y la sustitución del lema "médicos de Adultos" por "Lidernado la Medicina Interna, Mejorando vidas."
El nuevo Logo tiene una imagen más fresca y moderna pero conserva su relación con la historia y con el pasado y el nuevo lema refrenda el compromiso con el bienestar y la salud de nuestros pacientes y renueva los compromisos con la excelencia y el profesionalismo. Todo este esfuerzo hace parte de los preparativos para la celebración del centenario del ACP, en 2015. Recomendamos ver el video relacionado con el cambio de imagen disponible en la Web.
---
XXIII Congreso Colombiano De Medicina Interna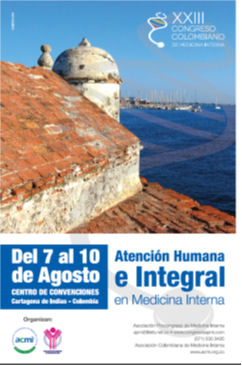 Cartagena de Indias vuelve a ser la sede del Congreso Colombiano de Medicina Interna, que para ésta ocasión tiene el lema "Atención Humana e Integral en Medicina Interna". Los cursos pre congreso tendrán lugar el día jueves 7 de agosto y al final de la tarde se realizará la ceremonia inaugural. Durante los días 8 y 9 y la mañana del 10 se realizarán las sesiones, que cubrirán los más diversos temas de la Medicina Interna. Los invitamos a consultar el programa completo en la página oficial de la ACMI y a asistir a este importante evento que reúne a todos los internistas colombianos y que cuenta con el apoyo del ACP.
---
Los Cien Años Del ACP Interna Medicine 2015 En Boston

La celebración de los 100 años del ACP tendrá lugar durante el congreso Internal Medicine 2015, que tendrá lugar en Boston entre el 29 de abril y el 2 de mayo. En ésta ocasión se ofrecerá por primera vez traducción al español en algunas sesiones. Haga sus planes desde ahora para que logremos una delegación numerosa de nuestro Capítulo. Informes sobre el congreso: http://im2015.acponline.org/.