You are here
GOVERNOR'S NEWSLETTER January 2016
GOVERNOR'S NEWSLETTER January 2016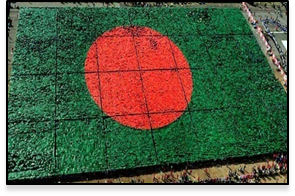 ---
---
From the Governor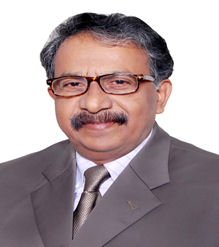 Prof. Quazi Tarikul Islam, Governor, ACP Bangladesh Chapter
Dear Colleague,
I am highly privileged to welcome you all to the first edition of the ACP Bangladesh Chapter Newsletter.
The American College of Physicians (ACP) is a national organization of internists - physician specialists who apply scientific knowledge and clinical expertise to the diagnosis, treatment, and compassionate care of adults across the spectrum from health to complex illness. ACP is the largest medical-specialty organization and second-largest physician group in the United States. Its membership of 143,000 includes internists, internal medicine subspecialists, and medical students, residents, and fellows.
The Bangladesh Chapter will be able to deliver the ACP vision to raise the standard of healthcare and education. We welcome all ACP and non-ACP members to join in this platform to enrich our knowledge in both communicable and non-communicable diseases. We can also exchange our views how to improve health care reform and human resource development in a developing nation like Bangladesh.
As a Governor of Bangladesh chapter, I will encourage internist to become an ACP member and members to advance for Fellowship. As a chapter, we will keep information up to date so that our internist and members can gather quick information and exchange their views in terms of development and activities. Our newsletter will keep informing about local, regional and international CME under ACP guidelines. Any suggestion that helps the development of this chapter will be highly appreciated.
Total members from Bangladesh in ACP are 197, as of December 2015.
Member class description:
Members: 93
Fellow: 49
Medical student members: 49
Physician affiliate: 6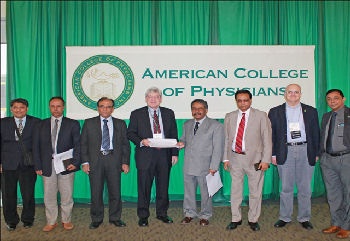 Proposal for Bangladesh chapter handed over to Mr. James M Ott, ACP Senior Vice President, International Programs, by Prof. Quazi Tarikul Islam, President BSM and Senior BSM members.
Since 2003, Bangladesh has attended the ACP Internal Medicine Meeting. In 2015, a total of 57 participants attended the conference in Boston. Attendance of the ACP conferences always plays a major boost for upgrading professional knowledge of physicians.
BSM, President with ACP, President and Chair, Board of Regents and other international dignitaries at Boston conference 2015 in formal photo session.
---
Mastership
Renowned physician Prof. HAM Nazmul Ahasan nominated for MACP this year. He is the first ACP Master in the Bangladesh Chapter. We congratulate him for this achievement.
New Fellow inducted in 2015 at Boston
Professor Md. Zahiruddin
---
Formation of Governors Advisory Council
List of Council members
Prof. Tofayel Ahmed.
Prof. Md. Abul Kashem Khondaker.
Prof. M A Jalil Chowdhury.
Prof. M A Faiz
Prof. H A M NazmulAhasan.
Prof. F.M. Siddiqui.
Prof. Khan Abul Kalam Azad.
Prof. Md. Mujibur Rahman.
Prof. Md. Faizul Islam Chowdhury.
Prof. Md. Billal Alam.
Prof. Md. Golam Kibria Khan.
Prof. H S Ferdous.
Prof. Md. Rajibul Alam.
Prof. Anup Kumar Shaha.
Prof. Md. Abul Hasan Chowdhury.
Prof. AKM Aminul Hoque.
Prof. Md. Titu Miah.
Dr. Mahbubur Rahman Khan.
Dr. Ahmedul Kabir.
Dr. Robed Amin.
Dr. Rubina Yasmin.
Dr. Md. Mahmudur Rahman Siddiqui.
Dr. KFM Ayaz.
Dr. SudipRanjan Deb.
Dr. Mohammad Rafiqul Islam. Executive Secretary to Governor, Resident and Medical Student Representative
Dr. Md. Zahid Hasan. Resident, Internal Medicine, Dhaka Medical College, Bangladesh.
Abdullah Al Mahdi. 4th year student, Dhaka Medical College, Bangladesh.
---
First meeting of Governor's Advisory Council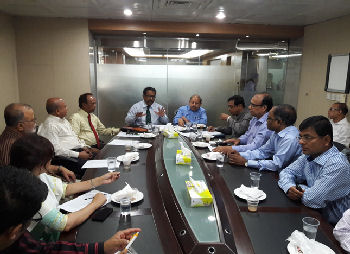 First Governors council meeting on 24th November 2015 at Popular Medical College Hospital.
The first meeting of the Governor's advisory council was held on 24th November 2015 at Popular Medical College Hospital. Twenty members out of 27 were present at the meeting. The chapter's goals will be to increase the number of Members and Fellows in ACP, regularly publish a chapter communication/newsletter, CME program and development of young leadership.
---
Bangladesh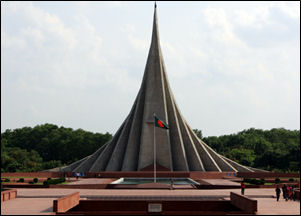 Bangladesh is a low-lying, riverine country located in South Asia with a largely marshy jungle coastline of 580 km on the northern littoral of the Bay of Bengal. Formed by a delta plain at the confluence of the Ganges, Brahmaputra, and Meghna Rivers and their tributaries. Bangladesh enjoys the major part of largest Mangrove forest, the Sundarban, a world heritage. Modern Bangladesh emerged as an independent nation in 16th December 1971 after achieving independence from Pakistan in the Bangladesh Liberation war. Bangladesh is a secular country by its constitution and government runs by parliamentary democracy. The country has a total land area of154,000 sq km with a population is 166,280,712 (growth rate: 1.6%); birth rate: 21.61/1000; infant mortality rate 45.67/1000; life expectancy: 70.65 years.
---
History of evolution of Bangladesh Society of Medicine
The journey of Bangladesh Society of Medicine (BSM) started in 1999 with only a handful of members. The first President and Secretary General of BSM was veteran physician Prof. Tofayel Ahmed and Prof M A Jalil Chowdhury respectively. Currently, the number of BSM life member is 414 and annual member is approximately 600. To become a member of BSM, one must have post-graduation which requires at least four years supervised training with exit examination at the end. In this sixteen years journey of BSM, we walked hand in hand with ACP. BSM works for the development of its members, thousands of postgraduate students and undergraduate students by organizing 4-6 satellite continuous medical education (CME) program in different medical college per year. Every year BSM organizes an international Seminar where ACP sends its ambassador since 2003. BSM collaborates with the Government of Bangladesh in developing different aspects of health care issues, training, research and skill development of undergraduate and postgraduate students. Every year, BSM provides funding for research on burning health care issues.