You are here
Quebec Governor's Newsletter May 2018
Quebec Governor's Newsletter May 2018
---
---
Nadine Lahoud, MD, MBA, FRCPC, FACP, ACP Governor
---
Governor's Message - Dr. Nadine Lahoud
It was a great pleasure greeting many of you in New Orleans during the 2018 ACP Internal Medicine Meeting. I am happy to report that the meeting was another success with more than 9,000 delegates from around the world with 253 Canadians.
Missed the 2018 Internal Medicine Meeting in New Orleans?
Here's your chance to still benefit!
Purchase recordings from over 170 scientific sessions and obtain the latest scientific content presented by renowned faculty. Recordings are perfect for updating your knowledge, wherever you are. Click here to place your order.
Once again, a team from Quebec competed in the ACP Doctor's Dilemma® Competition. Canada was well represented with four teams competing (Quebec, Ontario, Alberta, Atlantic Provinces).
Many thanks to all who attended the session and cheered on our teams.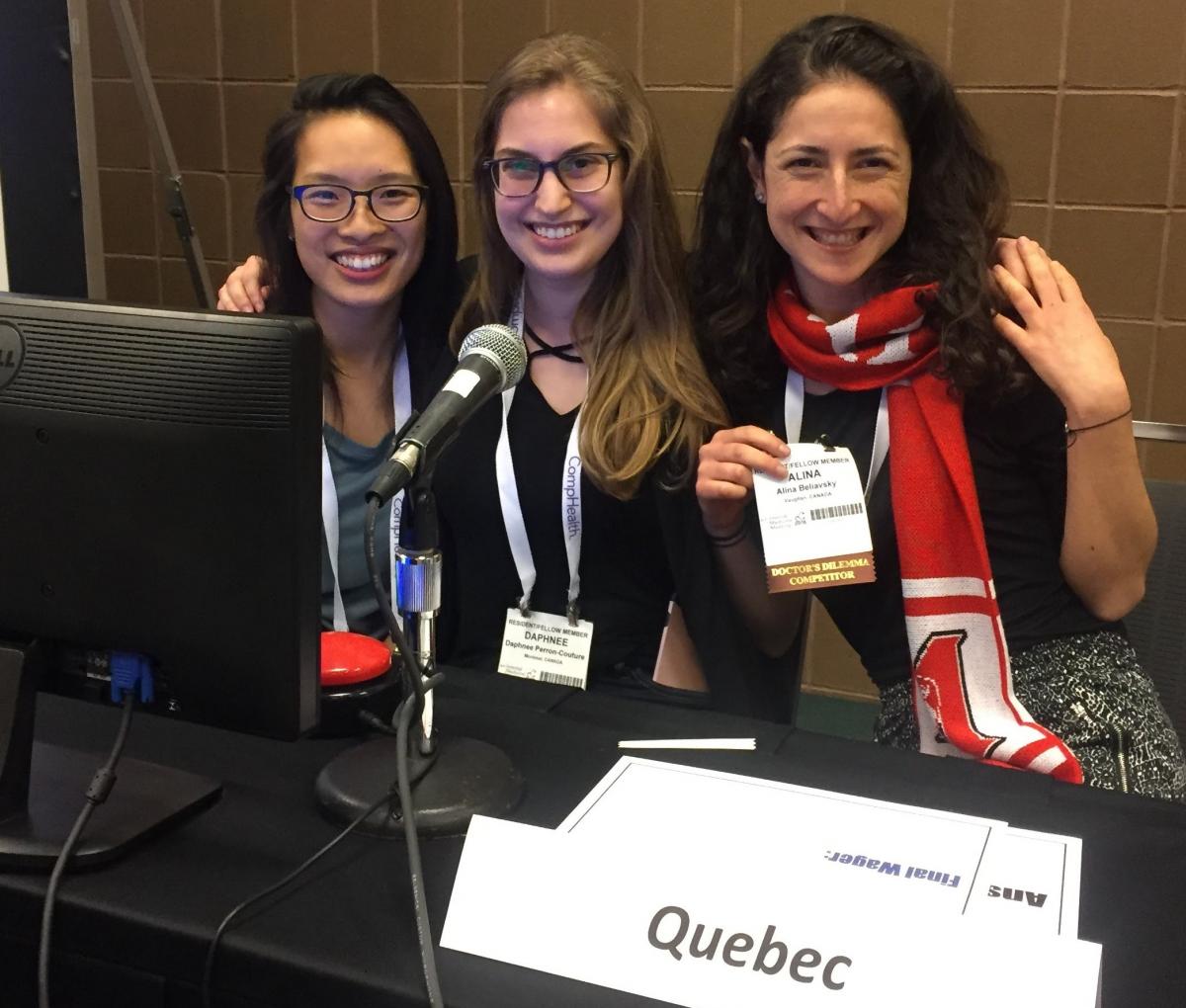 (L-R: Dr. Eliane Nguyen, Dr. Daphnée Perron-Couture, Dr. Alina Beliavsky)
CALL FOR TEAMS – ACP Doctor's Dilemma Competition'
Hosted by the Canadian ACP Chapters
During the CSIM/ACP Western Canada Chapters
October 11, 2018 – Banff, Alberta
Click here for details.
I would like to congratulate Dr. Luc Lanthier, FACP, and his team for Balado-critique, a monthly medical podcast. The Quebec Chapter submitted the project to an ACP competition and won the John Tooker Evergreen Award in recognition for the excellence of this educational tool. Thank you Dr. Lanthier, you did us proud!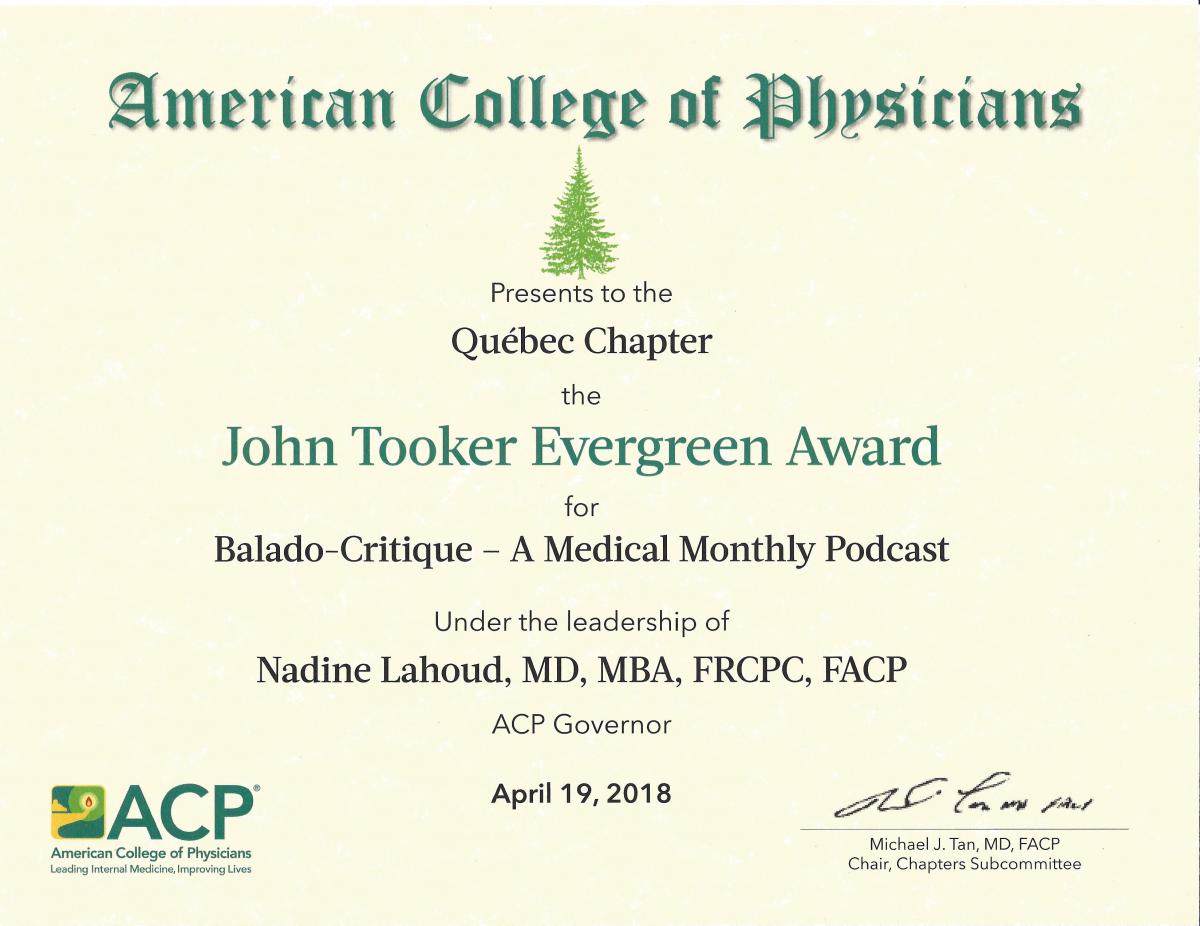 Our next ACP-ASMIQ joint meeting will be held June 2-3 at Château Frontenac in Quebec City. This year's theme is "An update in Microbiology." I would like to thank the planning committee and the faculty for their hard work in preparing this quality scientific event. The Quebec Chapter will continue to support the Resident Inter-University day that will be held June 1st at the Château Frontenac. Don't miss this great learning opportunity!
I wish you all a beautiful spring filled with fulfillment both professionally and personally.
---
Welcome to our New Members!
Emilie Forget, MD
Stephen Phung, MD
Farzana Vira, MD
---
Calendar of Events
ASMIQ and ACP Quebec Chapter Meeting and Inter-University Day
Theme: Microbiology
Château Frontenac, Québec
June 1-3, 2018
Information
The ACP Western Chapters Annual Scientific Meeting 2018
During the Canadian Society of Internal Medicine Annual Meeting
October 10-13, 2018
The Banff Centre
Banff, Alberta
Call for Abstracts - deadline June 6, 2018/ Click for information
ACP Ontario Chapter Annual Scientific Meeting
November 2-3, 2018
Hilton Garden Inn Toronto Airport
Mississauga, ON
Information
ACP Atlantic Provinces Chapter Meeting
November 16-17, 2018
Dalhousie University, Halifax
Information
ACP Internal Medicine Meeting 2019
April 11-13, 2019 Philadelphia, Pennsylvania
Information
---
Get Involved in Your Chapter!
Be an active part of this vibrant chapter! There are many volunteer opportunities on various committees – email your interests to nklawless2@sympatico.ca.
Follow the ACP Canadian Chapters on Twitter! @ACPCanadian
Quebec Governor's Newsletter May 2018