You are here
Quebec Governor's Newsletter May 2017
Quebec Governor's Newsletter May 2017

---
---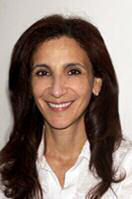 Nadine Lahoud, MD, MBA, FRCPC, FACP, ACP Governor
---
GOVERNOR'S MESSAGE - DR. NADINE LAHOUD
Welcome spring!
I am pleased to report that the recent ACP Internal Medicine Meeting in San Diego was another success with approximately 6,900 delegates from around the world with over 250 Canadians.
Once again a Doctor's Dilemma team from Quebec (Dr. Frédérique Bordeleau-Roy, Dr. Sophie McMullin and Dr. Jean-Maxime Côté) did us proud. Canada had 5 teams (Quebec, Ontario, Alberta, BC, Atlantic Provinces) compete in this year's annual ACP Doctor's Dilemma® with Alberta and Ontario making it through to the semi-finals. Congratulations to the Ontario team who won a coveted spot in the finals. They did not take the trophy home but there is always next year!
The Quebec chapter is proud to support a novel educational tool – a podcast called "Balado-critique" was launched last fall by Dr. Luc Lanthier, FACP and professor at the University of Sherbrooke. It consists of a monthly podcast during which Dr. Lanthier and his team critically review a recent publication from the medical literature with a potential high impact on the practice of general internal medicine. It may be accessed on iTunes, Stitches and on their web site www.baladocritique.com.
The next annual meeting between our Chapter and the ASMIQ will be held May 27-28, 2017 in Saint-Sauveur with the theme of "Neurology for the Internist." For information and to register, please visit www.asmiq.qc.ca.
The inter-university day will once again be held the day before the ASMIQ-ACP joint meeting. On May 26, 2017, residents from the four Quebec universities will gather and present stimulating clinical cases. Our Chapter is pleased to again provide support for this activity. We look forward to seeing you there!
The process for electing a new Governor has commenced. The Nominating Committee headed by Dr. Donald Echenberg, FACP and former ACP Quebec Governor, is in charge of soliciting members to nominate candidates to stand for election this year. In 2018, the Governor-elect will gradually prepare to assume the role.
---
ACP'S WORK TO REDUCE BURNOUT AND PROMOTE PROFESSIONAL SATISFACTION AND WELLNESS
Recent data show that more than half of US physicians have symptoms of burnout. In response to this, ACP is in the midst of a multi-year effort to promote professional satisfaction, support physician wellness, and reduce burnout. Courses are being offered at the national ACP Internal Medicine meetings on work-life balance, resilience, burnout, and wellness.
ACP members wishing to learn more about reducing and preventing burnout may find these resources helpful. In addition, the American Medical Association, in partnership with the ACP and the Hennepin County Medical Center, has developed Steps Forward, which are modules addressing seven key steps to help prevent burnout.
---
WELCOME TO NEW MEMBERS!
Jean-Francois Brouillette, MD
Anthony Calabrino, MD
Catherine Girouard, MD PhD
Raphaelle Jalbert, MD
Eric Kerkerian, MD
Julie Kirouac Laplante, MD
Guillaume Roberge, MD
Remi Savard-Dolbec, MD
Marie-France Thivierge
---
ACP FELLOWSHIP
Becoming an FACP ® is a distinction earned from colleagues who recognize your accomplishments and achievements in medicine. The application process is simple and I encourage you to pursue this honour. Please don't hesitate to contact me or a Council member with any questions.
---
CALENDAR OF EVENTS
ACP Quebec Chapter Meeting and Inter-University Day
Congrès Neurologie
May 26-28, 2017
Saint-Sauveur, QC
Conference website
Perioperative Care Congress: Science, Evidence and Practice
June 2-4, 2017
The Chelsea Hotel, Toronto, ON
Conference website
The ACP Ontario Chapter Annual Meeting 2017 will be held during the Annual Meeting of the Canadian Society of Internal Medicine (CSIM)
November 1-4, 2017
Hyatt Regency – Toronto, ON
Click for the Call for Abstracts
Western Chapters and Rocky Mountain GIM Conference
November 16-18, 2017
Banff, AB
Watch the website for details
ACP Atlantic Provinces Chapter Annual Meeting 2017
November 24-25, 2017
Dalhousie – Halifax, NS
Watch the website for updates
ACP Internal Medicine Meeting 2018
April 19-21, 2018
New Orleans, LA
Click here for information
---
RECRUIT A COLLEAGUE AND SAVE!
Receive a dues discount by recruiting colleagues to ACP membership! And be entered to win a trip to the ACP Internal Medicine Meeting 2018 in New Orleans! The more members recruited during the promotional period, the more entries you receive.
Click here for details and to download the international application form.
---
CALLING ALL VOLUNTEERS!
Be an active part of this vibrant chapter! There are many volunteer opportunities – please email me directly at nklawless2@sympatico.ca
Share your good news or that of a colleague and we will post it in our Chapter newsletter.
Follow the ACP Canadian Chapters on Twitter! @ACPCanadian