You are here
GOVERNOR'S NEWSLETTER Ontario November 2014
GOVERNOR'S NEWSLETTER Ontario November 2014

---
---
Message From the Governor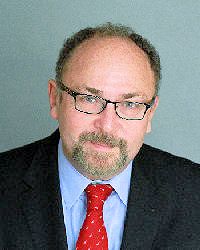 Ross D. Feldman, MD, FACP, ACP Governor
---
Penultimate musings from a lame duck Governor
It what is likely to be my second last newsletter as your Governor, I would like to take the opportunity to reflect on the progress we have made in the chapter over the past four years and what I see as the road ahead. Although I will have little impact on the next iteration of ACP leadership in Ontario (I am relocating to Newfoundland in the spring), I would also like to take the opportunity to offer some navel-gazing advice to the next Governor (whose election is now scheduled for January 2015).
The ACP is still relevant in Canada. Although in the US, much of the work of local chapters is to support the clinical side of internist roles in the US (and their remuneration) - a part of ACP NOT at all relevant in Canada, the ACP remains a very important educational resource for Canadian internists at all stages of development.
The ACP has an important role in IM training programs. Much of the growth in membership and activities in ACP Ontario has been focused in IM residency programs and medical schools cities. Currently we have functioning ACP clubs in 4 of the 6 medical schools. This activity has been an important factor in the membership growth within the chapter (we now have a membership of over 1500!). Further, I think the ACP clubs have much to offer IM residents, who are probably not as connected as a "community" as they might have been in prior generations. In the current environment in IM training programs in Ontario there are fewer and fewer opportunities for residents to interact professionally outside of their work activities. From what I have seen both as an attendee of London ACP club meetings and as I saw at the recent Chapter meeting, the expansion of IM trainee-focused activities of the chapter is helping to fill this gap. I would hope that further expansion of these ACP club activities to all six Ontario medical schools remains an important focus for the next Governor.
The ACP has an important role for community internists. With the decreasing CME focus of the Royal College (beyond monitoring our activities), I think the ACP is well-positioned to be increasingly important to community internists for its educational resources. I would hope that expanding the range of activities offered by the chapter to community internists will be the next priority focus for the new Governor.
By all measures ACP Ontario has done well thanks to all of our efforts. We were just notified that ACP Ontario has qualified for a Chapter Excellence Award for a second year in succession. We are looking forward to 3-peat in 2014-15. We have also done well financially. Despite substantially increasing expenses in support of funding the increased range of activities across the chapter, our cash reserves have grown substantially and are now on a par with most other ACP chapters of our size. We are poised for further expansion of activities for trainees and internists, both specialists and subspecialists. I have every hope that the next Governor will continue this work and extend it even further through the next four years. In the meantime, I remain grateful for the opportunities I have had as your Governor to help foster the growth of our ACP community in Ontario.
Best wishes for a happy and healthy holiday season.
Ross
---
Report from the ACP Ontario Chapter Meeting
A very successful chapter meeting was held in Mississauga November 7-8. More than 100 attendees participated this year in a range of events including the poster presentation competitions, scientific sessions and the Doctor's Dilemma face-off.
Poster presentation competition. We had a very successful poster competition with 31 poster presenters from across the province and the US. They competed in 3 categories - research, clinical vignettes and quality improvement with the winners having the opportunity to present their papers at IM 15 in Boston in April. I want to congratulate all of the participants in their efforts and especially recognize the winners (and runner-ups) in this year's event. They are:
Clinical Vignettes
1st place: Siraj Mithoowani, Hamilton. The Blue Man: A Case of Methemoglobinemia Secondary to Chronic Dapsone Therapy.
2nd place: Ali Iqbal, Markham. Autonomic Autoimmune Ganglionapathy as a Cause of Pandysautonomia.
Quality Improvement
1st place: Priyanka Kapil, Mississauga. Quality of Febrile Neutropenia Management in a Regional Cancer Centre Emergency Department.
2nd place: Marie Yan, Toronto. Patient Characteristics and Outcomes of Outpatient Parenteral Antimicrobial Therapy.
Research
1st place: Nihal Haque, London. Incidence and Outcomes of Post-Operative Atrial Fibrillation and Supraventricular Arrhythmias: A Systematic Review and Meta Analysis.
2nd place: Shohinee Sarma, Dundas. Evaluating the Impact of Mhealth and Electronic Medical Records on Providing Timely Mid-upper Arm Circumference Readings for Children Under Five by Community Health Workers in Ruhiira, Uganda.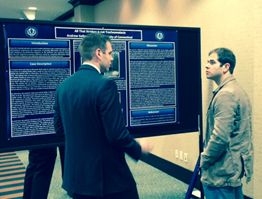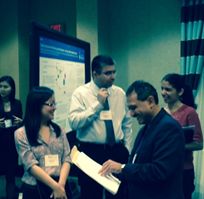 Laureate Presentations. This year we honored Dr. Jeff Weitz for scientific excellence for his seminal contributions in the field of hematology/thrombosis. Dr Weitz presented a brilliant lecture outlining advances and challenges in the field. I received the Distinguished Service Award this year - an honour for which I am very grateful to the Chapter for (and which now proudly hangs in my office).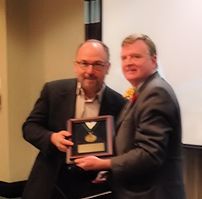 The two Ross's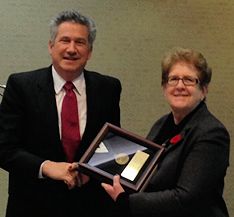 Dr Janet Roscoe presenting to Dr. Weitz
Doctor's Dilemma Competition. Perhaps the highlight of the meeting was the Doctor's Dilemma competition which pitted the Western Mustangs against their traditional rivals the McMaster Marauders. The McMaster team, comprising of Ali Iqbal, Mohamed Tawhari and Ali Ibrahim, has won this year's event handily and with it won the right to represent the Chapter at the IM 2015 DD completion in Boston. Well done McMaster!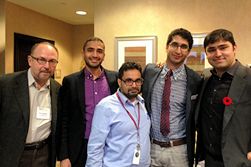 All hail the victorious McMaster Marauders DD team
---
Winner 2014 Chapter Excellence Award
I am thrilled to announce that our chapter received the 2014 Chapter Excellence Award! The award recognizes chapters which successfully meet the standards for managing a chapter. In order to achieve the Chapter Excellence Award, chapters must meet all basic criteria and seven optional criteria. Criteria include such activities as formulating an effective Governor's Council and committees, communicating frequently with membership, providing educational opportunities, recruiting and advancing members and celebrating membership through local awards. I would like to extend a special thanks to those chapter members who assisted me in all of these endeavors! For their hard work and dedication, we received this award.
---
Internal Medicine 2015
The annual meeting in Boston this year marks the 100th anniversary of the ACP as an organization and promises to be a tremendous meeting. As an International Chapter, we are eligible for discount delegation rates, which will reduce your registration from $659.00 USD to $470.00 USD.
For more information and to register, please click here. It will require registering by January 15, 2015, and will not include pre-course registration. You will have to pay at the time of booking, as we have to forward the total amount to ACP to confirm the attendance. Ms. Domenica Utano, who is our ACP Canadian Council Executive Director, will be coordinating these efforts and can be reached at domenica.acpcanada@gmail.com.
We have also planned a Canadian Reception again, this year it will be held at the Empire Restaurant on May 1st from 1800 - 2100.
---
Welcome To Our Newest Members
(Last 6 Months)
Members
Fayez E Alshamsi, MBBS
Mohamed Elarabi, MBChB
Richard M Elias, MBBS
Nagib M Khalifa, MBBCH
Linh-An Tuong, MD
Penny A Turner, MD
Harmandeep K Virk
Fellows
Pendar Farahani, MD, FACP
Amer M Jilani, MBBS, FACP
Amer M Jilani, MBBS, FACP
Barry N Nathanson, MD, FACP
Barry N Nathanson, MD, FACP
Mohammed Ahmed H Qutub, MBChB, FACP
Mohammed Ahmed H Qutub, MBChB, FACP
Resident/Fellow Members
Curtis Addison, MD
Muhanad Y Al Habash, MBBS
Ahmed E Alamelhuda, MBBS
Omar T Albassam, MBBS
Sara Aldekhyl, MD
Tooba Ali, MBBS
Jafar Aljazeeri, MBBS
Ifrah H Andirahman, MD
Pavel Antiperovitch, MD
Roochi Arora
Jasmine Bahrami, MD
P Bansal, MD
Catherine Barrett, MD
John Basmaji, MD
Nicolas Berbenetz, MD
Anurag Bhalla
Daniel A Breadner, MD
Laura Burnes
William G Caryl, MD
Anita YM Chan, MD,PhD
Barinder Chana
Jessica Cheung, MD
Deepti Chopra, MD
Derek K Chu, MD
Conor Cox, MD,BCh
Navreet Deol, MBChB
Janique L Dyba, MBBS
Nabiha Faisal, MD
George Farjou, MD
Christopher A Foster, MD
Angela A George, MD
Amanda Giffin
Gita Gupta
Lavita Gupta, MD
Brent S Guy, MD
Anne B Hu, MD
Peter Ip Fung Chun
Nabiha Islam, MD
Hussein Jaffer, MD
Shilpa Jain, MD
Emily Jones, MD
Eric Kaplovitch, MD
Andrew P Kelly
Faiza Khokhar, MD
Julius Yuli Koifman
Eyal Kraut
Ryan R Kroll, MD
Hala F Kufaishi, MD
Michael Kuhlmann, MBBCH
Chanel Kwok, MD
Julie M Lebert, MD
Kim Anne Lewis, MD
Jennifer Li
Geordie Linford, MD
Andy Liu, MD
Brigitte Longmuir, MD
Anthony Chuk Kae Lott, MD
Ryan Luther, MD
Usha Manian, MBBS
Marlene Mansour, MD
Vanessa Martelli, MDCM
Gavin Mazzetti, MD
Brian A Mc Ardle, MBBCH
Sarah Monsonego, MDCM
Nadia Emanuel Mousa, MBChB
Andrew J Mulloy, MD
Charles Nadeau-Routhier, MD
Michelle B Nadler, MD
Richard Norman, MD
Marek Oferczak Jr, MD
Michelle Olah, MD,PhD
Gbemi Olayemi, MD
Christine J Orr, MD
Sarah Patterson,MD
Sara Piran, MD
Jason Rajchgot, MD
Andrew Remfry, MBBS
Omar Q Saeed, MD
Abdullah M Sakkat, MD
Navjeet Sangha, MD
Janet Simons, MD
Vincent Siu, MBBCH
Alannah Smrke
Seth J Stern, MD
Vidya Sujana Kumar
Natalie Szpakowski, MD
Christopher Tran
Jane Turner
Rucha Utgikar, MD
Abi Vijenthira, MD
Alissa Visram, MD
Jing Gennie Wang, MD
Nick R. J. Woolnough
Mali Worme, MD
Ping Yu Xiong, MD
Dan Xu
Darya Yermak, MBBS
Samantha Young, MD
---
Save The Date
ACP Internal Medicine 2015 - April 30 - May 2, 2015 Boston Massachusetts
Canadian Reception during IM Meeting 2015 - Friday, May 1st 1800-2100 Empire Restaurant
CSIM Annual Meeting - October 14-17, 2014 Charlottetown, PEI
Rocky Mountain Internal Medicine Meeting - TBA Banff, Alberta