You are here
GOVERNOR'S NEWSLETTER Ontario December 2015
GOVERNOR'S NEWSLETTER Ontario December 2015

---
---
Governor of the Ontario Chapter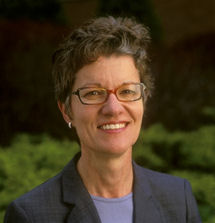 Irene Hramiak, MD, FACP
---
Message from the Governor
It is my privilege to assume the role of ACP Governor for the Ontario Chapter taking over from Dr. Ross Feldman. Thank you to Dr. Feldman for setting a high standard and I will try to maintain many of his key initiatives. I see that there is a need to continue to build the student chapters and also to look for opportunities to collaborate with internists in our many communities both academic and rural.
I attended the ACP Board of Governors meeting in September and was reminded of the work that ACP does on behalf of physicians. They have developed position papers on gun control and LGBT patients. On reflection these are the issues that no other group can lend a voice to in our organizations. They act as the conscience of physicians in the words of some members.
Thank you to the Council and committee members for their support in my transition and thank you to the many volunteers and the members at large who contribute to a successful Chapter. I am proud to announce that the Ontario Chapter has again received an ACP Chapter Excellence Award for the third consecutive year!
The Ontario Chapter is poised for renewal and expansion and I invite members who have ideas and want to contribute to please contact me directly.
Best wishes for a happy and healthy holiday season! Irene
---
Report from the 2015 Ontario Chapter Annual Scientific Meeting
Another very successful chapter meeting was held in Mississauga November 6-7 and it was a pleasure to see many students and residents from all the medical schools in the province. New this year was the simulation lab which was a huge success. Thank you to Dr. Hassan Mir and his colleagues from McMaster.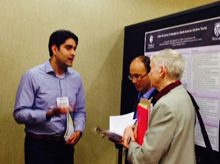 Mark your calendars for November 4-5, 2016 for next year's meeting!
Poster Presentation Competition
We had a very successful poster competition with 32 accepted poster presenters. They competed in 3 categories - research, clinical vignettes and quality improvement and the winners have the great opportunity to present their papers at the Internal Medicine Meeting May 5-7, 2016 in Washington, DC.
Congratulations to the winners and to all those who presented and thank you to all the judges for their participation.
Quality Improvement Winner
Dr. Stephanie Gottheil, UWO - Improving Resident Code Status Discussions: A Quality Improvement Project
Research (clinical category) Winner
Mr. Mina Rizk, Queens - Mesenchymal Stem Cells for Treatment and Prophylaxis of GVHD: A Systematic Review of Clinical Trial Heterogeneity
Clinical Winner
Dr. Nazanin Montazeri - McMaster - Severe Rhabdomyolysis: An Unappreciated Consequence of Water Intoxication
Laureate Presentations
This year we honored Dr. Bernard Zinman, recipient of the 2015 ACP Ontario Chapter Laureate Award for Research Excellence, and Dr. Peter Bolli, recipient of the 2015 Laureate Award for Distinguished Service. Congratulations Bernie and Peter!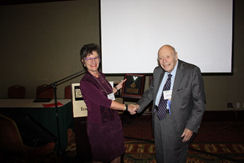 Dr. Hramiak presenting to Dr. Bolli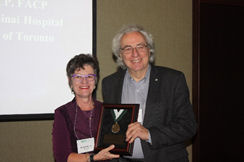 Dr. Hramiak presenting to Dr. Zinman
Doctor's Dilemma Competition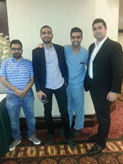 The McMaster Team
An exciting and competitive Doctor's Dilemma session pitted "The Western Stoics" against their traditional McMaster rivals. The McMaster team (A Couple of QTs - Ali Iqbal, Mohamed Tawhari and Sultan Chaudhry) were victorious and will be representing the Ontario Chapter at the 2016 Internal Medicine Doctor's Dilemma competition in Washington, DC.
Congratulations McMaster and good luck in Washington!
---
Call for Laureate Awards 2016
The Ontario Chapter welcomes nominations for the 2016 ACP Laureate Awards. Awards are presented at the Annual Scientific Meeting of the Ontario Chapter. Potential awardees may be nominated by any member of the Ontario Chapter. It is expected that awardees will be senior physicians, those being Fellows or Masters for at least 15 to 20 years with a long history of excellence and peer approval in the specialty of internal medicine.
There are two Laureate Awards available. One is primarily focused for a recipient who has provided distinguished service to the Chapter and to the ACP. The other is to recognize outstanding academic distinction related to innovation in research or in teaching (this recipient is invited to present at the Chapter's Annual Scientific Meeting).
Please email your letter of nomination and the nominee's CV by June 15, 2016 to domenica.acpcanada@gmail.com.
---
Welcome New Members!
(Last 6 Months)
Talal Alfaadhel, MD
Justine Chan, MD
Juthaporn Cowan, MD
Scaria George, MD
Leandra Grieve-Eglin, MD
Steven E. Gryn, MD
Saurabh Gulati, MD
Jennifer R Holyoke, MD
Chris S. McColl, MD
Praneil D. Mehta, MD
Jayanthini Nadarajah, MD
S Tanzil Rahman, MD
Saad Salim, MBBS
Fahad K. Sheikh, MD
Mithula Tharmabala, MBBCH
Benjamin K. Thomson, MD
Rebecca Van Alstine, MD
Ahraaz Wyne, MD
---
Calendar of ACP Events
Fellows and Members, register through the Canadian Delegation for reduced registration fees - click here for details; the deadline is January 15, 2016
Be our guest at the Canadian Reception Friday, May 6, 2016 from 6:00-8:00pm at Brasserie Beck at 1101 K Street, NW, Washington, DC
Cheer on the Canadian teams who will be competing in the Doctor's Dilemma competition
Ontario Chapter Annual Scientific Meeting
November 4-5, 2016
Mississauga, ON
Stay tuned for more information and for the Call for Abstracts
Canadian Society of Internal Medicine and the Quebec Chapter Annual Meeting
October 26-29, 2016
The Westin Montreal
More Information