You are here
GOVERNOR'S NEWSLETTER British Columbia October 2015
GOVERNOR'S NEWSLETTER British Columbia October 2015

---
---
From the Governor
Dawn DeWitt, MD, MSc, MACP, FRACP, FRCPC, Governor
---
The ACP Rocky Mountain Meeting is November 12-14, 2015
The Rocky Mountain Meeting in Banff is coming up soon! Register now for a fantastic program hosted at the Rimrock Resort in the heart of the beautiful Canadian Rockies.
---

Join the Canadian Delegation before October 23rd, and get a discount on registration for the Annual Session in Washington, D.C., May 5-7, 2016
Join your colleagues at the ACP Internal Medicine Meeting in Washington, DC from May 5-7, 2016!
The ACP Canadian Chapters are pleased to organize the Canadian Delegation. As an International Chapter, Canadian Masters, Fellows and Members are eligible for a discount through the Canadian Delegation, which will reduce your registration fee from $659 U.S. to $550 U.S.
Delegation early registration deadline: October 23, 2015
Final date to register through the Delegation: January 15, 2016
Please note the Delegation does NOT include registration for pre-courses, reserved workshops or Waxman Skills Sessions. If you are interested in reserving your spot in these sessions, please register directly through ACP online.
For more information on the Canadian Delegation and to register, please click here.
---
Want to Apply for, or Recommend Someone for, Fellowship?
ACP Fellowship is available to Members who have been in good standing for more than two years. Applications are reviewed 5 times per year. Information about the Fellowship process and application can be found here.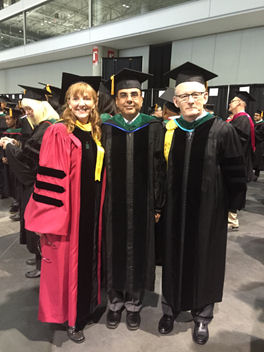 New Fellow of the American College of Physicians, Dr. Shavindar Gill (center) at Convocation in Boston with outgoing Governor Dr. Grady Meneilly (right) and incoming Governor Dr. Dawn DeWitt (left).
---
Congratulations to New British Columbia Masters
ACP Mastership is an incredible honor that brings international recognition of both achievements in medicine and contributions to the community and the profession through ACP. BC is proud to have three outstanding physicians awarded Mastership this year. The new Masters will be formally recognized at the Annual Session in Washington D.C. in May of 2016.
Graydon Meneilly, MD, FRCPC, FACP is a Professor of Medicine at the University of British Columbia. He was appointed as the Eric W. Hamber Chair of Medicine in 2002, and reappointed in 2007 and 2012.
He has held peer-review funding from national and provincial research agencies and has a wide reputation in studies of diabetes and carbohydrate metabolism in the elderly. He has 125 peer-reviewed publications, has spoken and written widely in his areas of expertise, and has supervised many residents and graduate students. He is active in hospital service leadership and is currently Physician-in-Chief, Vancouver Hospital, and Regional Department Head of Medicine, Vancouver Coastal Health and Providence Health Care.
Dr. Meneilly was Governor of the ACP BC Chapter from 2011 to 2015. He has worked diligently to raise the profile of the ACP. He recruits and sponsors residents and students for ACP functions, and is very open to new initiatives or ideas. As Choosing Wisely was discussed, he appointed an interested junior faculty member to a new position regarding quality and safety to ensure that the launch of the initiative would have both visibility and "legs" in our department. As a geriatrician, he has been active regarding the Beers' Criteria resolution in particular.
Dr. Meneilly brings broad perspectives of personal achievement in clinical investigation, an intense commitment to resident and student education, and innovative concepts of health service delivery across communities throughout the province.
Anita Palepu, MD, MPH, FRCPC, FACP is a Professor of Medicine and Head, Division of Internal Medicine, at the University of British Columbia. She works as a General Internists at St. Paul's Hospital and is the Departmental Director for the Clinical Investigator Program Director. She also serves on the Departmental Equity and Mentoring committees. She conducts her research at the Centre for Health Evaluation and Outcome Sciences and has a research program that falls under the broad umbrella of urban health research with particular interest in vulnerable populations such as homeless persons, and drug users. She is the Vancouver site Principal Investigator for the CIHR-funded Health and Housing in Transition, which is a longitudinal study of homeless and vulnerably housed persons in Vancouver, Ottawa and Toronto that has completed its data collection in 2014. She is an associate editor for the Annals of Internal Medicine.
Dr. Barry Kassen is a Clinical Professor, Division of Internal Medicine, University of British Columbia. He was head of this division from 2004 - 2015. In addition, he is the Acting Head of Community Internal Medicine at UBC, the Clinical Teaching Unit Director at St. Paul's Hospital, and the Associate Chair of the Department of Medicine at Providence Health Care. His research activities have been in the area of medical education focusing primarily on forms of assessment.
Dr. Kassen has played a huge role with the Royal College of Physicians and Surgeons of Canada since 1988. He has held a number of different leadership positions in the RCPSC and has been instrumental in defining the role of general internal medicine as a subspecialty within medicine in Canada.
Dr. Kassen became a Fellow of the ACP in 1998. He served as Governor of the BC Chapter and has served on meeting planning committees for at least eight Regional ACP meetings. He is currently a member of the Governor's council.
---
Congratulations to the Newest British Columbia Members, Fellows, and Resident Members
Members (last 6 months)
Paul Campsall, MD
Peter C Chang, MD
Anna Dabu, MD
Avtar S Dhillon, MD
Hardeep S Mahal, MD
Elizabeth CT Parfitt, MD
Zachary A Schwartz, MD
Heather J Taddy, MD
Ehud Ur, MD
Fellows (last 6 months)
Liam R. Brunham, MD, PhD, FACP
Chris J. Mahony, MD, FACP
Resident/Fellows (last 6 months)
Jessica Belle
Sandra Cortina, MD
James T. England, MD
Colleen M. Foster, MD
Laura Fraser, MD
Omid Gerami
Karmen Jongewaard, MD
Bahar Moghaddam, BCh
Hamed Nazzari, MD PhD
Francisco Ng, MD
Maziar Rahmani, MD,PhD
Thomas Roston
Hayden L. Rubensohn
Michael Thibert, MD
Stefanie DS, Wade
Ruobing Yang, MD
Dimas Yusuf, MD
---
What's new at ACP?
Are you passionate about Quality? Become an ACP Quality Champion through "Quality Connect" on the ACP website.
---
MKSAP 17
MKSAP Study Hall- Don't Miss out on this Fun, Free way to review MKSAP
Illinois started this very cool webinar. Doctor presenters, trained with speaking/comedy workshops, "meet" every week to review questions from MKSAP. Starting soon, they will go through all of MKSAP by reviewing 8-10 questions per week live!
Watch for start details and times!
More information about MKSAP 17 is available online.
---
DynaMed Plus: A New Benefit for ACP Members
We are excited to announce that ACP and EBSCO Health are collaborating to provide ACP members with free access to the most current, evidence-based clinical decision support tool - DynaMed Plus™ as a benefit of ACP membership. Get started today using this powerful new tool. Click here for more information and to set up your access.
---
Want to Get involved in ACP in BC? Contact your Governor
How to Reach Us
Dawn DeWitt, MD, MSc, MACP, FRACP, FRCPC
British Columbia, ACP Chapter Governor
E-mail: dawn.dewitt@ubc.ca
Chapter Staff Support
Donna Combs
Phone: (604) 875-5613
E-mail: donna.combs@vch.ca