You are here
GOVERNOR'S NEWSLETTER Alberta November 2014
GOVERNOR'S NEWSLETTER Alberta November 2014

---
---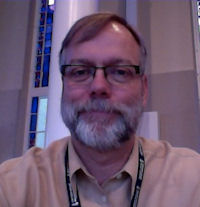 Neil E. Gibson, MD, FACP, ACP Governor, Alberta Chapter
Governor's Message
This has been a good year for the Chapter and the Canadian Chapters in general. We have forged a new relationship with each other by forming a Canadian Council which will allow us to come together on National questions of interest with respect to the ACP. The Alberta chapter also received a Chapter Excellence award for the past year which is a confirmation that we have a vibrant and eager membership. I would also like to welcome Dr. Narmin Kassam as Governor-Elect Designee. Our new Governor-elect Designee will do a year of training as a Governor-elect and then will start her four-year term as Governor in the Spring of 2016. She is guaranteed to bring enthusiasm and skill to the position. There are a number of exciting initiatives that will be explored in detail in the rest of the newsletter. Read on and enjoy!
---
CSIM Annual Meeting October 1-4 2014, Calgary
As you are aware the CSIM meeting was held in conjunction with the Rocky Mountain Meeting this year in Calgary and also constitutes our annual Chapter meeting as well. I talked with a number of members and it appeared that the meeting was well received and the sessions and workshops were superb.
There were a number of highlights pertaining to the Chapter. Firstly, it was my honour to present Dr. Robert Herman with our first ACP Laureate award. Dr. Herman has almost single-handedly run the Rocky Mountain Internal Medicine meeting for the last decade and has continuously promoted Internal Medicine as a teacher, researcher and role model. We were also able to completely surprise Bob, which is an accomplishment in itself as he is usually quite aware of what is going on around him.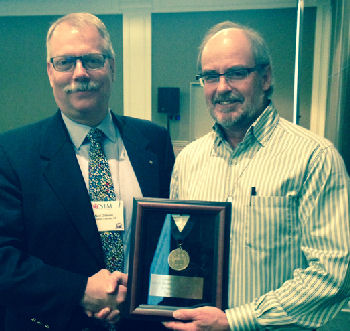 This award was made in advance of the annual ACP Alan Edwards lecture which was given by Dr. Stephen Hwang who delivered a tremendous talk on his work in the area of social determinants of health. Very thought provoking and all that attended carried away some points to ponder as we move ahead in delivering health care in today's context.
The other great news was that the University of Alberta Residents team was successful in winning the annual Medical Jeopardy competition, which entitles them to be sponsored to compete at the Doctor's Dilemma competition at the ACP annual meeting in Boston this April as one of 40 teams. Congratulations to Evan Martow, Nathan Puhl, Maryam Soleimani, Selina Dobing on their success and good luck in Boston!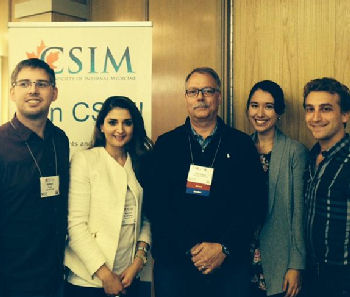 (l to r Nathan Puhling, Maryam Soleimani, Neil Gibson( Governor), Selina Dobing, Evan Martow )
---
Alberta Chapter's New Master
It is my distinct pleasure to announce that Dr. T.K. Lee has been accepted as a Master of the American College of Physicians. Dr. Lee has had an enduring and positive impact on Internal Medicine in the province and richly deserves this honour. Please join me in congratulating Dr. T.K. Lee, MACP".
---
Internal Medicine 2015
The annual meeting in Boston this year marks the 100th anniversary of the ACP as an organization and promises to be a tremendous meeting. As an International Chapter, we are eligible for discount delegation rates, which will reduce your registration from $659.00 USD to $470.00 USD.
For more information and to register, please click here. It will require registering by January 15, 2015, and will not include pre-course registration. You will have to pay at the time of booking, as we have to forward the total amount to ACP to confirm the attendance. Ms. Domenica Utano, who is our ACP Canadian Council Executive Director, will be coordinating these efforts and can be reached at domenica.acpcanada@gmail.com.
We have also planned a Canadian Reception again, this year it will be held at the Empire Restaurant on May 1st from 1800 - 2100.
---
Welcome To Our Newest Members
(Last 6 Months)
Members
Heidi H Choi, MD
Daniel J Miller, MD
Alykhan Nanji, MD
Nakul C Sharma, MD
Fellows
Aminu K Bello, MD, PhD, FACP
Mohammad Reza Jahandardoost, MD, FACP
Resident/Fellow Members
Aditi Amin, MD
Megan Barber, MD, PhD
Gordon Mark Brown, MD
Melissa Chan, MBBS
Kate Colizza, MD
Fareed Kamar, MD
John Lam, MD
Jonathan Liu, MD
Simon Mairs, MBChB
Evan Martow, MDCM
Rahul Mehta, MD
Adam B. Papini, MD
Nathan J. Puhl, MD
Janet Helen Roberts
Leyla Samii, MD
Daniel L. Sawler, MD
Andrew Tang, MD
Archana Vijay, MBBS
David Waldner
---
Save The Date
ACP Internal Medicine 2015 - April 30 - May 2, 2015 Boston Massachusetts
Canadian Reception during IM Meeting 2015 - Friday, May 1st 1800-2100 Empire Restaurant
CSIM Annual Meeting - October 14-17, 2014 Charlottetown, PEI
Rocky Mountain Internal Medicine Meeting - TBA Banff, Alberta