You are here
Canada Quebec Governor's Newsletter December 2016
Canada Quebec Governor's Newsletter December 2016

---
---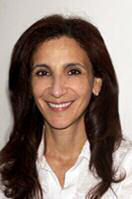 Nadine Lahoud, MD, MBA, FRCPC, FACP, ACP Governor
---
MESSAGE FROM THE GOVERNOR
It was great seeing many of you during the local ACP-CSIM- ASMIQ joint meeting in Montreal a few weeks ago.
2016 HIGHLIGHTS
I am pleased to note that our chapter has again won an ACP Chapter Excellence Award! There are pre-determined criteria that the chapter met through the efforts and diligence of our council, by my predecessor, Dr. Donald Echenberg and the excellent work done by Ms. Domenica Utano, our supporting staff.
The Quebec chapter is proud to support a novel educational tool, a podcast launched this fall by Dr. Luc Lanthier, FACP and professor at the University of Sherbrooke, called BaladoCritique. It consists of a monthly podcast critically reviewing a recent scientific publication with a high impact on the practice of general internal medicine. You could access it on iTunes, on Stitches or through this website.
Two joint meetings between our Chapter and the ASMIQ were held in 2016. The first one, an update in dermatology and immunology, held in Ste-Foy and more recently the CSIM-ACP-ASMIQ meeting which took place in Montreal. Evaluation feedback was excellent and member participation and attendance exceeded expectations!
Congratulations to Quebec new Fellows who are invited to participate in this year's convocation ceremony that will take place in San Diego during the ACP's 2017 Internal Medicine Meeting:
Dr. Chantale Vallée
Dr. Nadine Sauvé
Dr. Matthew Cheng
Dr. Martin Albert
Our Chapter is working on initiatives to support residents and medical students. Dr. Marilyne Brault, our resident representative, has organized a Doctor's Dilemma competition. Dr. Jean-Pascal Costa, internist at Notre Dame hospital, CHUM, held MKSAP review sessions with a group of residents. These sessions were extremely appreciated by the participants. On behalf of the chapter, thank you to Drs. Brault and Costa.
It is my honour and privilege to continue to serve as your local chapter governor. Wishing you a wonderful holiday season and many happy returns in the year to come!
2017 PLANNED ACTIVITIES
On May 27-28, 2017, the joint ASMIQ- ACP Québec Meeting will take place in Saint-Sauveur. The theme will be "Neurology 2017". Watch for updates here.
On May 26, 2017, our Chapter will once again sponsor the inter-university day, where residents from the four universities will gather and present stimulating clinical cases.
---
SAN DIEGO AWAITS! SAVE THROUGH THE CANADIAN DELEGATION!
The Canadian Chapters are offering a reduced registration rate to the 2017 Internal Medicine Meeting through the Canadian Delegation – Click here for more information. The meeting will be held in San Diego from March 30-April 1, 2017.
If you are attending the meeting in San Diego, come out and cheer on the Canadian residents competing in the ACP Doctor's Dilemma!
---
MEMBERSHIP
Each year, the Quebec Chapter membership has been steadily increasing with a current total of 619 members:
Masters: 4
Fellows: 83
Honorary Fellows: 1
Members: 124
Residents/fellows: 351
Medical Students: 54
---
BECOME AN FACP® TODAY!
Many of our members are eligible to become ACP Fellows. Becoming an FACP® is a distinction earned from colleagues who recognize your accomplishments and achievements in medicine. The application process is simple and I encourage you to pursue this honour. Please contact me with any questions .
---
GROUP PURCHASE OF MKSAP 17
MKSAP 17 is available for order. Take advantage of the 10% discount on group purchases of 10 or more. Thanks to the efforts of Dr. Marilyne Brault, 20 residents have benefited last year from the 10% discount of the group purchase.
Limited Time Offer! Save 10% on MKSAP 17 Print, Digital, or Complete when you order by January 31, 2017 and use code MKSAVE10!
---
RECRUIT A COLLEAGUE AND SAVE!
Receive a dues discount by recruiting colleagues to ACP membership! And be entered to win a trip to the ACP Internal Medicine Meeting 2018 in New Orleans! The more members recruited during the promotional period, the more entries you receive.
Click here for details and to download the international application form.
---
WELCOME TO NEW MEMBERS!
Mohammed B. Al Awamy, MBBS
Marie-Eve Bureau, MD
Anthony Calabrino, MD
Pascale Dubois, MD
Frantz Perpignan, MD
Remi Savard-Dolbec, MD
Dhiviya Umapathy, AHP MD
---
CALENDAR OF EVENTS
The ACP Ontario Chapter Annual Meeting 2017 will be held during the Annual Meeting of the Canadian Society of Internal Medicine
November 1-4, 2017
Hyatt Hotel – Toronto, ON
Watch the website for more details and for call for submissions.
ACP Internal Medicine Meeting 2017
March 30-April 1, 2017 in San Diego, CA
Click for more information .
Save through the Canadian Delegation .
Cheer on the Canadian teams who will be competing in the Doctor's Dilemma competition!
---
CALLING ALL VOLUNTEERS!
Be an active part of this dynamic chapter!
Drop me a line! Share your good news or that of a colleague or share information by emailing me and we will post this in the newsletter and on the website.
Follow the ACP Canadian Chapters on Twitter!