You are here
Canada Quebec Bulletin du Gouverneur Juin 2016
Canada Quebec Bulletin du Gouverneur Juin 2016

---
---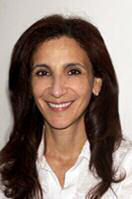 Nadine Lahoud, MD, MBA, FRCPC, FACP
---
Mot du Gouverneur
Chers collègues,
Cest avec grand plaisir que j'entame une autre année comme gouverneur de la section du Québec de l'American College of Physicians (ACP). Mon mandat qui a débuté en 2015 se terminera en avril 2019.
---
Temps Forts de L'annee 2015-2016
Deux réunions scientifiques conjointes de l'ACP-section Qc et de l'ASMIQ se sont tenues dans la dernière année. La première, en octobre 2015, au Château Bromont, a porté sur l'endocrinologie et a mis l'accent sur les problèmes les plus pertinents dans ce domaine pour les spécialistes en médecine interne. Plus récemment la deuxième activité scientifique a eu lieu à l'hôtel Bonne Entente dans la région de Québec sous les thèmes de la dermatologie et l'immunologie. Le contenu scientifique à la fine pointe et l'organisation de ces deux congrès ont eu des échos fort positifs auprès des membres comme en témoignent la participation en grand nombre et les excellentes évaluations.
Comme attendu, cette année encore, lors de la journée inter-universitaire de Mai, les résidents en médecine des quatre universités de la province se sont réunis et partagés leur cas cliniques les plus stimulants. ACP-Section Québec a l'intention de continuer d'apporter son soutien financier à cette activité qui rassemble et intéresse patrons et résidents à la fois.
Pour la deuxième année consécutive, la section du Québec s'est vue décerner le prix d'Excellence de l'ACP : The ACP Chapter Excellence Award. Ce prix reflète une organisation répondant aux critères pré-établis par l'ACP et perpétue l'excellence du travail de mon prédécesseur Dr Donald Echenberg. Il est aussi le fruit du soutien administratif de Mme Domenica Utano.
Depuis le mois de juin 2015, le conseil de l'ACP-Québec compte plusieurs membres: Dre Amal Bessissow, représentante des médecins en début de carrière, Dre Marilyne Brault, représentante des résidents, Ioana Fugaru, représentante des étudiants en médecine ainsi qur Dr Bert Govig, FACP, Dre Linda Snell, MACP et Dr Donald Echenberg, FACP.
Félicitations au nouveaux fellows du Québec et du reste du Canada qui ont participé à la cérémonie de convocation lors du congrès annuel de l'ACP tenu à Washington.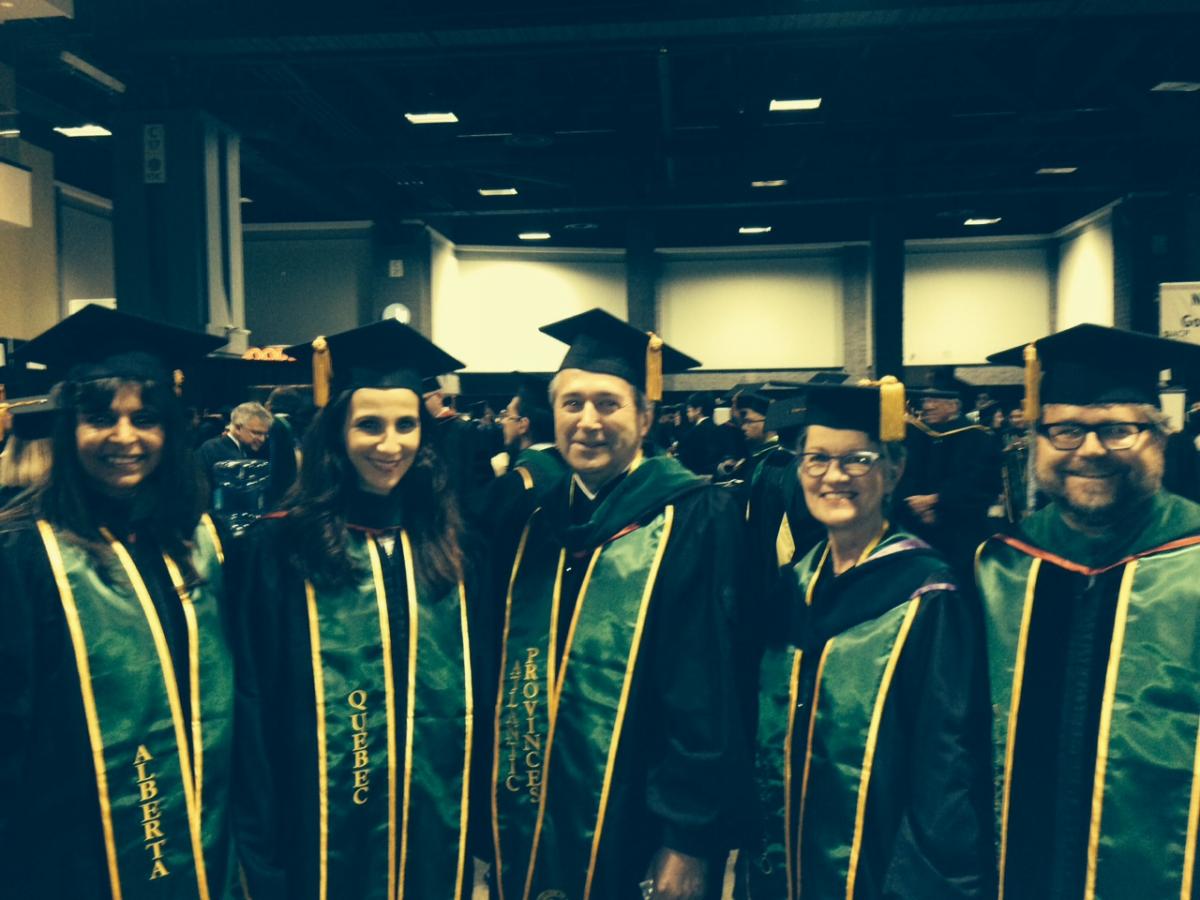 Gauche-Droite: Dr Narmin Kassam (AB); Dre Nadine Lahoud (QC); Dr Ford Bursey (ATP); Dre Irene Hramiak (ON); Dr Glen Drobot (MB-SK).
Comme en 2015, ACP-Canada a organisé l'inscription de groupe au congrès scientifique annuel de l'ACP. Les 25 membres qui ont décidé de s'y joindre ont pu profiter d'une réduction de leurs frais d'inscription. Je vous encourage à profiter de cette opportunité en 2017 lors de votre inscription au prochain congrès qui aura lieu à San Diego, du 30 Mars au 1 Avril, 2017.
Encore une fois, les résidents du Québec, de l'Ontario et de l'Alberta ont participé à la compétition Doctor's Dilemma et se sont très bien classés. L'équipe du Québec qui a très bien disputé cette compétition s'est rendue aux demi-finales! Félicitations aux Drs Myriam St-Pierre-Lussier, Steven Palanchuck et Christine Arsenault de l'Université de Sherbrooke pour leur excellente prestation et merci à tous les membres qui sont venus les encourager durant cette compétition!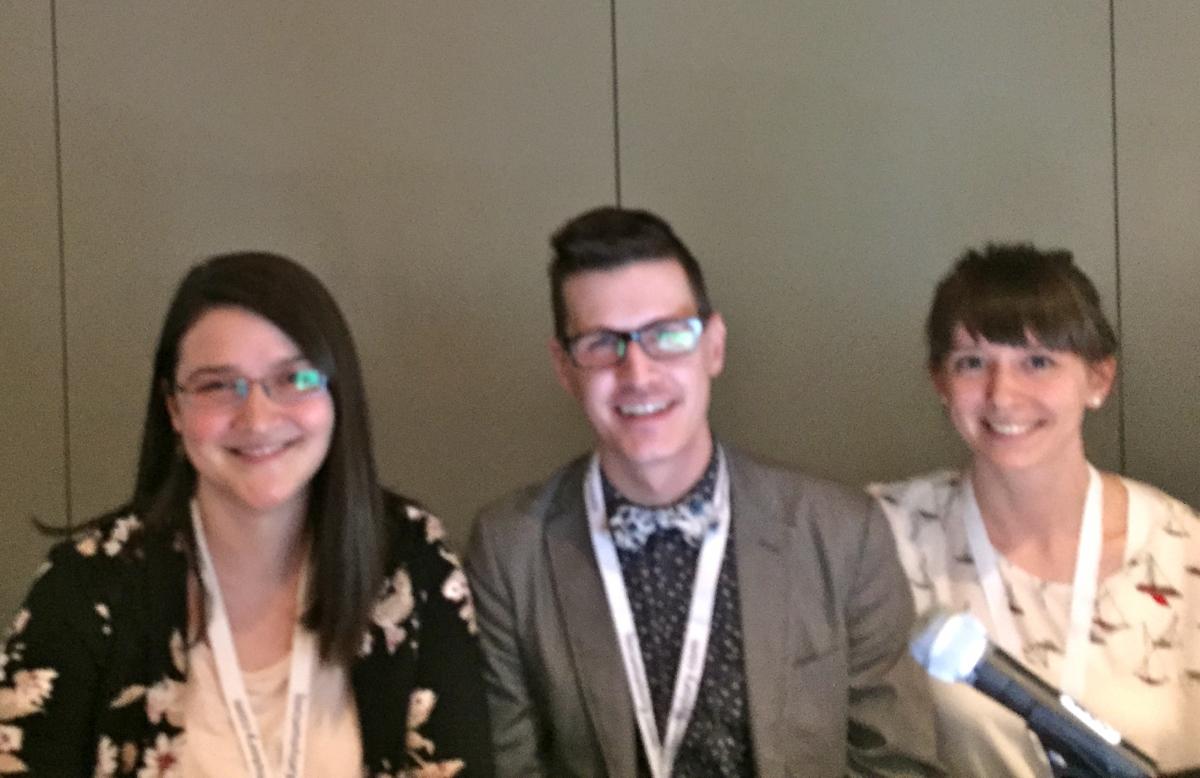 L'équipe du Québec Doctor's Dilemma
La réception canadienne à la Brasserie Beck fut un franc succès et une belle opportunité de réseautage et de socialisation avec les collègues québécois et canadiens.
ACP-Section Québec tient à remercier Dr Marilyne Brault représentante des résidents à ACP-Québec pour l'organisation d'une soirée Doctor's Dilemma en collaboration avec Dr Jean-Pascal Costa, interniste à l'hôpital Notre Dame du CHUM. Ce dernier a animé durant les derniers mois des sessions de révision des MKSAP17 qui ont été extrêmement appréciées par les résidents.
---
Activites Projetées en 2016
À l'automne 2016, le congrès conjoint de la SCMI (Société canadienne de médecine interne) et de l'ASMIQ (Association des Spécialistes en Médecine Interne du Québec) et de l'ACP-Section Québec, se tiendra à l'Hôtel Westin Montreal du 26 au 29 octobre. Le comité organisateur sous la présidence de Dr Thomas Maniatis a déjà largement entamé la planification du programme scientifique – www.csim.ca
De plus, cette année, la réunion de la NASOM (North American Society of Obstetrical Medicine) suivra et aura lieu à Montréal les 29 et 30 octobre. Un grand nombre de spécialistes en médecine interne et de résidents sont attendus à cet évènement éducatif d'envergure.
---
Composition de la Section Québec
Le nombre de membres Québécois qui se sont joints à l'ACP est en progression d'année en année. Notre section compte aujourd'hui 576 membres répartis comme suit:
Maîtres (Masters) : 4
Membres titulaires (Fellows): 83
Membre titulaire honoraire : 1
Membres : 119
Membres résidents :318
Étudiants en médecine : 51
---
Application pour Devenir Membre Titulaire (Fellow Of The ACP)
Plusieurs membres de l'ACP-Section Québec sont éligibles à la catégorie de Membres Titulaires Fellows. Le processus d'application pour cette catégorie est simple. J'encourage fortement tous ceux et celles parmi vous qui sont intéressés à accéder au rang de membre titulaire, d'entamer ce processus. N'hésitez pas à communiquer avec moi ou avec un membre du conseil de l'ACP-Section Québec pour toute question à ce sujet.
---
Achat Groupé du MKSAP 17
MKSAP 17 est disponible. Profitez d'un rabais promotionnel de 10% sur un achat groupé de 10 copies et plus.
Grâce au dynamisme de Dre Marilyne Brault, résidente en médecine à l'université de Montréal, vingt résidents ont été en mesure de profiter cette année d'un rabais de 10% sur le prix du MKSAP 17 en se prévalant de l'offre d'achat groupé de 10 copies et plus, proposée par l'ACP.
---
Profite d'un Rabais en Recrutant un Collègue
En recrutant un collègue, profite d'un rabais sur tes frais d'inscription et devient élgible au tirage d'un voyage pour assister au congrès de l'ACP en 2018 en Nouvelle-Orléans. Clique ici pour avoir accès au formulaire de participation.
---
Bienvenue aux Nouveaux Membres!
Valerie Blouin, MD
Veronique Busque, MD
Suzie Fujioka, MD
Eve Gosselin, MD
Richard Leblond, MD
Jian Wang, MD, CM
---
Pleins Feux Sur les Membres
Vous aimeriez vous impliquer auprès d'ACP-Québec en vous joignant à notre équipe dynamique ou diffuser des nouvelles ou souligner des faits marquants, les réalisations d'un collègue ou les vôtres? Veuillez m'en faire part via mon adresse courriel nklawless2@sympatico.ca en précisant qu'il s'agit de la rubrique Pleins feux sur les membres.
---
Calendrier des Évènements
Congrès conjoint de la Société Canadienne de Médecine Interne et de l' ACP-Section Quebec 26-29 Octobre, 2016
Call for Abstracts and Award Submissions – various deadlines http://csim.ca/awards-abstracts/
---
Ontario Chapter Annual Scientific Meeting
4-5 Novembre 2016
Hilton Garden Inn Toronto Airport, Mississauga, ON
---
Western Chapters and Rocky Mountain GIM Conference
Novembre 2016
Banff, AB
Suivez ACP-Canada sur Twitter! @ACPCanadian
Je vous souhaite un excellent été!