You are here
Canada Ontario Governor's Newsletter May 2016
Canada Ontario Governor's Newsletter May 2016

---
---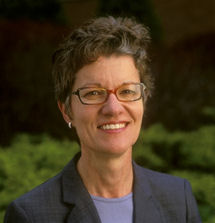 Irene Hramiak, MD, FACP, ACP Governor
---
Governor's Message
It was great to see all the attendees at the ACP Internal Medicine Meeting in Washington. There was excitement as new scientific ideas were discussed and presented. I hope all that attended appreciated what a great opportunity it is to meet with scientific leaders from North America and around the world.
A highlight was the convocation for new fellows which was held on the Thursday afternoon. Seeing the hundreds of participants from 56 countries around the world demonstrated the importance and reach of the ACP to internists. Congratulations to all new Fellows! Dr. Winston Heslop and Dr. Lawrence Jacobs Jr. attended convocation this year. You will see the pride and enthusiasm of your Canadian governors in the photo as we prepared for convocation.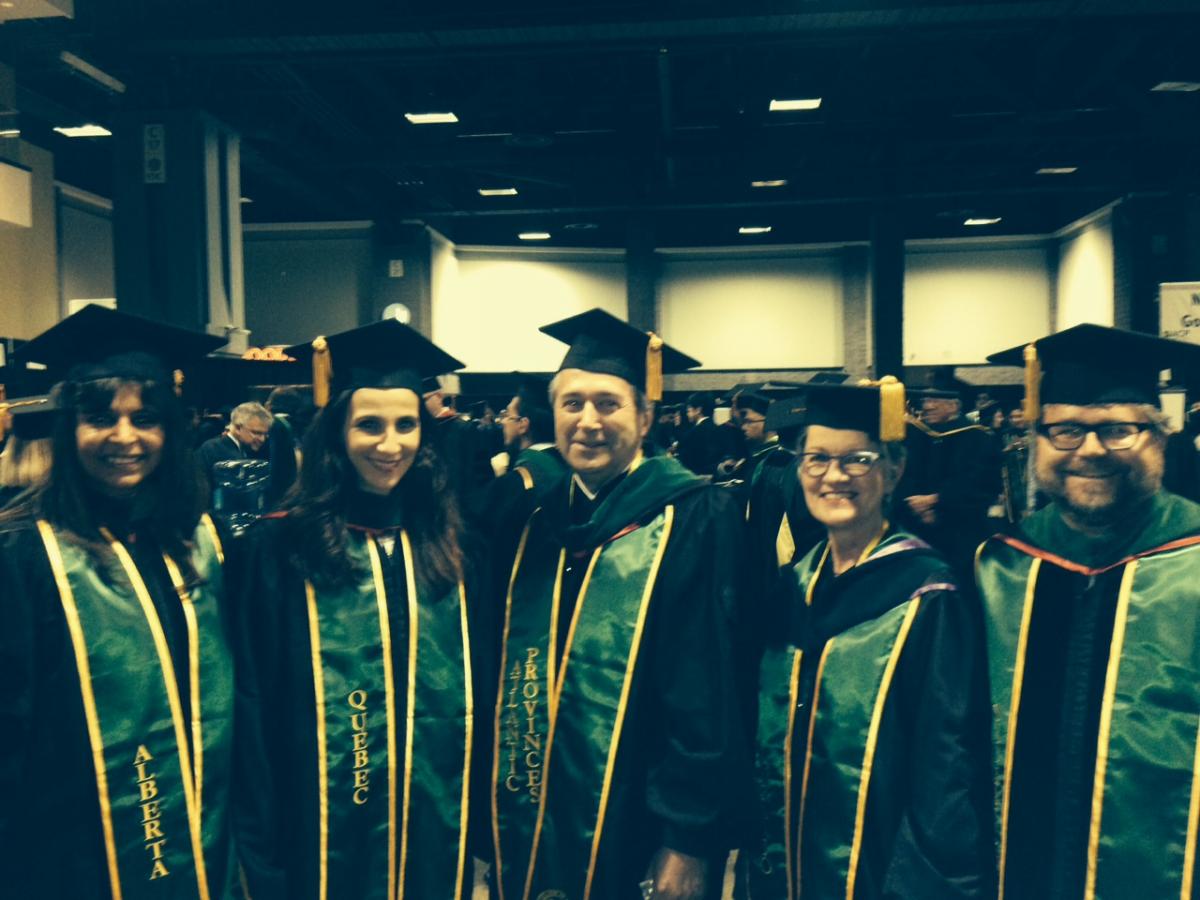 Left to right: Dr. Narmin Kassam (AB); Dr. Nadine Lahoud (QC); Dr. Ford Bursey (ATP); Dr. Irene Hramiak (ON); Dr. Glen Drobot (MB-SK)
The Canadian Chapters offered a reduced registration rate through the Canadian Delegation. Watch for this opportunity for next year's meeting in San Diego from March 30-April 1, 2017.
Another highlight was the Doctor's Dilemma competition where we were so well represented by the Canadian teams from Ontario, Quebec and Alberta. Our team from McMaster did Ontario proud by making it to the semi-finals where an exciting match took place. It was very stressful to have to perform against four other teams simultaneously. Congratulations to all the Canadian teams!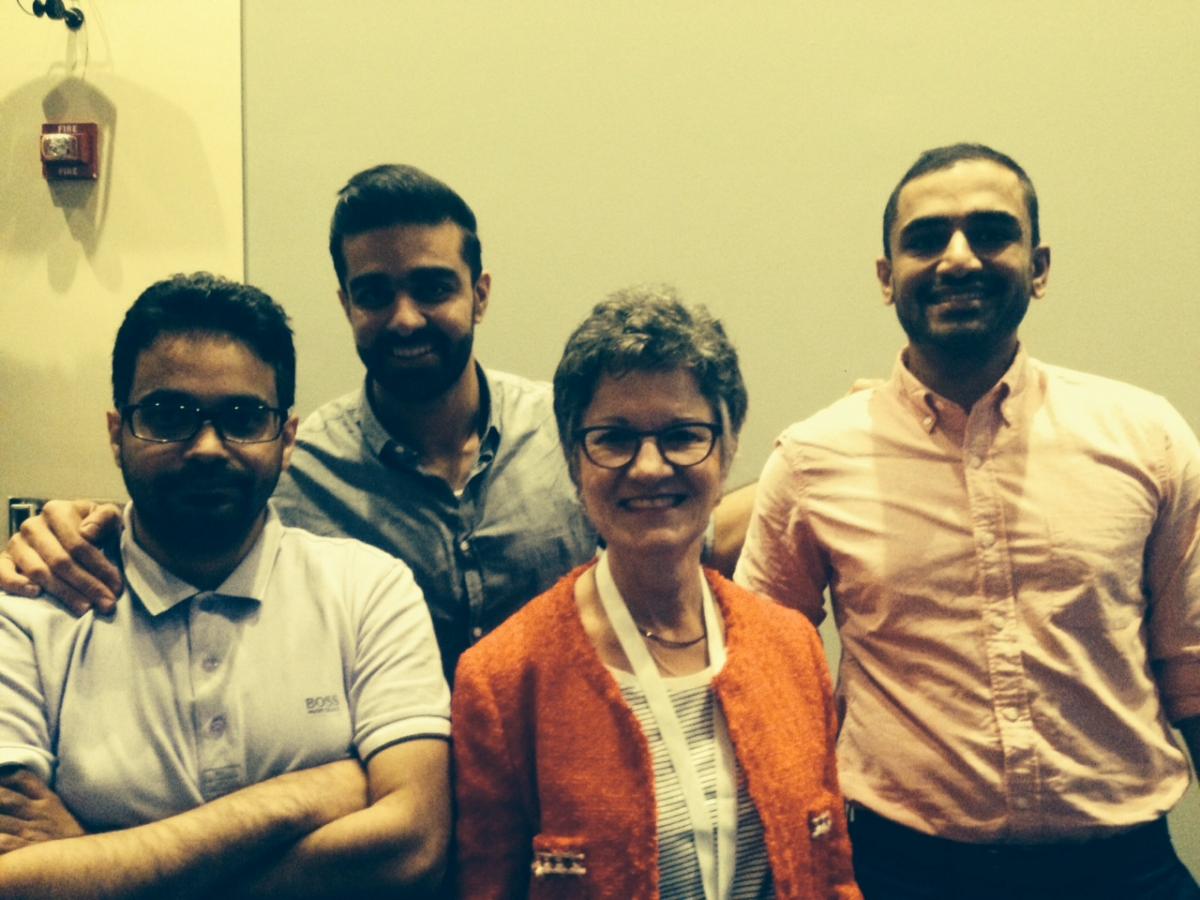 Left to right: Dr. Ali Iqbal, Dr. Sultan Chaudhry, Dr. Irene Hramiak, Dr. Mohammed Tawhari
ACP in Ontario has a large number of resident members and as they complete their training I hope that they will consider joining ACP as a member or a fellow. ACP provides excellent educational material in the Annals and the annual meeting provides an opportunity for networking and learning at the same time. The time you have been a resident member can be applied to your time required for fellowship.
To those who are moving to new cities and positions. Good luck and great success! To those who are hoping for a good summer I hope the weather cooperates!
---
Call for Laureate Awards 2016—Deadline June 15, 2016
The Ontario Chapter welcomes nominations for the 2016 ACP Laureate Awards. Awards are presented at the Annual Scientific Meeting of the Ontario Chapter. Potential awardees may be nominated by any member of the Ontario Chapter.
It is expected that awardees will be senior physicians, those being Fellows or Masters for at least 15 to 20 years with a long history of excellence and peer approval in the specialty of internal medicine.
There are two Laureate Awards available. One is primarily focused for a recipient who has provided distinguished service to the Chapter and to the ACP. The other is to recognize outstanding academic distinction related to innovation in research or in teaching (this recipient is invited to present at the Chapter's Annual Scientific Meeting (on November 5, 2016).
Please email your letter of nomination and the nominee's CV by June 15, 2016.
---
Save the Date and Plan to Attend! Ontario Chapter Annual Scientific Meeting—November 4-5, 2016
Hilton Garden Inn Toronto Airport
Stay tuned for more information and for the Call for Abstracts
---
Recruit a Colleague and Save!
Receive a dues discount by recruiting colleagues to ACP membership! And be entered to win a trip to the ACP Internal Medicine Meeting 2018 in New Orleans! The more members recruited during the promotional period, the more entries you receive.
Click here for details and to download the international application form.
---
Welcome to New Members!
Heather S. Boudreau, MD
Brian M. Buchanan, MD
Maureen K. Cameron, MD
Omer Choudhri, MD
Juthaporn Cowan, MD
Erik Y. Fung, MBChB
Sugantha P Iyer, MD
Savita Kalra, MD
Natalie Keses, MD
Chris S. McColl, MD
Josiah B. Moffatt, MD
Gordon R. Nagai, MD
Khaireldeen H. Obead, MD
Sadia Sabieh, MD
Saad Salim, MBBS
Shirley D. Umbalin, MD
---
Welcome to New Fellows!
George K. Dresser, MD, FACP
Jeremy D. Gilbert, MD, FACP
Winston L. Heslop, MD, FACP
Masoud Mahdavian, MD, FACP
Jeffrey L. Mahon, MD, FACP
---
MKSAP 17
MKSAP 17 is available for order. Take advantage of the 10% discount on group purchases of 10 or more.
---
Calendar of Events
Canadian Society of Internal Medicine and the ACP Quebec Chapter Annual Meeting
October 26-29, 2016
Call for Abstracts and Award Submissions – various deadlines http://csim.ca/awards-abstracts/
Click here for meeting details
Ontario Chapter Annual Scientific Meeting
November 4-5, 2016
Hilton Garden Inn Toronto Airport, Mississauga, ON
Stay tuned for more information and for the Call for Abstracts
Western Chapters and Rocky Mountain GIM Conference
November 2016
Banff, AB
---
Mark Your Calendars! ACP Internal Medicine Meeting 2017
March 30-April 1, 2017 in San Diego, CA. Click here for details.
---
Volunteer Opportunities
Be an active part of this dynamic chapter! Email Dr. Hramiak
Follow the ACP Canadian Chapters on Twitter!@ACPCanadian
---
How to Reach Us
Irene Hramiak, MD, FRCP(C), FACP
St. Joseph's Health Care London
10 Camrose Court
London, ON N6A 4V2
CANADA
Telephone Number: 519-646-6353
E-mail: irene.hramiak@sjhc.london.on.ca
Chapter Support:
Domenica Utano
E-mail: domenica.acpcanada@gmail.com