You are here
Canada Alberta Governor's Newsletter December 2016
Canada Alberta Governor's Newsletter December 2016

---
---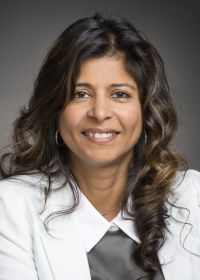 Namin Kassam, BSc, MD, MHPE, FRCPC, FACP, ACP Governor
---
GOVERNOR'S MESSAGE
December is always a busy time as we prepare for the holidays, wrap up the year and reflect on the time that has passed so quickly. In July, we initiated the ACP sponsored monthly Medical Jeopardy competition between the General Internal Medicine Clinical Teaching Unit (CTU) teams at the University of Alberta Hospital. The coveted pizza lunch prize has been well earned by all the winning teams consisting of students and residents, while promoting the benefits of an ACP membership.
The Canadian Chapters Annual Business Meeting was held in October in beautiful Montreal during the annual meeting of the Canadian Society of Internal Medicine and the Quebec Chapter. This was a good opportunity to meet with my fellow Canadian governors and provide ACP members with an update on activities taking place across the country.
In November, the 2016 Rocky Mountain/ACP Western Canadian (BC, Alberta, Manitoba/Saskatchewan) Internal Medicine Scientific Meeting was held at the Rimrock Resort in Banff, Alberta. The AM Edwards/ACP Lecture was given by Dr. Ann Colbourne (picture below) entitled Models of Specialist Care in Underserviced Areas. Dr. Colbourne gave an outstanding and thoughtful presentation challenging us to think about how we can better serve patients in remote areas.
Congratulations to Dr. George Goldsand, MACP, who received an ACP Laureate Award from the Alberta Chapter.
Finally, I am proud to announce that the Alberta Chapter has again received an ACP Chapter Excellence Award! Thank you to all committee members and volunteers for their involvement, and I strongly encourage new members to contact me as to how they can get involved.
As we say good-bye to 2016, I wish everyone Happy Holidays and the very best for 2017 – see you in San Diego!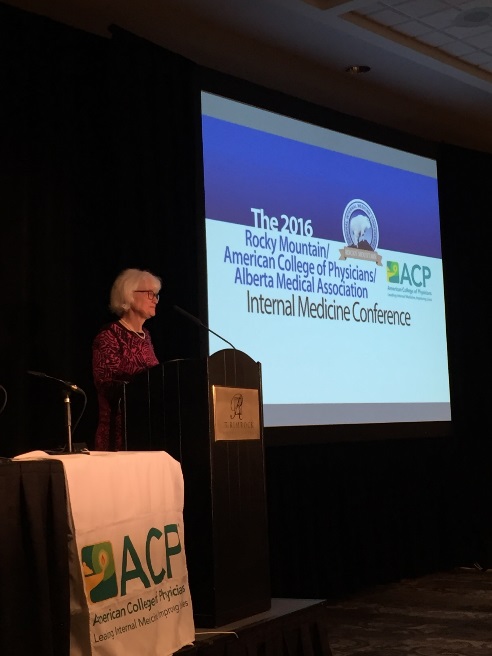 ---
SAN DIEGO AWAITS! SAVE THROUGH THE CANADIAN DELEGATION!
The Canadian Chapters are offering a reduced registration rate to the 2017 Internal Medicine Meeting through the Canadian Delegation – Click here for more information. The meeting will be held in San Diego from March 30-April 1, 2017.
---
MKSAP 17
Earn CME online and offline with MKSAP 17 Complete, an integrated learning system for a variety of your professional needs. Offers the full range of resources at the absolute best value!
Limited Time Offer! Save 10% on MKSAP 17 Print, Digital, or Complete when you order by January 31, 2017 and use code MKSAVE10!
---
RECRUIT A COLLEAGUE AND SAVE!
Receive a dues discount by recruiting colleagues to ACP membership! And be entered to win a trip to the ACP Internal Medicine Meeting 2018 in New Orleans! The more members recruited during the promotional period, the more entries you receive.
Click here for details and to download the international application form.
---
BECOME AN FACP® TODAY!
Many of our Chapter members are eligible to become ACP Fellows. Becoming an FACP® is a distinction earned from colleagues who recognize your accomplishments and achievements in medicine. The application process is simple and I encourage you to pursue this honour. Please contact me with any questions .
---
CALENDAR OF EVENTS
The ACP Ontario Chapter Annual Meeting 2017 will be held during the Annual Meeting of the Canadian Society of Internal Medicine
November 1-4, 2017
Hyatt Hotel – Toronto, ON
Watch the website for more details and for call for submissions.
ACP Internal Medicine Meeting 2017
March 30-April 1, 2017 in San Diego, CA
Click for more information .
Save through the Canadian Delegation .
Cheer on the Canadian teams who will be competing in the Doctor's Dilemma competition!
---
WELCOME TO NEW MEMBERS!
Abdullah Bukhari, MBBS
Xiangning Fan, MD
LoveDeep K. Khara, MD
Evan Minty, MD
Jennifer Ngo, MD
Sadaf Siddique, MBBS
---
CALLING ALL VOLUNTEERS!
Be an active part of this vibrant chapter! There are many volunteer opportunities – please email me directly .
Share your good news or that of a colleague and we will post it in our Chapter newsletter.
Follow the ACP Canadian Chapters on Twitter!@ACPCanadian