You are here
International Chapters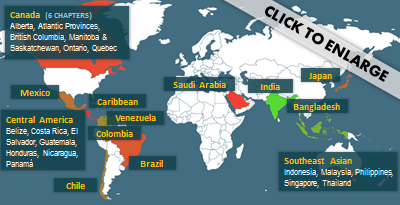 ACP has international chapters in Bangladesh, Brazil, Canada, Caribbean, Central America, Chile, India, Japan, Mexico, Saudi Arabia, Southeast Asia, Colombia, and Venezuela.
Our diverse international membership extends across the globe.
Canada
Other International Chapters
ACP International Member Recruitment Toolkit
Thank you for your interest in recruiting new members to join ACP! We greatly appreciate your support of ACP and your efforts to increase membership. If you have colleagues that you believe would benefit from the College's exceptional educational and clinical resources, we hope that you will talk to them about your membership experience and encourage them to join ACP today.
In appreciation, ACP will provide you with a credit on your membership dues through the Recruit-a-Colleague Program. Simply ask your colleague to include your name in the recruiter field before submitting an application.
More information about recruitment and resources to assist you in your recruitment efforts can be found in this section.
Sample E-mail to send to potential new members of ACP
Membership Applications
ACP Membership Marketing Materials
Helpful Links
Contact Information