You are here
I.M. Proud Contest
I.M. Proud Contest
Tell us why you are I.M. Proud and you could win an I.M. Proud prize pack (coffee mug, wireless speaker, pen and pin) and get featured on our website!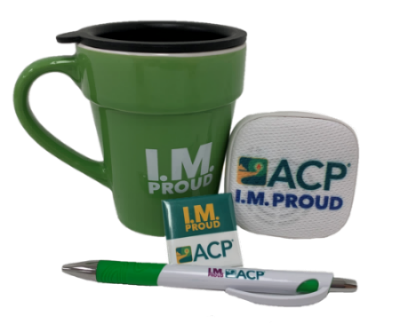 Use the form below to submit a brief essay or video answering one of the following questions, and you'll be entered to win.
A. What makes you proud to practice internal medicine or a subspecialty of internal medicine?
B. What recent patient experience made you proud to be an internist or subspecialist, and why?
C. How is practicing internal medicine, or an internal medicine subspecialty, unique from other specialties?
Contest Requirements
The I.M. Proud contest will run from September 3, 2019 through June 5, 2020.
The I.M. Proud contest is open to ACP members only, and you must complete the form above to be eligible. Submissions will be judged by a team of ACP staff, and one winner in each category (essay and video) will be announced on October 28, February 28, and June 28. Winners will receive an I.M. Proud prize pack and be featured on our website. Non-winning submissions may also be published online. Good luck!